Billie Eilish Tattoos - Grab All the Details
Published Fri Dec 13 2019 By Alizeh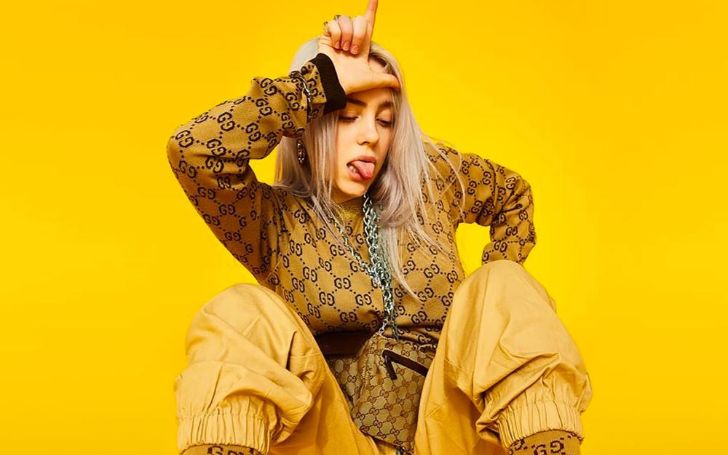 The 17-year-old pop star Billie Eilish, started as a mere SoundCloud singer and blew up overnight with the song 'Ocean Eyes' in 2015, made a somewhat unintentional arrival onto the music scene after uploading a track called "Ocean Eyes" to SoundCloud. Written and produced by her older brother and featuring her vocals, has around 185 million views.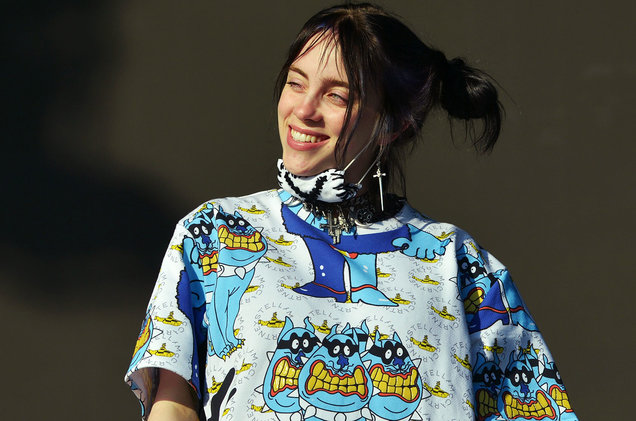 Source: Billboard
The young singer's career has only gone up ever since. How did she rise to fame at such a young age? let's find out.
Rise to The Glitz and Glam
At just 17, Billie Eilish has scored a number one album, endless magazine covers, and a legion of fans who love her unique style. Eilish at 17 has built a very loyal fan base because of which every song becomes a hit. It seems as if she went to bed as a regular 14-year-old and woke up as a famous singer.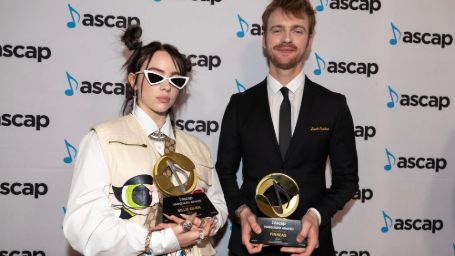 Billie and brother Finneas on the Red carpet of Ascap music awards
Source: Variety.com
The ocean eyes singer recently bagged 6 Grammy nominations in different categories, which many established artists struggle to achieve.
The ocean eyes singer seems to be 'very different from what we have' as said by her fans and supporters. Her brother Finneas' O' Connel produces her music, giving Billie her own space to be creative.
Also read: Is Billie Eilish' brother Finneas O'Connell dating? Who is his girlfriend?
Billie Aesthetics
Billie Eilish wholly owns her aesthetic, which seems to be heavily influenced by street style, logo-covered clothes, and lots of jewelry. It's evident she likes oversized shirts, rings, and layered necklaces. In a 'Calvin Klein' ad, the 'bad guy' singer reveals reason behind her signature baggy clothes.
Watch: Billie eilish speak her truth in Calvin Kelin ad
Eilish says, "That's why I wear loose clothes, nobody can have an opinion because they haven't seen what's underneath. Nobody can be like, 'she's slim-thick,' 'she's not slim-thick,' 'she's got a flat ass,' 'she's got a fat ass.' No one can say any of that because they don't know."
Find out: Justin Bieber Meets His Superfan Billie Eilish At Coachella
We know Billie's love for oversized shirts, rings, and layered necklaces. But does her aesthetic also include tattoos?
Did Billie Eilish get a tattoo?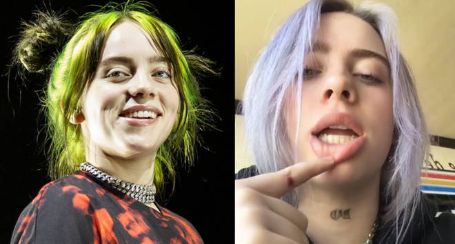 Billie posted a story on her instagram with the 'Bad' tattoo
Source: Popbuzz.com
We know the young star is only 17 years old; regardless of her fame and money being underage, she would need permission from her parents to get a tattoo in the US legally. In some states, you can't even get inked under 18, even with parental consent.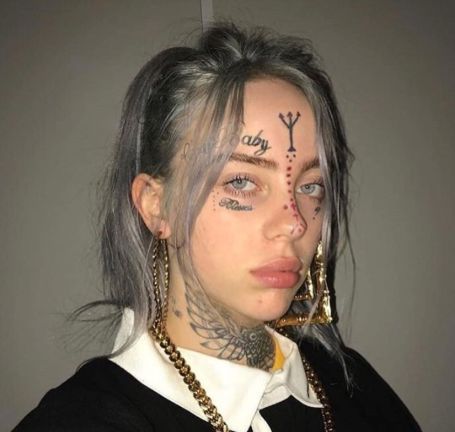 Fans edit Billie with temporary face tattoos
Source: wattpad
According to popbuzz, Billie posted an image of the word "BAD" on her neck. The word was facing backward in capital letters. In 2018, Billie again teased that she had a neck tattoo and shared an Instagram Story of herself with a spider on her neck. She captioned the image: "Who dat." Hmm…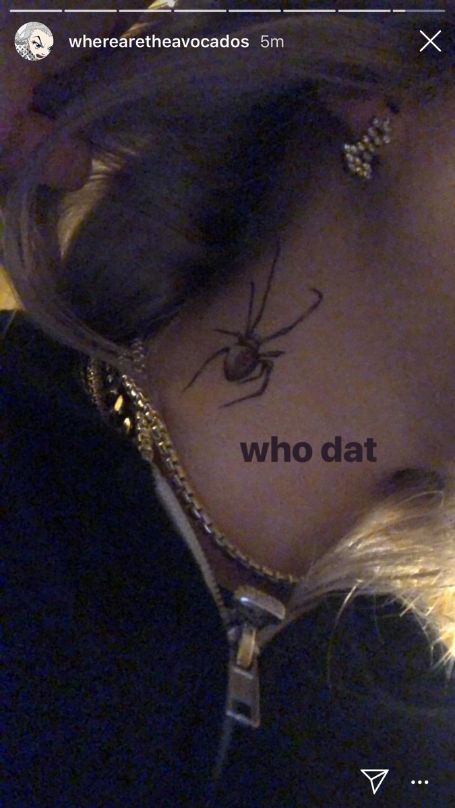 Billie's Instagram story
Source: Instagram
Meanwhile, in May 2019, celebrity tattoo artist Jonboy seemingly posted what fans thought was Billie's first tattoo – his signature on her foot. He captioned it: "@billieeilish get a Jonboytattoo." Which formulated speculation that the singer got tatted.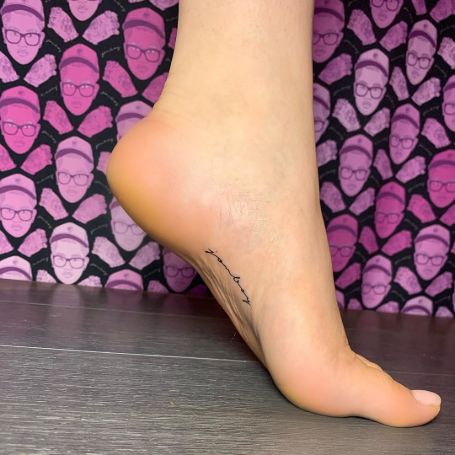 Tattoo artist Jonboy's official instagram post captioned "@billieeilish get a Jonboytattoo"
Source: Instagram
People who follow the singer on social media know how she loves to play around with temporary tattoos. It wouldn't be the first time Billie has played around with fake tattoos, though, after getting temporary ink when she dressed up as Lil Xan for Halloween.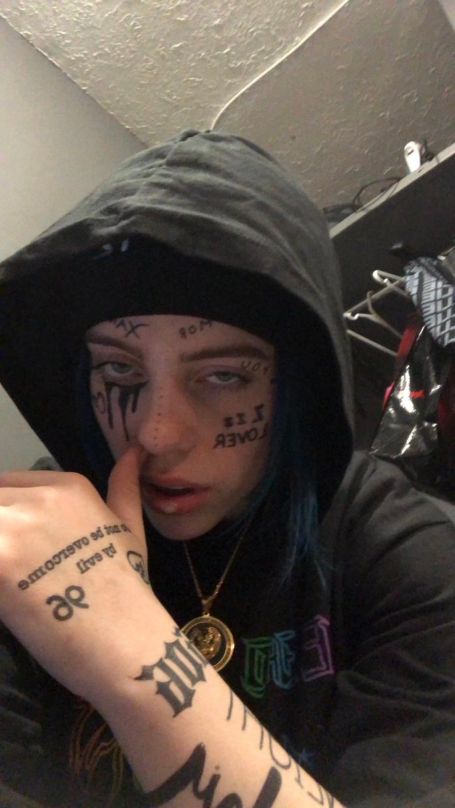 Billie dressed up as Lil Xan
Source: Instagram
In the recent Billie Eilish concert, she had a bare neck. Even though she covers herself in oversized clothes, we could not see any tattoos on any part of her body. Neither has she shared about getting inked via social media. However, manier people have gotten Billie's face tattooed on them.
Also read: Billie Eilish Reveals She Used To Be 'Terrified Of Eminem' Growing Up
Billie's tattoo by a fan
Source: NSF
Even after being a megastar that she is, it looks like the 17-year-old still has to reach the appropriate age to get a tattoo like everyone else.
Tune into Glamourfame.com for more celebrity news
-->