Christian Eriksen Unlikely to Play Football Professionally Again
Published Sun Jun 13 2021 By Danile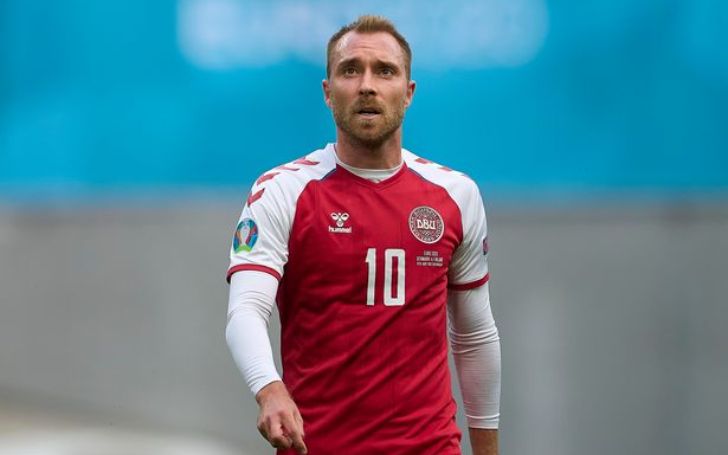 Danish midfielder fell on the ground while playing for his nation yesterday.
According to health experts, it is unlikely that Christian Eriksen will be playing football anymore. The 29-year-old was representing his country Denmark against Finland in their opening match of Euro 2020.
However, in the 42nd minute of the game, Eriksen collapsed face-first on the ground as he went to receive a throw-in from his teammate.The referee and players immediately signaled for medical assistance for him. Much credit to the medical personnel, who acted quickly to give the Danish star CPR on the field.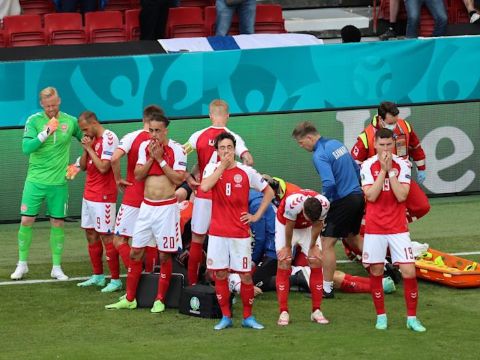 Danish football players in distraught after their teammate collapsed during the game.
Photo Source: Yahoo News
Photos of him being conscious and raising his hand were captured while being taken off the pitch on a stretcher to a hospital.
Professor Sanjay Sharma, a professor of sports cardiology at London's St George's Univesity and who worked with Christian when he was at Tottenham Hotspur, said there were several reasons why Christian could have suffered a cardiac arrest, such as high temperatures or an unidentified condition.
He said:
"Clearly, something went terribly wrong. But they managed to get him back, the question is what happened? And why did it happen?"
Dr. Sharma also said that during their time at Tottenham, the midfielder had no health abnormalities.
The cardiologist stated:
"This guy had normal tests all the way up to 2019 so how do you explain this cardiac arrest?"
But Dr. Sharma said that the reports of the Inter Milan player being awake in the hospital was "a very good sign."
He further said:
"I'm very pleased. The fact he's stable and awake, his outlook is going to be very good. I don't know whether he'll ever play football again. Without putting it too bluntly, he died today, albeit for a few minutes, but he did die and would the medical professional allow him to die again? The answer is no."
Concerning the former Ajax midfielder's footballing career, a leading NHS consultant cardiologist Dr. Scott Muarray told that his playing career is probably over. He said, "It probaby is for him. The Italiams stop people participating in sport if they are found to have a significatn cardic abnormality, it's in law."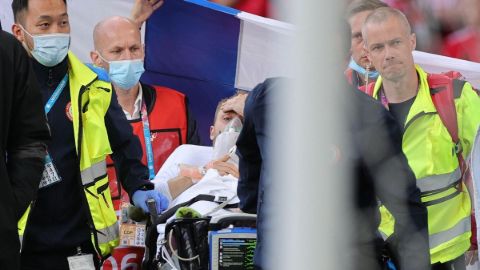 Christian Eriksen was conscious while he was taken to the hospital.
Photo Source:Eurosport
Dr. Muarray further stated:
"They've (Italian Football Federation) been doing that for a long time, beyond 20 years and they've reduced the death rates from cardiac arrests in sport from beyond 3 per cent down to below one per cent."
The match between Finland and Denmark was suspended and was played later that evening which Finland won by 1-0. Denmark will play Belgium in their second group match of Euro 2020 on Thursday, July 17.
You May Also Like: Jan Oblak Named La Liga Player of the Season!
If you want to read more similar articles and get the latest celebrity news and updates, be sure to check out Glamour Fame.
-->