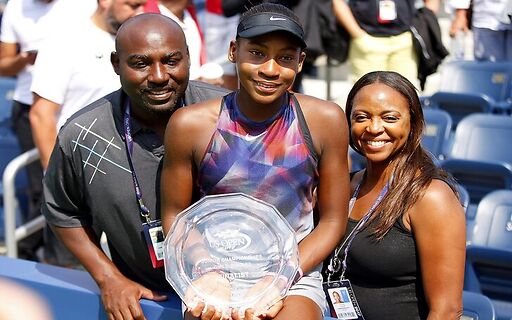 Here are the details of Coco Gauff's parents.
You might wonder why Coco Gauff's parents, Candi(néeOdom) and Corey Gauff, have gained such popularity over the years. It is because they've raised a hardworking and extraordinary child that has gained worldwide recognition in such a short span.
The pair's daughter Cori "Coco" Gauff is an American tennis player who is the youngest player ranked in the top 100 by the Women's Tennis Association (WTA). The talented teenager also happens to have a career-high ranking of world No. 23 in singles and No. 42 in doubles. Let's take a closer look at her, who her mom and dad are, and what relationship she has with them in this article!
Who Are Coco Gauff's Parents?
Coco Gauff's parents are the key to the number of success she unmounted, as her parents call it, "Their 10-year plan". Being raised by parents with an athletic background added additional support in her earlier grooming days.
Coco Gauff's mother and father cheering their daughter in one of her matches.
Gauff's parents 'Candi (néeOdom) and Corey Gauff, have a background in NCAA Division I collegiate basketball, track, and field. They could see the spark in their daughter's eyes and where she's headed, which led them to have such dedication to quitting their profession for their daughter's training.
Recommended: Ronny Chieng's Parents: Learn About Them Here!
Being brought up by a father with a basketball history itself is a boon due to his experience in need of persistence, endurance required for success in sports. Whilst Coco's mom, Candi, was the Florida state champion who won The Sun-Sentinel Track Athlete of the Year award for two consecutive years during her time at Atlantic High School, which sums it up.
Coco Gauff's Parent's Endless Support In Her Career
There is rarely a time when the 17-year-old's parents aren't there to support her. As a result of celebrating Coco Gauff's victory after beating Polona Hercog at Wimbledon, a video of her mom went viral. To which Coco responded that she probably would want to see her mom's celebration becoming a meme.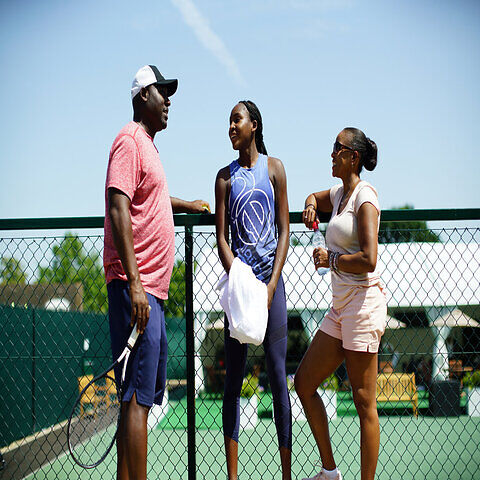 Coco Gauff having a good time with her parents.
Coco seemed to have an interesting childhood as she had an experience with a variety of sports. But as we are the witness, Tennis is what ended up being her future. According to sources, Gauff was inspired by the Williams Sisters, which assisted in her decision.
Coco Gauff's Career Highlights
As Coco Gauff quotes on her Instagram bio, "I'm just a kid who has some pretty big dreams." She must've felt it coming true when the multi-talented player received her first WTA singles title at the 2019 Linz Open at age 15. It declared her the youngest singles title-holder on the WTA Tour since 2004.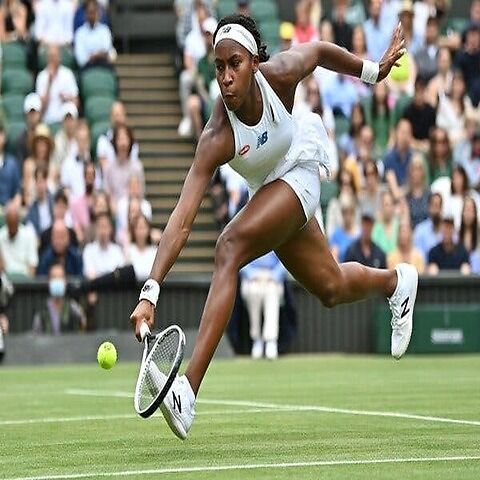 Coco in action during her game in Wimbledon 2021.
Followed by Gauff winning three WTA doubles titles with Caty McNally. Her Success continued with the victory over Venus Williams in the opening round at Wimbledon 2019. Although Wimbledon 2021 came to an end for Coco, it isn't a question that she'll bounce back even stronger and win the championship in the next season.
For more content, visit Glamour Fame!.
-->