Dakota Johnson and Chris Martin's Relationship was Taken to a New Level on Thanksgiving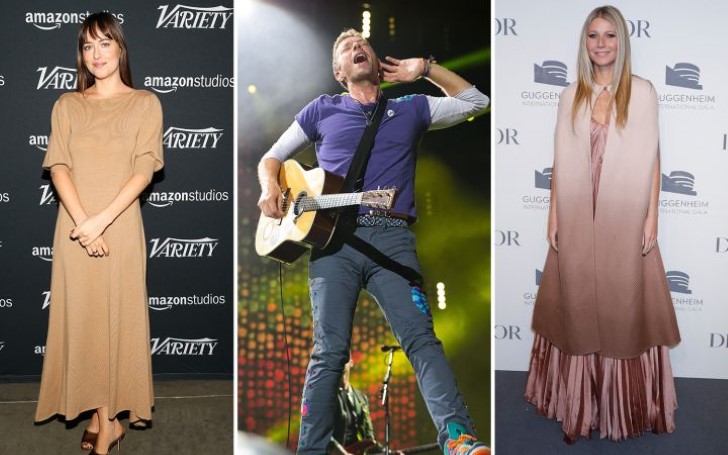 Dakota Johnson spent Thanksgiving with boyfriend Chris Martin and his ex-wife Gwyneth Paltrow.
Dakota Johnson, Chris Martin, Gwyneth Paltrow, and Brad Falchuk always seem to display incredible maturity when it comes to spending time as a family and maintaining a healthy adult relationship.
As per a source, the actress spent her Thanksgiving with her boyfriend Martin and his ex-wife Paltrow. Moreover, the latter's two children, daughter Apple, and son Moses were present too.
The Insider shared:
"They're a total modern family and had a great time celebrating together."
WATCH: Dakota Johnson paid tribute to her mother Melanie Griffith
Earlier, Johnson and Martin were rumored to be expecting a child which turned out to be false. Speaking on this, Dakota had said:
"It was my birthday, and there were balloons that happened to be pink and blue, and so then I was pregnant."
She added, she didn't know the balloons were going to be released. They were apparently in an arch. "But I guess that accidentally happened. One of the ends got let go."
Read More: Priyanka Chopra Dazzled In Stunning Outfit As She and Nick Jonas Celebrated Their Third Reception
Johnson and Martin were first spotted together in October 2017. Meanwhile, Paltrow and Falchuck got married in late September.
As a matter of fact, Johnson only recently broke her silence about dating Martin. She told Tatler magazine, "I'm not going to talk about it. But I am very happy."
You Might Also Like: Sylvia Jeffreys Is Leaving The Today Show
Whatever the future holds, it seems like this blended family has things figured out. It is quite commendable the way there's a sense of maturity among all of them in such fashion that no one feels uninvited or like they can't be included.
-->