Are Dani Thorne & Bella Thorne Twins? What is Dani's Age? Interesting Facts About her here
Published Wed Aug 17 2022 By sujan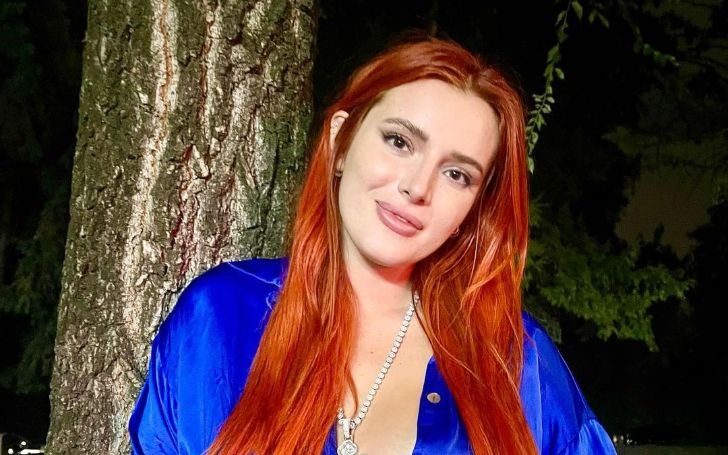 Know who Dani Thorne and Bella Thornes are? And all the details regarding her personal life are here.
Dani Thorne is an actress and model by profession. She was born on January 19, 1993. She was seen in many campaigns, including Gap, Tommy Hilfiger, JC Penny's, and Macy's. Dani Thorne's full name is Daniella Vanessa Thorne. Similarly, Thorne was born to parents Tamara Thorne and Reinaldo Thorne. She has a total of three siblings, including Bella Thorne. Altogether they were four siblings sharing the same bloodline.
Annabella Avery Thorne, professionally known as Bella Thorne, was born on October 8, 1997. Bella's parents are the same as Dani's, as they are siblings sharing the same blood. Bella is an American actress, model, writer, and singer. She has won several awards in her career. She first rose to fame in 2007 after appearing as Margaux Darling in the series Dirty Sexy Money. Bella has faced many controversies compared to the number of controversies Dani has faced.
Both of them are building their career in their respective field of work. Bella has a Wikipedia page, whereas Dani has yet to get one. There is very little information related to Dani Thorne. Dani's IMDb profile declared her as a self-taught DJ producer. Bella and Dani are born to the same parents, and they aren't half- sisters. If we look at her relationship details, Bella was involved in several relationships, and now she has declared that she is pansexual.
Are Dani Thorne & Bella Thorne Twins? What Are Their Ages Now?
No, Dani Thorne and Bella Thorne aren't twins. They were born to the same parents and are pure blood-related siblings. They both love each other and support one another in time of need. For those who don't know what a twin is, Twins are two babies born on the same date and slightly change in time. They evolve together in the mother's belly for nine months. And Bella and Dani aren't delivered on the same date, proving that they aren't twins but are sisters.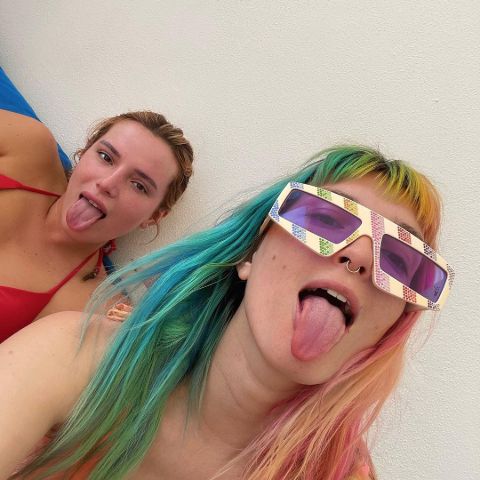 Image: Bella and Dani Thone on the way to see a whale for the first time in Dani's life
Source: Instagram @dani_thorne
All together, they are four siblings. Kaili Thorne is the only half-sister they have from their father's side. All four sisters have engaged in show business and the entertainment industry. All of them are popular for their work in their respective field of action.
You Might Want to Know: James Kennedy and Ally Lewber are Instagram-Official
None are twins, not just Bella and Dani among all siblings. As of March 2022, Dani is 29, Bella is 24, Remy is 26, and Kaili is 30. Kaili is the eldest, and Bella Thorne is the youngest among the siblings. They are like close friends and share one another's sorrows and happiness.
Interesting Facts About Bella Thorne
Bella Thorne is the youngest among all the siblings and has always been at the center of controversies. One of the major controversies about her is she has dated many men in a short time. Bella was also in a polyamorous relationship with some personalities. She has worked in around thirty-five movies during her acting career to date.
Image: Bella enjoying time with her family
Source: Instagram @bellathorne
Many of you don't know that Bella is also a writer and published her work titled Autumn Falls in 2013. She has written some novels too. Bella's autobiographical poetry, The Life of a Wannabe Mogul: Mental Disarray Vol. 1, was published in 2019 by Rare Bird Books.
Don't miss: Molly-Mae Hague shows off her New Short hairstyle
For more news and information related to your favorite celebrity, stay connected to Glamour Fame.
-->