Danielle Cohn Is In Love With Her New Shein Outfits; Fans Don't Seem Best Pleased!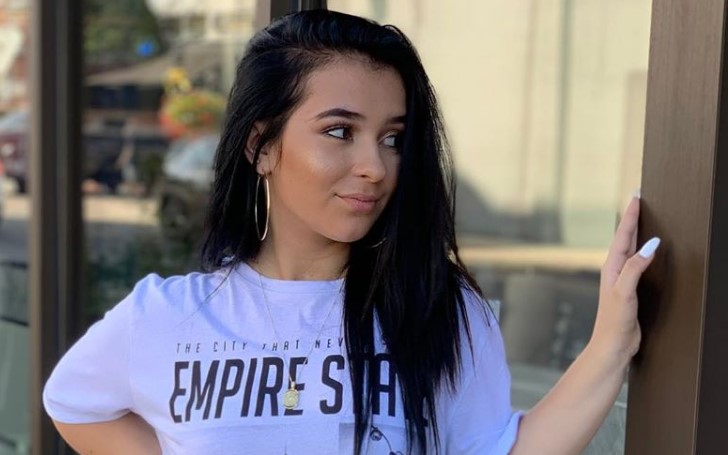 People are not very pleased with Danielle Cohn's new haul from the SHEIN.
The 14-year-old internet celebrity, Danielle Cohn, recently promoted outfits from Fashion Nova, which also has collection of cool and funky attire for men as well, the Musical.ly star has now new product line she is promoting.
Danielle, who once faked her pregnancy, took to her Instagram and posted a seven-something minute long video about her new haul from SHEIN.
Watch: Danielle Cohn's video from her IGTV
Shein is a clothing brand which offers trendy and cheap women clothing; the official site promises 10000+ women's unique and personal styles.
Dani, who once faked her marriage, on her new Instagram video flaunts different outfits from the clothing brand; however, as always, fans are not pleased about her new haul.
The internet celebrity tries different outfits; the first thing she tried is a neon top with black booty shorts. The internet celebrity describes the outfit a "soccer pack."
Well, that did not go too well. From the first outfit, the fans seemed very unhappy, as one fan wrote, "who the hell wears booty shorts n a tube top to soccer practice💀"
The next thing the star tried is a patterned biker shorts with matching top; another fan wrote, "when she stopped getting sponsorships from fashion nova cause they find out shes 13💀"
Did you notice the skull emoticon on every comment? Well, that pretty much says how much they did not like the outfit Cohn tried.
The outfits, however, were somewhat cute, but people find it very offensive as the dresses were not meant for a 14 years kid.
Fans also claimed the fashion brand Cohn was previously linked with, withdrew their sponsorship following the considerable backlash the star faced.
Now, it's SHEIN, the clothing brand which has gained much reputation in trouble and they might face a huge backlash just like Fashion Nova.
The fans are outraged with the outfits, as those outfits were not at all for a 14-year kid.
One fan wrote, "Did she say wear the first one TO SCHOOL my school would never allow that."
Another fan wrote, "dress ur damn age go to justice or something 😂🤷🏼‍♀️"
We are not really sure why the brands with so much reputation are careless, and not noticing the fans reactions, which is certainly not good.
Well, could SHEIN be in a lot of trouble after this? Could their marketing strategy backfire this time? Well, by the look of it, SHEIN might be in for a lot of sh*ts.
-->