David Goggins weight loss - Find Out How He Lost 106 Pounds in Three Months
Published Mon Apr 06 2020 By Chester
Learn the incredible weight loss journey of David Goggins former United States Navy SEAL and Air Force Tactical Air Control Party member.
Many of you might know the multi-talented persona David Goggins precisely as an ultra marathon runner, ultra-distance cyclist, motivational speaker, and triathlete who's recently been an inspiration to many followers for his hard work and shreddy body.
And those who've been in David's shoes might be well updated with each and everything about the star notably his shocking yet inspiring weight loss journey. So in order to know the facts behind his incredible weight loss which many of the fans be curious about, here we present you with Goggins' incredible weight loss journey.
David Goggins Weight Loss Journey
Well, there were certain essential things that the Can't Hurt Me opted in order to get himself to get in shape. The man who is even noted as the "toughest man alive" had to compromise some of his schedules, routines in order to get himself to those shapes.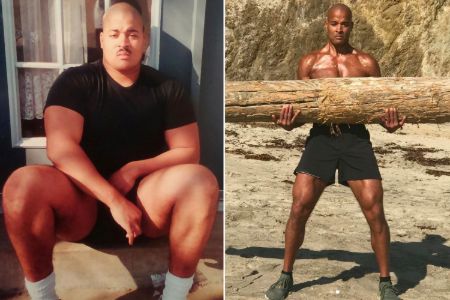 David Higgins's workout and dedication was awe-inspiring.
Image Source: New York Post
So below we present you all the exercise and food regimes David took in order to get himself into shape. Well, he had a kind of hectic schedule compared to the rest of the force which included some daily workouts.
Check Out: Full Story on Mariah Torres Weight Loss!
To start with every day, he used to wake up at 4:30 and start his day and weight loss testimony with one banana. After eating some diet, he regularly used to and raised bicycle for two hours from 5-7 am. Then a couple of workout and low-fat foods was what is he initiated.
David Goggins Weight Loss' Workout and Training
Starting from the Monday routine, the former Navy SEAL force started with a flat bench press, incline bench press, incline dumbbell press, plate push-ups, and sips.
Check out the clip of David Goggins's inspirational life!
Similarly, carrying with a pace and energy on Tuesday session included, Normal Pull Up, Close Grip Pull Up, Reverse Grip Pull Up, Seated Pulley Rows, and Barbell Reverse Grip Bent Over Rows.
Following the Wednesday workout session had Body Weight Jump Squat, Rear Squat, Stiff-Legged Deadlifts, and Body Weight Squat.
And the Thursday session included Leap Frogs, Burpee, 40-yard Sprints, Medicine Ball Slam, Kettlebell Swings. And finally, the Friday exercise consisted of Dumbbell Triceps Extension, Diamond Push-ups, Dumbbell Biceps Curls, Body Weight Dips, and Barbell Military Press.
Don't Miss: Trisha Paytas Weight Loss - The Real Truth
One of the important facts for your weight loss journey is also your eating preferences - try to avoid fat and junk food. Eat healthy foods such as vegetables and fruits and drink lots of water. So yeah the method helped him lose 106 pounds in three months.
We hope you enjoyed the article and gained some inspiration; stay tuned for more Celebrities Weight Loss articles only on Glamour Fame.
-->