David Harbour Claims Stranger Things Season 3 Finale Is 'The Greatest Episode' Yet
Published Mon Jul 01 2019 By Travis
Stranger Things season 3 is almost here and David Harbour is saying the finale is the greatest episode yet.
Stranger Things was like lightning in a bottle, something that wasn't supposed be that good, but still managed to wow everyone with their fantastic attention to detail and their love and respect to the crafts of directors of that time.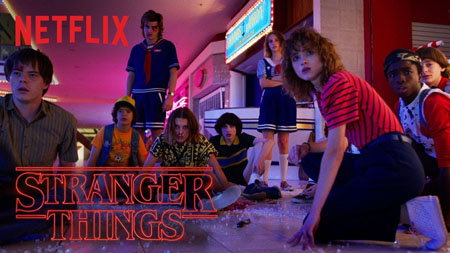 The show drew some amount of interest before it first premiered, for its 80s setting and sci-fi element. But after the release, the series garnered attention and love for the fantastic characters and the weird and amazing story.
Stranger Things won over the hearts and minds of all the fans, and the show is now considered a pop culture classic. There has been minimal leak about the plots of the season three of the series, and it seems like Netflix is doing an excellent job of keeping everyone tight-lipped. David Harbour, seems, is giving a little away for the fans, as he said the show's final episode of season 3 is the greatest they have ever shot.
We are in the dark about the new season of Stranger Things, but David Harbour is keeping things spoiler free while he talks about why the show's final episode is excellent. He said;
[The Stranger Things Season 3 finale is] the greatest episode we've ever shot. It's so emotionally powerful because you're not expecting what happens to happen. I don't think we've ever shot anything more moving.
New troubles are coming to Hawkings, and that is all too apparent from the trailers, what exactly is making its way to the town is a mystery. No one is opening their mouth, and we are in the dark as to what might happen.
Watch: The final trailer for season 3 of Stranger Things
David Harbour and all the cast have been making the rounds all over talk shows, and still, we have no clue other than the fact that the new season has more scares and gore.
David Harbour also talked before about how the relationship with Millie has changed for him. He adopted Millie, and now he is a dad again, and 'Hopper' is having trouble adjusting to the new relationship. He said;
Millie (Eleven) is growing up, and I think that's the terrifying thing for Hopper. He doesn't like the idea of his baby daughter hanging out with boys. So the season starts with him a little bit uncomfortable. His daughter is becoming a teenager and beginning to find herself, so that's scarier for Hopper than any Demogorgon creature that he's going to have to deal with.
Hopper also talked about his new persona inspired by his hero in the show, Magnum PI. He is also trying out his luck with 'Joyce', but being in a relationship for someone his age is a tricky thing, which is what he realizes slowly.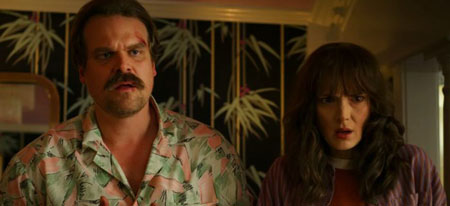 Harbour also talked about this season of Stranger Things having more love than in previous season. He said;
It's bigger, and it's more Spielbergian. I felt Season One was very Stephen King, Season Two was very Spielberg, and we get even more Spielbergian in our aesthetic. It's got a lot of color to it this year; we really get into the '80s more; it's '85, Hopper has a whole new getup, he's got a mustache — we're leaning into it in a really fun, interesting way. Also, it's got a lot of love, and it always has from the very beginning. That's the thing that's very special about the show; it has tremendous heart. I always get choked up when I watch it, and this season is no different. It takes a lot of risks, but in its essence, it's going to smack you in the heart. It's really funny, and it's really beautiful, and there are some big, big surprises.
If David is to be believed, which we do, we are in for a massive treat when Stranger Things season 3 premiers in 3 days.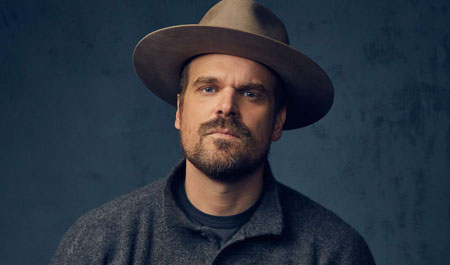 Set in the summertime, the kids are out of school, there is a new mall in town, and there are some tensions in the crew as people fall in love. They will have to learn that strength is in friendship and being with people you love, the kids will learn a valuable lesson, and we are in for an unexpected finale for season 3. We, along with all the fans, cannot wait for the new series to hit Netflix, just three more days to go!
-->