David Suchet is Married to His Wife Sheila Ferris Since 1976 - Grab All The Details of Their Marital Relationship!
Published Fri Sep 20 2019 By Travis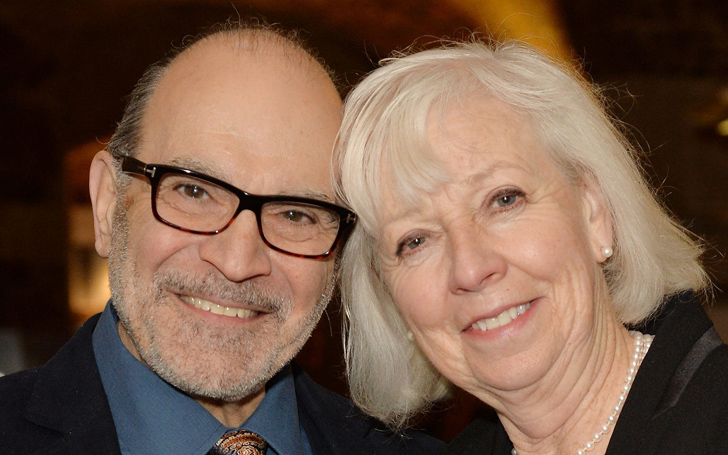 Learn legendary actor David Suchet's married life. Know about his wife and details on his marital life!
It seems 'His Dark Materials' is getting as many stage actors as they can, for the highly anticipated release of the show. HBO is all for giving new people chances, and this was the reason why the other dragon show was filled with never-before-seen actors and actresses. But, the thing is BBC doesn't operate in the same way and since the show is a joint collaboration of HBO and BBC the latter is getting as many theatre actors as they can.
James Cosmo was hired for a prominent role in the series, there is also the involvement of the creator of Hamilton, Lin-Manuel Miranda who is all theatre. Ian Gelder was also hired for a small role and for over 50 years the actor graced the stage and some movies and TV shows. Now, another such theatre actor who is set to make his presence felt in the upcoming show is, David Suchet.
The actor appeared in everything related to theatre and he also made appearances in TV shows. Though the actor made his name in theatre, the most legendary, and also his most recognizable performance is in, 'Agatha Christie's Poirot,' where he played the leading character of 'Hercule Poirot' from 1989 to 2013. This was all fine for the actor who said he was done playing the character on TV and would be open to appearing in the movies.
But the talented theatre actor is able to do all of his acting jobs because he always got a stable home to come back to every day. The man met the love of his life in the early 70s and the whole thing resulted in a lifelong partnership between the actor and his love Sheila Ferris.
David Suchet and His Relationship with Wife Sheila Ferris
Love is important in almost every person's life, and a healthy love life leads to a healthy career, after which two people can co-exist and be with each other in a normal and loving relationship. Most people search all their lives and rarely find the one person they can truly be with but it was not the case for David.
David Suchet and his wife Sheila Ferris first met in 1972.
David Suchet was one of the lucky ones because he was able to find the one person who mattered the most and also someone he could spend the rest of his life with. David was working in 1972 in the Belgrade Theatre located in Coventry England where for the first time he met his future wife. Sheila Ferris was also one of the people working in the over 800 seating theatre and while working David noticed the beautiful lady.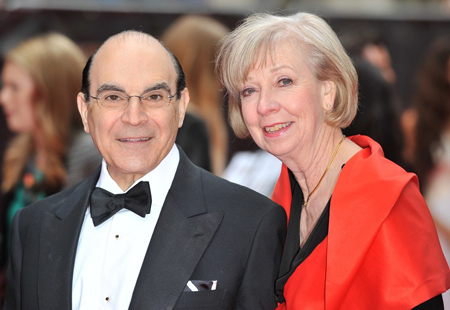 David Suchet and Sheila Ferris got married after four years of dating in 1976.
Source: AceShowbiz
It was love at first sight for the Poirot actor, but the feelings were not reciprocated at the start. The actor said it took him more time to persuade her into going out with him and after a long time of asking and almost begging, he was finally able to score a date with Sheila. The two went out and she was finally able to see the actor for who he was, a loving, caring man who wanted to know about her and who she was and wants to become.
Winning her took a little time for the actor, then, the two dated for about four years when David proposed her into becoming his wife. They got married on 30 June 1976 and are together ever since, for over 43 years and two months. The couple is almost ready to celebrate their 50 years anniversary and this is a great achievement for the two.
How Many Kids do They Share?
After five years of marriage, Sheila got pregnant for the first time and gave birth to Robert in 1981. Their first child and only son went on to join the Royal Marines and made all the way to the post of Captain and then left the service.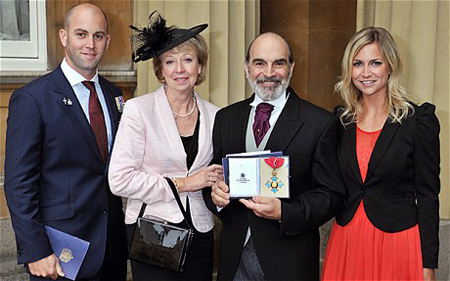 David Suchet alongside his son, Robert Suchet, wife, Sheila Ferris, and daughter, Katherine Suchet.
There was only a two years gap between the first and the second child and in 1983 Sheila gave birth to their second child, a daughter Katherine who made her career as a physiotherapist. The two kids seem to be living on their own, and the parents are more than happy with how their children turned out in the end.
Married life is hard and when it comes to being in a relationship, it takes a lot of work to make everything work. It seems they found the right person for each other and 48 years of relationship which includes 43 years of marriage is evidence they were made for each other. There is nothing we want more than see them together and cut the cake in their Golden Jubilee celebration.
Watch: The trailer for the first season of His Dark Materials
While you are still here make sure to check out our home page Glamour Fame to see what is happening in the world today. Then, head on over to our Entertainment section to find out more about your favorite celebrities, also, we are doing a cast run down on His Dark Materials so don't forget to check out all the people involved in the project which is set for a release on 3 November on BBC One and 4 November on HBO.
-->