Denise D'Ascenzo Dies Aged 61 - Top 5 Facts About the WFSB Anchor
Published Sun Dec 08 2019 By Sea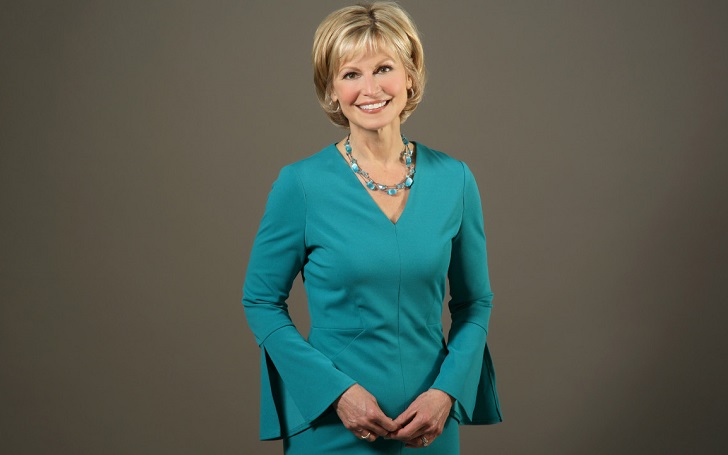 The media world at WFSB was hit hard by the sudden demise of one of their beloved anchors, Denise D'Ascenzo. But no one would be more affected by her passing than the family that she left behind.
D'Ascenzo loved her job as an anchor, having done it since she was a young woman and transferred cities as her job & her personal life led her. The studio is left devastated by the event as Dennis House, her co-anchor, announced it on air while still teary-eyed.
It was just a couple of days before her death on Saturday, December 7, that she was with the team at the Holiday Light Fantasia event at Goodwin Park. "Denise died unexpectedly on Saturday, December 7, in her Connecticut home," the network's statement read. She was 61.
Here are a few things you should know about her.
5. The 11-Emmy Winning Journalist Is the Longest-Serving News Anchor at a Single TV Station in Connecticut
The passion the mother-of-one has shown in the news sector has been quite rewarding for her over the years she was involved in the trade. She came to Connecticut and joined the WFSB-TV team in the winter of 1986. Nothing's stopped her from giving the most touching stories from over the world.
Within her 30+ years of work in WFSB, she's been honored with several accolades. She's won a total of 11 Emmy Awards, which includes one for Best Anchor and another one just this past June. She and Kevin Galliford were awarded an Emmy for Science and Health Reporting for their piece on Emma Splan.
Watch: Dennis House Congratulates Denise on Winning an Emmy This Past June
In addition to the Emmys, she has also been honored with two prestigious Edward R. Murrow awards, seven Associated Press Awards, and a national Gabriel Award. Back in 2013, she was elected into the 'Silver Circle', honored by the National Academy of Television Arts and Sciences for her significant contributions to broadcasting.
In 2015, she became the first woman to be admitted to the Connecticut Broadcasters Association Hall of Fame. When awarded with an Honorary Doctorate of Humane Letters from Quinnipiac University, she gave the keynote address at the 2013 Graduate Commencement ceremony, advising the graduates to strive for good on May 12 that year.
Along with several awards, she was also involved in several charity works, including the Muscular Dystrophy Association, Mary's Place and the Channel 3 Kids Camp.
4. Originally from Washington, D.C., Denise Launched the First School Newspaper at 12 and Started on TV from Syracuse
A journalism-enthusiast since a young child, Denise was born in Washington, DC, but was raised in Rockville, Maryland. When she was just 12, she launched the first newspaper for her grammar school. She later became the editor-in-chief of her high school newspaper.
After high school, she also went on to become the first person ever to get a scholarship from the American Newspaper Women's Club, allowing her to attend a summer journalism program at the Medill School of Journalism at Northwestern University.

When D'Ascenzo was a senior at Syracuse University, she also landed her first job at WIXT-TV in Syracuse, New York. It was the start of a successful journey for the WFSB star as she graduated Magna Cum Laude with double degrees in broadcast journalism and political science. She did nightly weather forecasts on WIXT and was hired as a full-time reporter and weathercaster after graduation.
After her exit from WIXT-TV, she was a reporter and talk show host in St. Louis for KSDK-TV. After that, she moved to Cleveland, Ohio, to anchor for the top-rated 6:00 and 11:00 newscasts at WJKW-TV, where she worked alongside Tim Taylor. The move came to an end when she married her husband and moved to Connecticut to be with him. She anchored at WFSB-TV on Channel 3 for the 17:00, 17:30 and 18:00 newscasts since 1986.
3. D'Ascenzo Is Survived by Her Husband, The Marriage That Brought Her to Connecticut and Had Daughter with Him
D'Ascenzo was married to her husband, Wayne Cook, as a New Haven Independent article in 2014 notes. Another Independent article mentions that his family ran the Hilltop Orchards for years.

The two had a daughter, Kathryn, born in 1997, Denise announced while on air. Her bio on Channel 3's website also mentions she enjoys family outings, swimming and hiking with her dogs.
Kathryn's Facebook profile says she is a Student Research Assistant at the College of Agriculture and Life Sciences at Cornell University and Outreach and Communications Intern at Cornell Lab of Ornithology. It also shows she is studying Environmental and Sustainability Sciences at Cornell University after graduating from Branford High School in 2011.
2. Her Favorite Topics to Report
Whenever there is chaos and everything goes awry, she is the one who remains calms and does the work all too well, better than her colleagues who agree on it. She's traveled around the country, providing special coverage of events like the 1988 Republican National Convention, the U.S. visit of Pope John Paul the II, the crash of United flight 232 and the arrest of the Washington, DC sniper.
Denise D'Ascenzo and Dennis House with former WFSB anchors Gayle King and David Ushery attending a special luncheon honoring Barbara Walters.
Source: Dennis House
After years of reporting generic news, she shifted her focus to health and medical reporting, which she generated an unending passion for. She's been a leading voice for raising awareness of breast cancer, obesity and disease prevention across Connecticut. She's also reported from inside operating rooms, cardiac catheterization labs, neonatal intensive care units, as well as onboard 'Life Star', the critical care helicopter service.
Ayah Galal wrote on social media, "I am shocked & heartbroken at the passing of one of the kindest people I've had the pleasure of working with. Denise lit up the newsroom with her smile & anchored the news every evening with grace and compassion. Please keep her family in your thoughts 💔." Through any kind of moment, she really was calm and composed that made the viewers really feel the events of the news she reported.
1. Her Haircut Made Waves in Women's Style As She Interviewed Paul Newman at His Own Home
After D'Ascenzo started out with Channel 3, her hairstyle became a thing of a trend, before the term 'trend' even got its new definition. Saturday's tribute the network released noted how her Farrah Fawcett hairdo was copied by women everywhere. Along with that, they also noted how she was the lead anchor to hold a prayer service outside the network studios after the 9/11 attacks. Her composure was needed during the time of turmoil. She also hosted the local Jerry Lewis telethon to raise money for muscular dystrophy research.
The late anchor also interviewed some of the most prominent celebrities of the country. Among them, she did an interview with Paul Newman while sitting across him on a couch inside his own home. It was special as rarely anyone was aware of where it was at all. Other celebrities she covered include Bob Hope, Tony Bennett and Oprah Winfrey.
Watch: Farewell Video for Denise D'Ascenzo by Channel 3's Dennis House
The entire fanbase and the network members, who also consider her a family, are devastated as she will be forever remembered in their and our hearts. Several individuals connected or not with the channel were pouring their condolences via several online networks. Condolences from the GlamourFame team.
Stay tuned and connected for more updates on GlamourFame.
-->