Did Danielle Cohn Break Up With Her Boyfriend Sebastian Topete?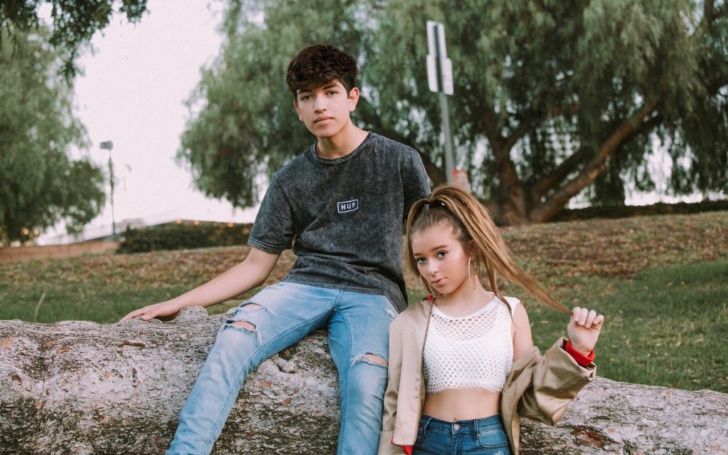 Almost 2 years long relationship came to an end between Danielle Cohn and Sebastian Topete.
Recently news broke out Sebastian Topete, and the Musical.ly star Danielle Cohn broke up, an account in Instagram was posting a series of pictures and recordings of both the star old snapchat arguments.
Just a few days ago, the exposing account posted arguments of the ex-couple arguing who did the worst that made them break up.
But, no matter what, this was a long time coming as we could see in Sebastian's face, he was not as joyful as he used to be when the internet personality was doing Musical.ly videos with Cohn.
Also See: Another Pregnancy Prank Or Is Danielle Cohn Really Pregnant?
The ex-couple was also going through some ego problems, as it was apparent from Sebastian's post, where he rants about Danielle photoshopping her social media pictures. This clearly indicated the former couple was going through some internal issues.
Moreover, Sebastian claimed Cohn was somewhat possessive in their relationship; she used to get mad whenever the musical.ly star used to talk with other girls while Danny was somewhat shady when one of her fans asked her to meet in person.
Sebastian opened about his past relationship with Cohn and said he was tired of her being so childish all the time, musical.ly star further stressed he just could not handle her behavior al-together.
When it comes to social media following, Cohn boasts a massive 3.7m followers, which is far ahead of Sebs following, which stands at just 443K, but more than half of Danielle's fans are taking Sebastian sides following the break-up.
Cohn has records of faking things, as one time Danielle faked she was pregnant, but her mother later confirmed it was a hoax, at one time the internet star was also rumored to be married.
But this time, Danielle overwhelmed by fans reaction, took to Youtube and uploaded a video where she explains about her break up, by the look of which it seemed as if she actually for once showed her true self as Dan cried and said she is struggling at the moment.
The internet personality also went on to mention everything in LA reminds her of Sebastian so she will be going through a hard time right now.
Sebastian, 18, and Cohn, 14, were in a relationship from 2017 and made a considerable amount of musical.ly videos. Now since they have parted their ways, may they find the power to overcome this hard time.
-->