Did Holly Sonders Undergo Plastic Surgery in 2021? Find All the Details Here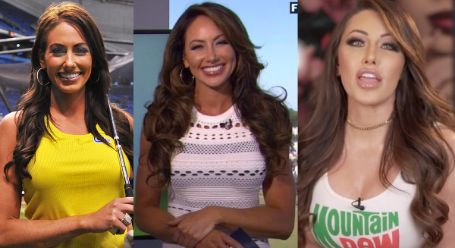 Has Holly Sonders Ever Went Under The Knife? Find Complete Facts Here!
Former Fox host, journalist, and sportscaster, she has consistently been in the spotlight for over a decade now, sometimes it was because of personal controversies, and other times for her striking looks and sideline reporting.
Holly Sonders was born on March 3, 1987, in Marysville, Ohio. Originally known for being an avid golfer, she had to let go of the dream of becoming a professional golfer after her knee surgery.
Sonders however stayed attached to her love for golfing as she joined NBC's Golf channel, from where her career as a journalist took off.
In 2020, Holly's posted a gorgeous picture of herself on Instagram that soon led to the whole debate if she had gotten plastic surgery or was it just make-up. Continue reading to find the whole truth.
Did Holly Sonders Had Plastic Surgery?
Also a fitness freak, Holly has always been an inspiration for her viewers and fans. And now also titled the sexiest host ever by "Fitness Gurls", she is pulling headlines every now and then with her steamy pictures.
Holly Sonders admitted to having fillers in her lips, nose, face and going through liposuction and breast augmentation.
Photo Source: Twitter
Looking perfect beyond belief in her new pictures, the plastic surgery speculation was meant to arrive. Fans were curious to know why she was looking like a completely different person.
But an accusation that many thought would scar her public image ended up giving Holly more admirers.
Recommended: Jude Bellingham Net Worth In 2021
Sharing the whole truth with her followers in a video, Holly said that she had indeed gotten plastic surgery, the tv host mentioned having filler in her eyes, nose, face, and a little bit of lipo, she also admitted to having her breasts augmented.
Admitting to her plastic surgery, Holly Sonders said she wished people to be honest about theirs too.
Photo Source: Twitter
Sonders further added that she decided to be honest about it in case there were girls on her Instagram feeling insecure about their body and face.
Holly also mentioned that it wasn't much of a deal for her and she wished everyone could be honest about it. Her gesture was well received by her followers who showered her comment section with love and positivity.
Holly Sonders Controversial Relationships!
A Michigan State University graduate, Sonders is also known for her scandalous relationships and dating disputed men. In 2011, she got married to a successful yet disgraced figure Erik Kuselias. The pair split ways in 2016 citing infidelity on Erik's part.
After her divorce, she was linked to NFL's Kliff Kingsbury and the duo reportedly dated for while secretly.
Holly Sonders got engaged to a notorious gambler Vegas Dave in 2019.
Photo Source: NY Post
Known for her carefree and bold personality by then, Holly's sudden engagement news with yet another notorious name Vegas Dave in 2019 didn't come as a surprise.
The 34 years old revealed that she fell in love with Dave instantly after learning about his personal story and his rise above adversity. Amidst the pandemic in 2020, Sonders pulled another headline when her fiancé Dave publicly admitted to prioritizing his career over Holly.
Check Out: Sharon Stone Plastic Surgery: All Details
After a little attempt at their reconciliation, the duo split ways as per reports. Holly Sonders has been focusing all her energy on herself since then as apparent from her Instagram.
Unabashed and raunchy on her Instagram, she has been a lot of criticism as well. The former golfer responding to the hate says "I am sexy. And it makes me happy, I am a sexy, powerful woman. And if that makes you uncomfortable, unfollow me now."
For more information and news on your favorite stars, stay connected to Glamour Fame.
-->