Did Kailyn Lowry Mutilate Her New Dog's Ears?
Published Tue Sep 10 2019 By Sea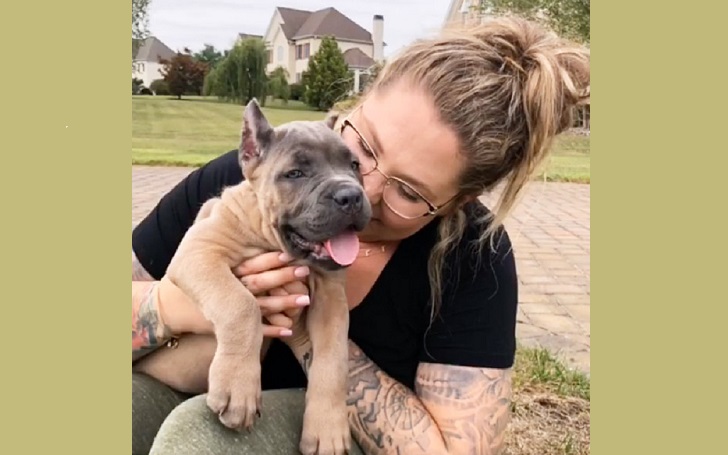 After getting lashes from adopting a dog with cropped ears, fans are speculating if she mutilated its ears herself.
It was predictable. After Kailyn Lowry had to put her previous dog, Bear, down because of his health, she would buy another pup. She shared her excitement with her fans on social media, but many are already climbing on their back.
It was a tough few weeks for the 'Teen Mom 2' star, after having to face David Eason's lashes & trolling attempts and afterward shoot down the pesky rumors regarding Leah Messer. The new pup, Karma, is adorable without a doubt. But as soon as people noticed its cropped ears, she hasn't stopped getting speeches about it. And one of them flat-out asked her if she herself did it to Karma.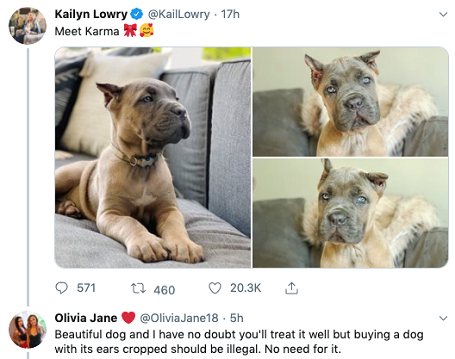 "Meet Karma"
Source: Kailyn Lowry, Twitter
Source: Kailyn Lowry, Instagram Story
The straight answer to the question "why are her ears cropped?" is it's customary and appropriate for the breed. Karma is a female Cane Corso, and the process is done for the dog's health and safety. It's not our research; it's one of the commenters on Twitter to the post.
Let's wind back first. As soon as the photos hit the social media, people came flooding in to mention the ears, mostly ignoring the cuteness of the young pup. The backlashes kept coming in. They found it cruel to crop a dog's ear who can't consent with it. They were coming forward quite aggressively, with one of them even voicing the one who did it "should have it done to them" too. One of them just had enough of her actions and almost accused her of doing it herself and that she was done with Kail.
The first commenter didn't even bother to learn of Karma's gender.
Source: Kailyn Lowry, Twitter
Some of them actually did more than just look at the photos and shouted out for her defense.
DO THE RESEARCH ON EAR CROPPING ON CANE CORSOS!! 🙄🙄
Then, someone really did their research on ear cropping of Cane Corsos and was shocked at her finding.
Ear cropping is good for the dog's health, according to the research.
Source: Kailyn Lowry, Instagram
Many afterward backed the process, but still, some of them remained defensive on their feelings that it should not be done as it is unethical and not consented with the dog.
The answer to the question of the topic is, Kail did, definitely, not mutilate her own dog's ears and it was not done for any cosmetic reason but for the health of the dog as it grows up. She bought it that way, and the breeder felt it was needed for the dog's safety.
There are always two sides of everything in this era, and it is not necessary that everyone agrees with each other on a matter. It all falls down to our own opinion. And to conflict it with others' opinion is a little naive. Regardless of the backlashes, one must agree the dog is cute at least.
-->