Did Mark Thomas Break Up With His Girlfriend Bridget Paddock?
Published Mon Aug 12 2019 By Sea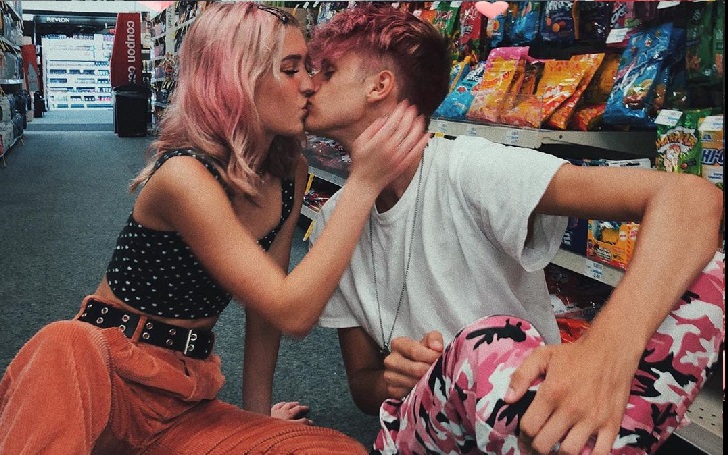 There's been a heated discussion on one particular comment section the last few days, and Mark Thomas may be finally done with his girlfriend, Bridget Paddock.
Back in March, there was this question that the teenage YouTuber Mark Thomas asked via an Instagram post "WILL YOU BE MY GIRLFRIEND" with crossed wine bottles. The caption seems to have changed this time, and it brought up a whole fleet of freaked out fans.
Thomas apparently got a 'yes' from Bridget Paddock as there were many photos with the two of them on Thomas' Instagram timeline which are nowhere to be found as of now. He was so in love then, but what happened now?
The debate isn't if they are still together or not; it's who cheated on who. The Instagram post of Thomas' relationship proposal captioned the same line as in the photo below. That was until about four days ago. Now it's "waste of a cute idea", is it?
The surprise proposal was cute back then, the surprise this time... Not so much. Many posts following which are deleted, don't expect to see more of them together in his feed. He removed all of them except one. Wonder what that's about. Something more interesting is that we can't find both of them in each other's following list (Although Paddock still got Thomas' mom in her list!). Guess it's true then, done for good. Fans have urged him to delete the above photo, along with the additional non-deleted post, and not be a weirdo or petty.
This too had its original caption removed!!
Onto the big debate, there's a buzz that Paddock cheated on him. The reason it's a debate is that, despite people believing he was cheated on, some claim that it was he who started all of it to lead into the climax. The question is still up for discussion before it can come to closure, but it seems fans are quite sure that it's over.
Many other celebrities have shut down their breakup rumors that occur in the Social Media feed, but Thomas just seems to ensure it is true. Posts from Paddock's feed have not been removed at the time of writing. But it may go soon enough.
Some fans are also concerned for the 18-year-old since many of them are also of around that age and younger. One of them claims Mark gave everything to Paddock to make her happy but she doesn't deserve his attention anymore.
Mark gave everything to make her happy, but she doesn't deserve all of this
Its hard but don't stoop to her level. a lot of your fans are young and this isn't a good influence on them. you're encouraging bad behavior. saying this bc im worried about u
It's all done and dusted, and as Thomas quotes himself, "There's no going back". He stopped making music last year, and fans want him to move forward and make some more music. The teenage years are usually the main inspiration for love-breakup songs since many just feel too much. We all went through that. But will they be back together again?
At such an age like Thomas, it's difficult to commit to everything, and he probably shouldn't dwell on it too much. Move on kid!
-->