Did Mike 'The Situation' Sorrentino Cheat His Wife?
Fans accused Mike Sorrentino of cheating his wife, Lauren Sorrentino, and The Situation responded.
There's been a talk Mike 'The Situation' Sorrentino cheated on his wife, Lauren Sorrentino. The speculations started when Mike shared a sweet throwback photo from his college days on Thursday.
So the throwback video showed Lauren on the clip, and we found his now wife is Mike's college sweetheart. While the photo itself was adorable, and it has nothing wrong on it, then why are people accusing Mike of cheating?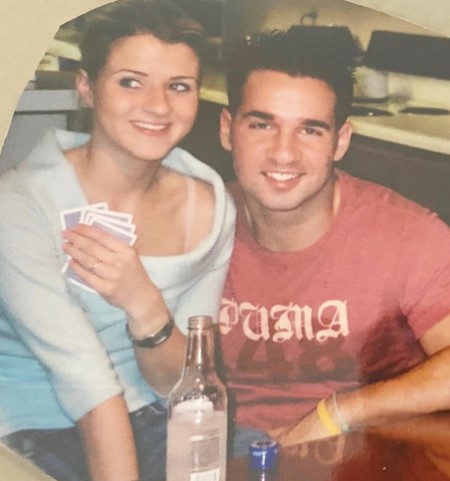 Mike Sorrentino shared a picture from his college days with his then-girlfriend and now wife, Lauren.
Photo Source: Mike Sorrentino's Instagram
Well, that's the question we asked at first, but when we heard the people's theory, well, they had some points. They wondered how their relationship timeline stacked up with his womanizing behavior on the MTV show, Jersey Shore.
Also Read: Joe Jonas and Sophie Turner Welcome Their First Child
One person commented, "Let me ask you a question when you did the show Jersey Shore, Mike were you still dating Lauren?"
Mike swiftly replied, " No, we were broken up when the first Jersey Shore started and eventually reconnected after the first Jersey Shore ended."
Well, that explanation was enough to clear the doubts; however, fans were still not convinced and started to troll him on the internet.
Next, one wrote, "And you continued to cheat on her that subsequent season? Booooo!"
So, The Situation has clapped back at his trolls and replied, "you are an idiot! If you read the above caption, it says we broke up season 1 of Jersey Shore and reconnected when it ended after season six."
Mike added, "So when Jersey Shore Family Vacation started, we were back together. [Shake my f—ing head]."
So, it's clear by now; he did not cheat his now-wife, Lauren Sorrentino.
You May Also Like: Hallmark Will Include LGBTQ+ Stories and Characters in Upcoming Christmas Movies
For more information on your favorite celebrities' lifestyle and news, stay tuned to Glamour Fame, and don't forget to sign up for the newsletter.
-->