Meet Diezel Braxton-Lewis, Toni Braxton's Youngest Son
Introducing Diezel Braxton-Lewis, the Youngest Son of R&B Sensation Toni Braxton!
Diezel Ky Braxton-Lewis, born on March 31, 2003, in Atlanta, Georgia, is a well-known figure in the world of celebrity kids. As the youngest son of renowned musician Toni Braxton and her former husband, Keri Lewis, Diezel has garnered attention from an early age.
Despite facing the challenge of being diagnosed with autism at a young age, Diezel has shown resilience and strength. Alongside his older brother, Denim Cole Braxton Lewis, Diezel has grown up in the spotlight. With his mother's legacy as one of the top-selling female R&B artists of the 1990s, Diezel carries the potential for a bright future in his own right.
Is Toni Braxton's Son, Diezel Braxton-Lewis Single or Dating? Know About Diezel Girlfriends
With the massive popularity of the parents, Diezel Braxton-Lewis is part of the limelight. The Wilhelmina model has chosen to keep his love life private and has not shared any details about his romantic relationships with the public.
Despite being active on social media, he has not disclosed any information about his personal life, including his dating status. As of 2023, Diezel is known to be single.
He maintains a level of privacy when it comes to matters of the heart and focuses on his career and other aspects of his life. Maybe soon we can see him dating his love of life. But for now, Diezel is still riding a solo journey.
Diezel Braxton-Lewis is Graduated
Diezel Braxton-Lewis, the youngest son of Toni Braxton, has achieved a significant milestone by graduating from high school. Diezel's graduation marks a moment of pride for his family and serves as a testament to his hard work and dedication.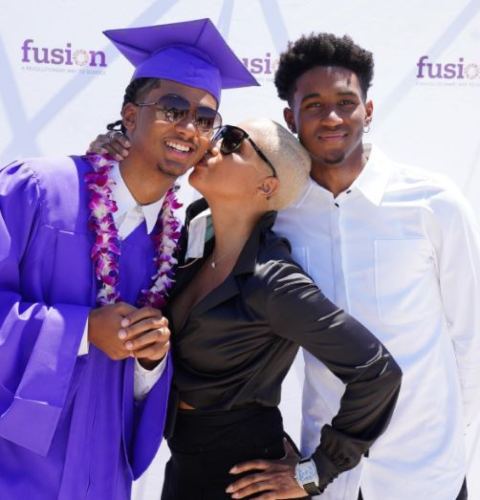 As he embarks on the next chapter of his life, the celebrity kid can look back on this achievement with a sense of accomplishment. His graduation is a reminder of his resilience and determination, and his family joins in celebrating this important milestone in his educational journey.
Recommended: Toni Braxton's Niece Lauren Braxton's Cause Of Death Has Been Revealed!
Both of his parents attended the ceremony to congratulate Diezel on his new life. Also, the former celebrity duo Keri and Toni posted several pictures from the event on, their respective social media accounts.
Love Life of Diezel Braxton-Lewis Parents
Toni Braxton and Keri Lewis had a love story that began in the 1990s. The couple met while Lewis was a keyboardist for Braxton's music group, and their connection quickly blossomed into a romantic relationship. Their love eventually led to marriage in 1998, as they exchanged vows in a private ceremony surrounded by their loved ones.
Throughout their marriage, Braxton and Lewis shared their lives both personally and professionally. Lewis, a talented musician, continued to contribute to Braxton's music career, adding his musical prowess to her albums and performances. They appeared to be a strong and supportive couple, with Lewis often seen by Braxton's side at public events.
Parents Are Divorced
However, as with many relationships, challenges arose, and in 2009, Braxton and Lewis decided to go their separate ways. They officially filed for divorce, ending their 12-year-long marriage. The reasons behind their split were not extensively publicized, as both Braxton and Lewis preferred to keep the details of their personal lives private.
While their romantic relationship may have come to an end, Braxton and Lewis remained connected through their shared roles as parents. They continued to co-parent their children, showing a commitment to their family despite the dissolution of their marriage.
Diezel Braxton Has Special Bonding With The Brother, Denim
Diezel is not only the child of the former celebrity duo, Keri and Toni. Their first child Denim Braxton was born on 2nd December 2001 in the United States. His birth sign is Sagittarius and is in his early twenties.
Denim is also a model who has worked with several brands. In his high school days, he was fond of playing basketball. His Instagram account has almost 100k followers. On the other hand, The former Mr. and Mrs. Lewis's second child, Diezel was born on 30th March 2003 with a birth sign of Aries.
Also See: An Inside Look Into Celebrity Kid Elijah Judd's Life!
Currently, he is also in his early twenties. The rising model has over 162K followers on his Instagram account. Both of the Braxton brothers have a great bonding. Also, the duo has worked with several brands together and has achieved a lot together.
Mother, Toni Braxton is Top Selling Female R&B Singer
Toni Braxton is a renowned American singer, songwriter, actress, and television personality. She gained international fame for her soulful and powerful vocals, earning her the title of one of the top-selling female R&B artists of the 1990s.
Braxton's career highlights include hit songs such as "Un-Break My Heart," "Breathe Again," and "He Wasn't Man Enough." She has received numerous awards, including Grammy Awards, and has sold millions of albums worldwide.
With her distinctive voice and captivating stage presence, Toni Braxton continues to be a celebrated figure in the music industry, leaving a lasting impact on R&B music.
Detail on Father, Keri Lewis Profile
Father Keri Lewis is an American musician, songwriter, and producer. He was born on February 12, 1971, in Cincinnati, Ohio. Lewis is best known as a member of the R&B group Mint Condition, where he played keyboards and provided backing vocals.
The group gained popularity in the 1990s with hits like "Breakin' My Heart (Pretty Brown Eyes)" and "What Kind of Man Would I Be?" Lewis's talent as a musician and producer contributed to Mint Condition's success.
Outside of his work with the group, he has also collaborated with various artists in the music industry. Keri Lewis's contributions to R&B music have solidified his place in the industry.
How Rich is Deziel Braxton-Lewis? Know About Deziel's Net Worth
For sure, Deziel Braxton-Lewis grew up with a silver spoon. With his parent's name and fame, he has great early years. But that didn't stop him to pursue his own career.
Currently, he is serving as a fashion model for various brands. As estimated the celebrity kid, Deziel is enjoying a net worth of $300,000.
An average model makes over $50,000 per year in the United States. Also being a rising star in the industry, he is making a good amount of fortune.
Seek Glamour Fame For More!
-->