Donald Trump to be Banned From Facebook For Two Years
Donald Trump to Remain Banned from Facebook for Two Years: Read the Exclusive Story Here!
The oversight board, in January, upheld Facebook's decision to ban the former President Donald Trump's Facebook and Instagram accounts. Heeding the board's complaint of the open-ended nature of the suspension, Facebook on Friday announced that Trump would remain banned for two years and his accounts can be reinstated in January 2023.
Facebook is done with Trump's hate-mongering and says his account is suspended for two years.
Photo Source: Ft
Trump, who previously got banned from Twitter indefinitely, saw this similar consequences on Facebook after he applauded people who engaged in violence at the capital riot on January 6. Facebook also stated that at the end of the period, they would have experts to determine whether Trump's reinstatement will bring any risks to public safety. Only then will the suspension be lifted.
Check Out: 'Lucifer' Star Kevin Alejandro Lands a New Role
"When the suspension is eventually lifted, there will be a strict set of rapidly escalating sanctions that will be triggered if Mr. Trump commits further violations in future, up to and including permanent removal of his pages and accounts," said Facebook's vice president of global affairs and communication, Nick Clegg.
Facebook also looked at the case from a broader perspective and said it would no longer allow politicians and other public figures to spread their hateful propaganda and opinions. Cregg added, "Given the gravity of the circumstances that led to Mr. Trump's suspension, we believe his actions constituted a severe violation of our rules which merit the highest penalty available under the new enforcement protocols."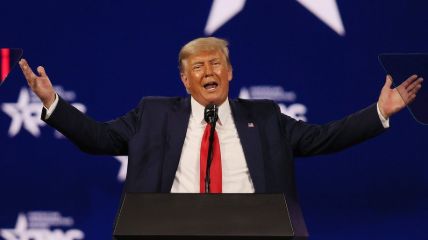 Trump backlashed saying the ruling is an insult to 75 million people.
Photo Source: BBC
Trump obviously didn't stay quiet and vented at the decision. He said, "Facebook's ruling is an insult to the record-setting 75 people, plus many others, who voted for us in the 2020 Rigged Presidential Election,they shouldn't be allowed to get away with this censoring and silencing, and ultimately, we will win. Our country can't take this abuse anymore."
For more information and news on your favorite stars, stay connected to Glamour Fame.
-->