Drama in the NBA Finals As Golden State Warriors Part Owner Mark Stevens Banned for Shoving Kyle Lowry
Published Mon Jun 10 2019 By Travis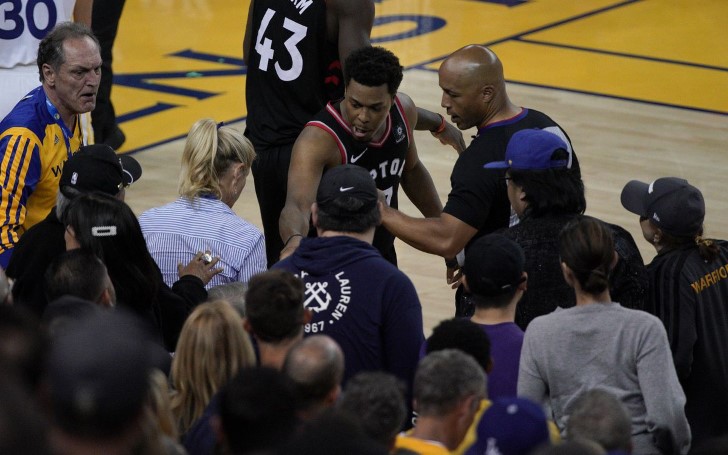 Mark Stevens is a billionaire venture capitalist, four days ago there was a minuscule chance of you hearing about it. Three days ago he made his way into every sports lovers' house and not in a good way.
It was game 3 of the NBA finals, 96-86, Raptors were leading by 10 points in the 4th quarter. The clock hit the 10:35 mark when a loose ball made its way to the baseline. Kyle Lowry, the point guard for the 'Raptors' chased after the ball and jumped forward to get it, he pulled the ball but crashed into the fans in the front row, nothing innocuous there, but then there was a scuffle near the place where Kyle dove into.
Watch: Minority owner Mark Stevens pushes Kyle Lowry as he tries to get up
Kyle was telling the refs that someone pushed him, a television review showed, a fan sitting at the front row, sitting 2 seats to the left where Kyle landed appeared to have pushed Kyle when he was coming up. The commentators said that a fan pushed the player and the refs are looking into it. A 'Warriors' representative came down after the game restarted and took the 'fan' from his seat to away from the camera's view.
The said 'fan' was later revealed to a minority owner of the 'Golden State Warriors'. Mark Stevens, with almost $3 billion in his bank account pushed the player and then got ejected. Adam Silver, the 'NBA' commissioner, made a swift decision to ban the billionaire from basketball games for one year and fined him $500,000.
Watch: Commissioner Silver explains why Mark Stevens didn't get a lifetime ban
$500,000 seems like a high amount for a normal 'Joe' but for Mark Stevens, it is like chump change. Just for reference that is like a $21 fine for a person with a net worth of $100,000. The same sentiment was echoed throughout the league, the ban of just one year was also looked at sideways when the full story of the event surfaced. It was revealed that after shoving Kyle he repeatedly shouted f*** you to Kyle.
Thank god that Kyle Lowry is not a hot head, otherwise, there would have been a whole different problem right now. The same sentiment was echoed by the best player in the world, LeBron James on Instagram;
LeBron stated, "Just think to yourself, what if @kyle_lowry7 would have reacted and put his hands back on him. You guys would be going CRAZY!! Calling for him to damn near be put in jail let alone being suspended for the rest of the Finals all because he was protected himself." The man is correct, if Kyle had put his hands on the person to protect himself, there would have been people coming out of woodworks to crucify Kyle.
We have seen these types of incidents happen before, most recently in Utah. A fan, Shane Keisel, said: "Get down on your knees like you're used to." and 'Utah Jazz' banned him for life. NBA missed a huge opportunity when it comes to player protection. But the 'NBA' can't be faulted for the swift action, because another sports organization, namely, the 'NFL' would have taken years to address this type of situation.
Watch: Russell Westbrook threatens to beat up a fan after he uses racist remarks
Just so you know what would have happened if the player had put his hand on a fan, here is an example; The Pacers-Piston brawl where the players went into the stands to beat up the fans were collectively banned for 186 games and fined a total crossing $11 million. Ron Artest was fined $4.9 million and banned for 86 games, Stephen Jackson was banned for 30 games and fined $1.7 million, Jermaine O'Neal was banned for 15 games and $4.1 million.
Watch: The brawl at the palace
Players with fractions of bank account were fined for that much but a billionaire was fined an amount he might find under his car seat. These finals have had no shortage of drama with Raptors' ambassador, 'Drake', trading figurative punches with his friends and Warriors players, but nothing as violent as this. Raptors are currently leading the series 3-1 as game 5 heads back to Toronto, Drake and his trolling behavior will be there so there will be no shortage of drama, here's hoping nothing escalates to the level of the game 3 incident.
Watch: Kyle Lowry addresses the sideline incident
Kyle Lowry is clear as to what needs to happen, "I think more should be done. He's not a good look for the ownership group that they have. And I know Joe Lacob. Those guys are great guys. The ownership that they have that I know, they're unbelievable guys. But a guy like that, showing his true class, and he shouldn't be a part of our league. There's just no place for that." The drama heads to Toronto and players are expecting Adam Silver to come through with even harsher punishment.
-->