Duggar Parents Address Cropping Out Jill Duggar from Family Photo Amid Drama with Derick Dillard
Published Wed Jul 29 2020 By Sea
Jim Bob and Michelle Duggar say they cropped out Jill Dillard from a recent photo to include some grandchildren in the square frame. Is is just an excuse?
With whatever was going on between the Duggar head, Jom Bob, and one of his son-in-laws, Derick Dillard (at least on papers), Jill Duggar did attend the baby shower thrown for Joy-Anna Forsyth this week.
The Duggar family shared a bunch of pictures from the event, the first of which included Jill, but a few fans also noticed how she was cut off from the last of the pictures. Apparently, her feet were seen in one bottom corner of the photo, and the questions kept bombarding.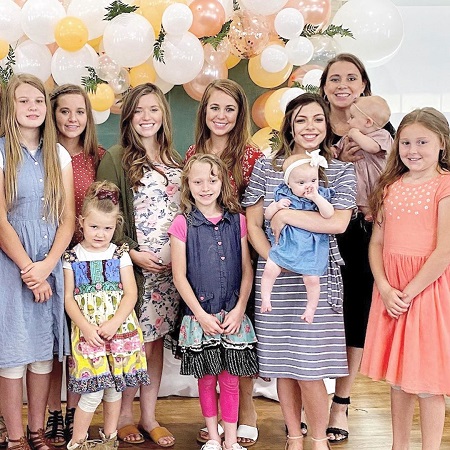 "Where's Jill?"
Photo Source: The Duggar Family, Instagram
"Jill is cropped out [of] the last photo," one fan wrote. "You really, really, really have to zoom into the bottom left corner, but you see Jill's shoes, so she's cropped out." That's some really keen eyes. While some of them mentioned the drama going on with her husband and father, the Duggar parents did make a point to explain why that happened with the photo.
"You can only fit so many in a square photo!" The response of the IG account controlled by Jim Bob and Michelle Duggar wrote to one comment that asked where Jill was. "[We] wanted to include some of the grandkids, too!"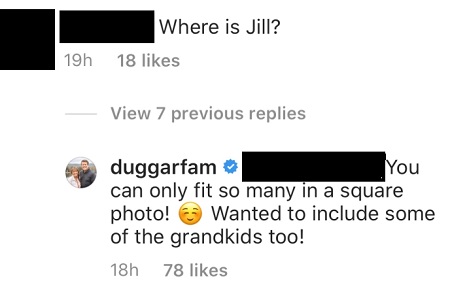 Photo Source: The Duggar Family, Instagram
It was rare for the parents to have said anything related to Jill or her husband amidst all that is going on between them. The only other thing was a birthday tribute for Derick back in March, writing, "Happy birthday, Derick! We're so thankful for you! You're a loving husband to our sweet Jill and a wonderful daddy to your boys. May God bless you in this new year!!"
With the things Jill and Derick have been doing in contrast to the family values and the husband challenging TLC's paycut for 'Counting On', everyone were taken aback when the primary Duggar account wished him a happy birthday.
Who knows what's going on in the family behind all the cameras. But with the notion that the family estate was something like a child custody for the Dillards, things haven't been so cherry.
Stay tuned and connected to GlamourFame for more celebrity news and updates.
-->