Ed Sheeran Shares a Kiss With Wife Cheery Seaborn As He Accepts His 'Songwriter of the Year' Award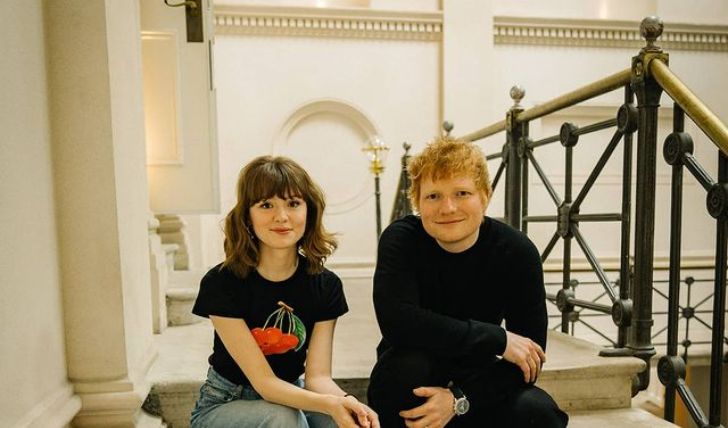 Ed Sheeran gives Cherry Seaborn a sweet kiss before branding her "the best." Complete story here!
Ed Sheeran, 30, took home the Best Songwriter Of The Year award at BRIT 2022, in London, on Tuesday. Before accepting his award, the singer shared a sweet kiss with his wife, Cherry Seaborn, a former hockey player. Sheeran gave his wife a shoutout in his speech for being the "best."
"My wife Cherry, at the drop of a hat, will come to a secluded studio in the middle of nowhere where we'll just write song after song, thank you, you're the best," the Photograph hitmaker said, while also extending his gratitude to colleagues and his loved ones. For those oblivious of Sheeran and his now-wife Cherry's story, the pair's relationship goes way back to their childhood.
Ed picks the 'songwriter of the award' at BRITs 2022.
Source: BRITs
The four Grammys-winner met Cherry when they were kids in Sheffield, England, but their relationship was platonic up until 2015. Seaborn, 29, is said to be Sheeran's muse for many of his songs, including his song Perfect. The low-key couple got engaged in 2018. "Got me a fiancée just before the new year," Sheeran wrote, sharing a picture of the couple.
Don't Miss: Pete Davidson Calls Kim Kardashian "His Girlfriend" For the First Time.
The Shape of You singer dropped the news of his secret wedding, which took place in 2019, subtly in his track Remember me, from his album No.6 Collaborations Project. Ed refers to Cherry, who was working as a risk advisory consultant at the time, as his wife. "My wife wears red but looks better without the lipstick," the lyrics go. "I knew that we'd be married by the point that the song came out," Sheeran said later in an interview. The newly-wedded welcomed a daughter, Lyra, in August 2020.
Sheeran and Cherry started dating in 2015.
Photo Source: Instagram
The 30 years old pop star opened the BRITs 2022, and the English singer shared opening the BRIT was his "teenage fantasy." "The first Brits I came to was 2011, and I was just signed to Warner, and it was Plan B's year," Ed said. The singer iterates being mesmerized by his first BRITs, where he recalls, Adele sang Someone Like You.
For more information and news on your favorite stars, stay connected to glamour fame.
-->