Erin Darke Alleged Engagement With Daniel Radcliffe - Find Out More Here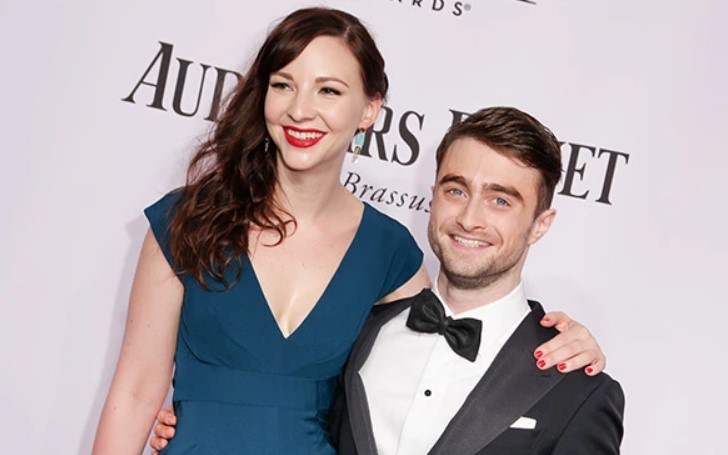 We know you can't wait to find out if our boy, Daniel Radcliffe, is engaged to his longtime girlfriend, Erin Darke. Even we can't wait for you to tell you the fact. Let us tell, there are some rumors suggesting the two are already married, but is that true?
We will try to figure out just those things here and also find out how the couple met. So, without further do, let's dive into the facts and know what's going on.
How did Erin Darke and Daniel Radcliffe Meet?
We don't get to see these kinds of incidents very often in Hollywood; however, there are some couples who found their love on the set. Likewise, Daniel Radcliffe and Erin Darke also met in the set of 2013 movie, 'Kill Your Darlings.'
According to the reports, when Daniel, 30, was filming a very intimate scene with Erin, 35, where Darke's character performs oral sex on Daniel's character in a library. The scene pretty much sparked the romance between two.
As Daniel recalls, "Our characters are meeting and flirting with each other, so there is this kind of sweet record of us just meeting for the first time and flirting."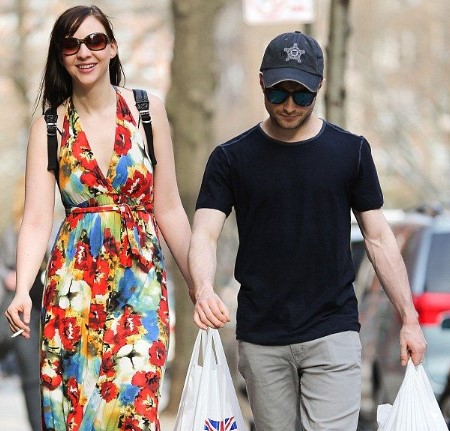 Erin Darke is the longtime girlfriend of Daniel Radcliffe (for two years). The couple reportedly is engaged.
Photo Source: Daily Mail
While Erin, on the other hand, said Daniel is the person who innately understands her. Talking with 'People,' the actress said, "One of the first things we bonded over was how much we really love what we do, and there's something really beautiful and really lovely about being with someone who just innately understands that about you."
Also See: Kiari Sharpe - Some Facts to Know About Shannon Sharpe's Son
Erin further added, "He helps me make self-tapes sometimes. He's a great reader, by the way. We're both incredibly supportive of the other person's career."
Are Erin Darke and Daniel Radcliffe Engaged?
While there are rumors surrounding the couple is engaged, which Daniel Radcliffe and Erin Darke are yet to announce, there is already news of two getting married soon.
According to some reports, the 'Harry Potter' actor proposed his girlfriend of two years without an engagement ring. While these things still need verification, it's for sure; the couple is set to walk down the aisle.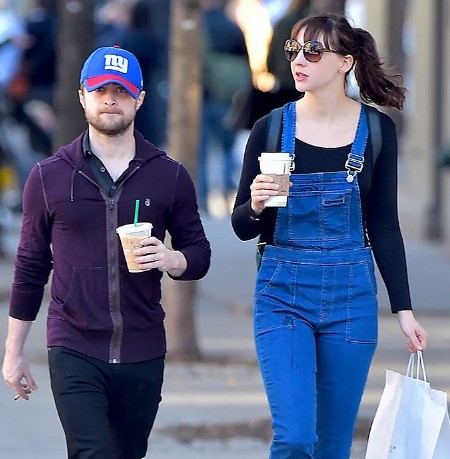 Erin Darke and Daniel Radcliffe are making a lot of public appearance lately. By what it seems, the couple is going to tie the knots real soon.
Photo Source: Daily Mail
Some reports even claim 'Kill Your Darlings' co-stars are planning on getting married in an outdoor ceremony on the banks of Lake Michigan, which is Erin's hometown.
Dan is reportedly working on his marriage and making the guestlist. No wonder, Emma Watson, Daniel's co-stars of 'Harry Potter' series, will also be in attendance, as some claimed, Watson adores Erin.
Moreover, Daniel's best friend in the Harry Potter series, Rupert Grint, will serve as a best man. Well, this for sure, looks like a real Harry Potter getting married. It just that there's a new character, Erin, whom Daniel loves with his heart and soul.
You May Also Like: Ariana Grande's Boyfriend Dalton Gomez - Some Facts to Know About Grande's New Boyfriend
For more information on your favorite celebrities' lifestyle, stay tuned to Glamour Fame, and don't forget to sign up for the newsletter.
-->