Details on Erling Haaland's Parents: Learn About His Family Life Here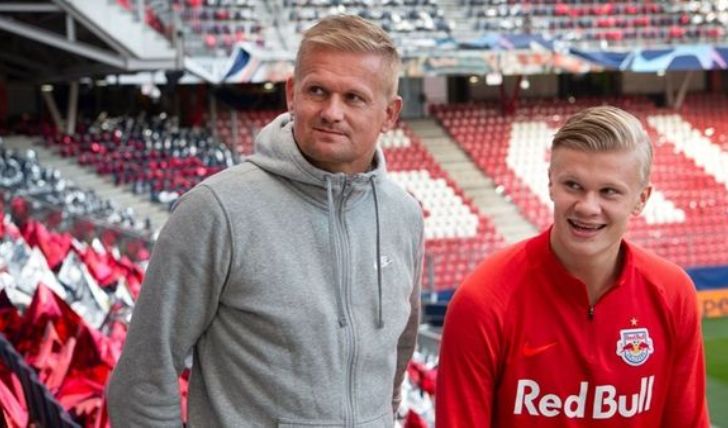 Erling Haaland's Parents and His Early Childhood: The Striker is a Son to an Esteemed Footballer.
One of the world's most wanted players, with vested interests from Chelsea, Manchester United, Real Madrid, Barcelona, and PSG, Erling Haaland, currently plays for Borussia Dortmund, the German sports club. One of the world's finest striker might come in alliance with one of the European clubs in the upcoming summer.
Erling Braut Haaland is a Norwegian football player who plays as a striker for Dortmund and the Norway national team. The striker has achieved staggering success and has become the fastest-rising name in the sports world. Haaland was born to an esteemed football player who plays a major role in Erling's career decisions.
Who are Haaland's Parents?
Haaland was born on 21 July 2000 in Leeds, England, to Alf Ingle Haaland and Gry Maria Braut. Erling's father, a former football player, had a brilliant career playing for Nottingham Forest, Leeds United, and Manchester City. Erling spent his early years in Bryne, where his father played for a local club, with his older brother, Astor, and younger sister, Gabrielle.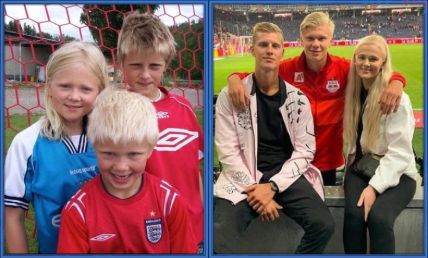 Haaland was born to the former defender, Alf Ingle Haaland. Photo Source: Life blogger
Despite getting a spot in Manchester United and Juventus, teenage Haaland joined Borussia Dortmund in 2019. The former defender recently revealed why his son chose Dortmund instead of Manchester United. Alf Ingle cites, his son was being pushed by his then-coach Solskjaer for the transfer.
Check Out: Sonny Chiba's Children: Learn About His Family Life Here.
"Its dangerous to just sign for a coach because he can suddenly be sacked," said Haaland's father. He further shares, since Dortmund showed greater interest and the whole club wanted Erling, it certainly appeared as a better choice.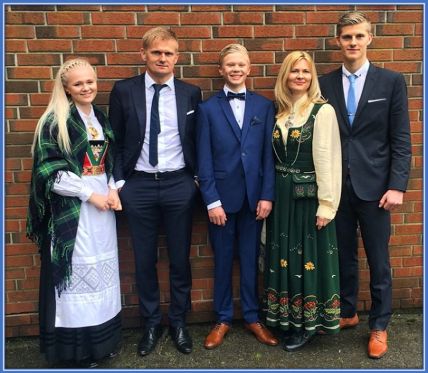 The striker grew up with an older brother and a younger sister.
Photo Source: Life Blogger
Haaland's mother, Gry Maria, is known to be a former heptathlete champion for Norway. After getting married and birthing her children, Braut shifted her focus into tending to her family. Haaland preferred football over athletics from a young age. Along with football, he also trained for handball, track, and golf from an early age.
Haaland's Career Highlights!
Haaland's short career covers time in Bryne, Molde, Red Bull Salzburg, and Dortmund. The Leeds-born started his football career at his hometown club, Bryne, in 2016 and signed with Molde club a year later. His former coach, Alf Ingve Berntsen, reflects on Erling's formative years as a player.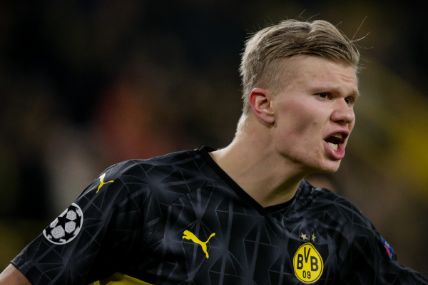 Erling can join hands with another esteemed club in the upcoming summer.
Photo Source: Talk Sport
"I saw Erling for the first time when he was five, he was very good from the first moment, even though he hadn't played in the club before. We immediately pulled him to Under-6," the coach told Goal. Nicknamed The Terminator, Haaland is best recognized for his unmatched pace and strength. The bona fide footballer has broken records in a short span.
Don't Miss: Who are Billie Lourd's Parents? Learn About Her family Life.
In the 2019-2020 season, Erling became the first teenager to score five consecutive UEFA Champions League matches. He has also endowed the Golden Boy award the same season. Haaland has an impressive 63 goals in 64 appearances and was the winner of the German Cup in the last season.
For more information and news on your favorite stars, stay connected to Glamour Fame.
-->