What Fans Have to Say about Victoria Beckham's Announcement of Her Daughter's Favorite Makeup
Published Tue Jul 21 2020 By Sea
Mother-daughter duo Victoria and Harper Beckham looove Chérie, and fans can't believe she's grown up so fast.
Wait, wait, did you expect there would be some negative comments for such a simple thing? Not by a long shot. Although, one fan did point out something that doesn't need too much concern. Harper Beckham is not a toddler anymore.
A photo of the dynamic duo, Harper and Victoria Beckham, was posted on the Victoria Beckham Beauty Instagram page, obviously by the mother (the caption has I in it), writing, "Harper & I are loving Chérie! My new @VictoriaBeckhamBeauty shade of Bitten Lip Tint." There's a few hashtags afterward, mentioning the product's Harper approved.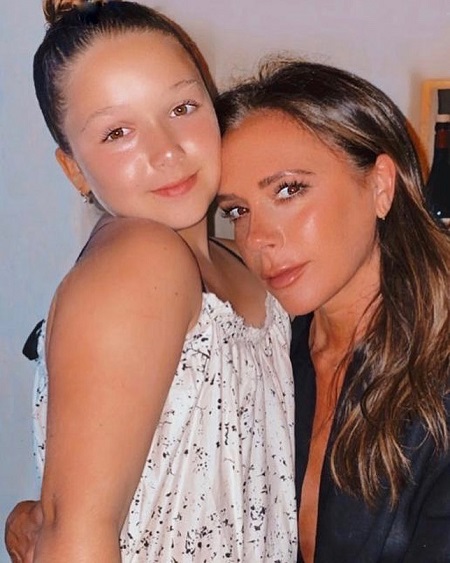 Doesn't she look so mature?
Photo Source: Victoria Beckham Beauty, Instagram
The product may have had the Beckham daughter's approval, but that announcement may not be approved by some users who think she's too young to be interested in makeup. Although, the comment wasn't without praise. Aside from that, and many disappointments about how it's all sold out, fans were applauding the beauty Harper's daughter carries.
Also See: Here's What Kelly Ripa's Daughter Lola Consuelas Doing These Days
"Gorgeous picture of the two of you and you both suit the new lip tint," one wrote. Meanwhile, another exclaimed, "Queen and princess!" There's really no need to extend. Every other comment speaks of how cute Harper is and how great they are together.
Despite the bond they share, Victoria confesses Harper's a different child altogether and not like she herself was when she was young. "When I was at school, I was quite an awkward teenager," the mother-of-four told Vogue Australia. "I didn't have a huge amount of friends, and looking back I recognise that I was bullied at times."
The youngest is a prodigy for Victoria herself.
Photo Source: David Beckham, Instagram
She thus encourages her four kids to always be kind to others. Either way, Harper has her three older brothers to protect her every step of the way. Her ninth birthday was a smashing one, with Victoria sharing a series of throwback pictures for her. Quarantine has been joyous for her wit her parents.
Stay tuned and connected to CelebsGazette for more celebrity news and updates.
-->