Fashionista Finances: Kimora Lee Simmons' Net Worth in the Spotlight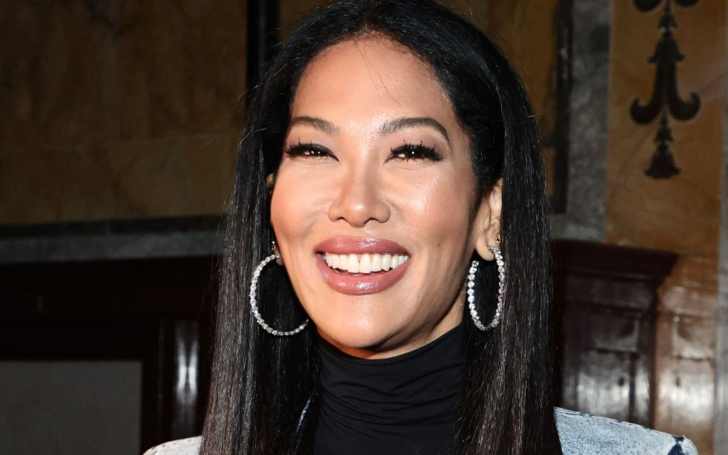 Kimora Lee Simmons is a prominent figure in the worlds of fashion, modeling, and entrepreneurship. Born on May 4, 1975, in St. Louis, Missouri, she quickly rose to fame as a fashion model in her teens, signing an exclusive contract with Chanel. Her striking beauty and towering height set her apart in the industry.
However, Kimora's true success came when she transitioned to a successful career in fashion design and business. She launched her fashion label, Baby Phat, which became a sensation in the early 2000s, catering to a diverse, urban audience.
Kimora Lee Simmons Net Worth and Earnings
Renowned fashion entrepreneur Kimora Lee Simmons stands as one of the most multifaceted and gifted individuals in her industry.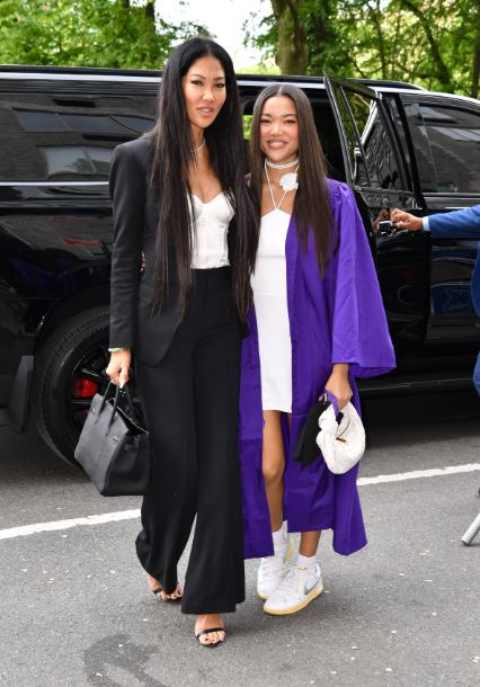 As of 2023, her estimated net worth is an impressive $80 million, a testament to her illustrious career. Kimora's annual income is a substantial $12 million, illustrating her unwavering commitment to her craft.
Kimora Lee Simmons in Baby Phat
In 1998, Russell Simmons, Kimora Lee Simmons' husband at the time, established the urban menswear brand Phat Farm. He introduced a women's brand, Baby Phat by Kimora Lee Simmons, as part of Phat Fashions. Kimora assumed the role of Baby Phat's designer, infusing her personal style into the clothing.
In 2000, she was promoted to President and Creative Director. By 2001, Baby Phat generated $30 million in revenue, and in 2002, the combined profits of Phat Farm and Baby Phat reached $265 million. Phat Fashions was acquired by the Kellwood Company in 2004 for $140 million, with Kimora remaining as President and Creative Director.
Under her leadership, the brand expanded into various product lines, including denim, accessories, jewelry, swimwear, and fragrances. She held the position of President until 2006 and left the company in 2010.
Starting New Business After Leaving Baby Phat
After leaving Phat Fashions, Kimora Lee Simmons retained ownership of her fragrance and cosmetics licensing rights, featuring popular scents like "Baby Phat Goddess." She reacquired Baby Phat in 2019.
Kimora's ventures included the Simmons Jewelry Company and collaborations like "Kimora Lee Simmons for Hello Kitty" and a Hello Kitty collection with Zales. In 2006, she partnered with Sephora and Macy's to launch KLS Cosmetics.
Her KLS fashion collection and Kouture by Kimora brand were exclusive to Macy's. In 2011, she ventured into luxury with her KIMORA LEE SIMMONS high fashion collection. From 2012 to 2015, Kimora served as President and Creative Director at JustFab, contributing to its rise in the fashion subscription industry.
Multi-Million Homes and Properties
In 2006, following her separation from Simmons, Kimora invested $8.5 million in a sprawling 13,000-square-foot mansion in Beverly Hills.
After acquiring a larger Beverly Hills residence, she opted to lease the former property, commanding monthly rents of up to $55,000.
Come July 2023, Kimora successfully sold this home for an impressive $16.5 million. In 2014, shortly after her marriage to Tim, they jointly purchased a lavish New York City apartment for $19 million.
Sold Beverly Hills Homes With a Loss of $9 Million
In 2017, Kimora Lee Simmons and Tim Leissner purchased a grand Beverly Hills estate for $25 million, spanning nearly 4 acres. The luxurious mansion boasts 7 bedrooms and 11 bathrooms.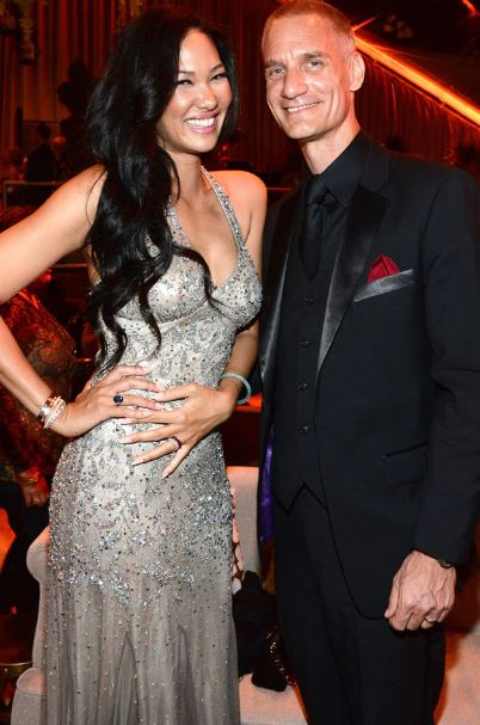 The place is situated within an exclusive gated community shared with notable celebrities like Denzel Washington, Mark Wahlberg, Eddie Murphy, and Sylvester Stallone. The property offers lush gardens, a home theater, a sunken tennis court, and a mosaic-tiled swimming pool.
Originally listed at $33.5 million and later reduced to $29.95 million, it was briefly withdrawn from the market before Simmons and Leissner's acquisition. Regrettably, they sold the mansion in January 2021 at a significant loss of $9 million, for a final sale price of $16 million.
Philanthropic Deeds
Kimora Lee Simmons is a dedicated philanthropist with a notable history of contributions. Her support extends to organizations such as PETA, where she endorsed humane pet care and donated to their Angel for Animals Project. In St. Louis, she was recognized and awarded her own "Kimora Day" for her societal contributions.
She established a scholarship fund at FIT to assist underserved students pursuing fashion careers. Her humanitarian efforts include aiding refugees and migrant women through her role as Lead Global Ambassador for The Unmentionables.
Simmons is a staunch advocate for gender equality and has collaborated with UN Women. Additionally, her recent partnership with Smile Train and a back-to-school giveaway with Family Dollar and Crayola demonstrates her ongoing commitment to making a positive impact in various areas of need.
Movies Box Office Collections
Kimora Lee Simmons is a multifaceted talent, not limited to her modeling and business acumen. Her foray into film and television has been noteworthy.
In 2002, she graced the screen in the movie "Brown Sugar," which garnered a substantial $28.3 million in box office earnings, produced with a budget of $8 million.
Likewise, her role in "Beauty Shop" contributed to its $37.2 million global revenue, despite a $25 million budget. In another film, "Waist Deep," she played a part in its worldwide collection of $21.3 million.
Happily Married To Husband, Tim Leissner
Kimora Lee Simmons married investment banker Tim Leissner in February 2014, and they welcomed their first child, a son named Wolf Lee Leissner, in April 2015.
In 2020, Simmons expanded her family by adopting Gary Lee Foster, bringing her total number of children to five.
However, by February 2022, it became public knowledge that Kimora and Tim were estranged, although the exact timing of their separation remains unclear.
Husband, Tim Leissner Pleaded Guilty on Money Laundering
In 2018, Kimora Lee Simmons' husband, Tim Leissner, pleaded guilty to money laundering charges and consented to forfeit $43.7 million in earnings.
His involvement was linked to a massive fraud orchestrated by Jho Low, defrauding Malaysia of $4.5 billion from 2009 to 2014.
Leissner, along with a partner, reaped substantial profits, amassing $200 million in fees through their participation in the scheme.
Two Daughters With Ex-Husband, Russell Simmons
Kimora Lee Simmons's romantic journey began when she met Russell Simmons during New York City's Fashion Week in November 1992. They tied the knot in a picturesque ceremony on the Caribbean island of St. Bart's, officiated by Russell's brother, rapper, and Pentecostal minister, Joseph "Reverend Run" Simmons, in December 1998.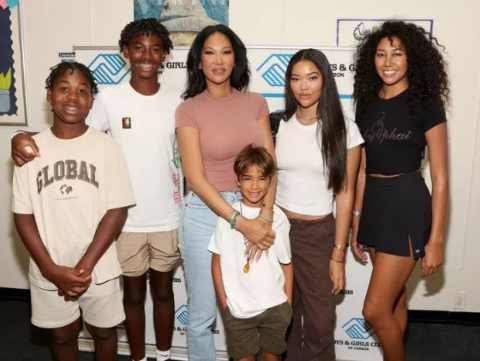 Their union brought two daughters into the world, Ming Lee Simmons (born January 21, 2000) and Aoki Lee Simmons (born August 16, 2002). However, the couple went their separate ways in March 2006, with Kimora filing for divorce in March 2008, which was finalized in January 2009.
Following her split from Russell, Kimora dated actor and model Djimon Hounsou, resulting in a son, Kenzo Lee Hounsou, born in May 2009, following a traditional Benin commitment ceremony in the summer of 2008. Despite their connection, Kimora and Djimon, who were never legally married, announced their separation in November 2012.
How Tall is Kimora Lee Simmons?
Kimora Lee Simmons is known for her tall and attractive stature, standing at 6 feet in height.
While specific details about her body statistics and weight are not provided, she is recognized for her striking features, including dark black hair and captivating black eyes.
Visit Glamour Fame For More Relevant Content
-->