Fox News Correspondent and "Final Exam" Contestant Lauren Blanchard are on a Roll Lately
Published Mon Feb 11 2019 By Jessica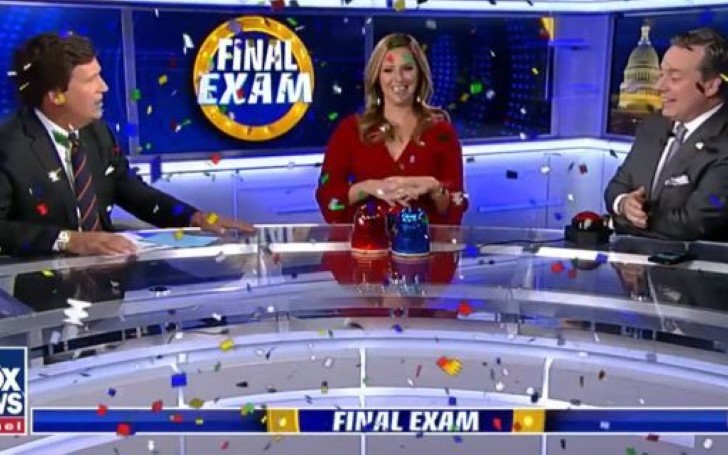 Fox News correspondent Lauren Blanchard is on a roll lately after appearing on the "Tucker Carlson Tonight" quiz segment.
American journalist Lauren Blanchard who works for Fox News is achieving even more success after appearing on the "Tucker Carlson Tonight" events quiz on February 8. Thursday.
The Fox News national journalist defeated Fox News fellow anchor and her colleague Ed Henry on the 'Final Exam' quiz segment by defeating Henry with an impressive grand score of 3-0.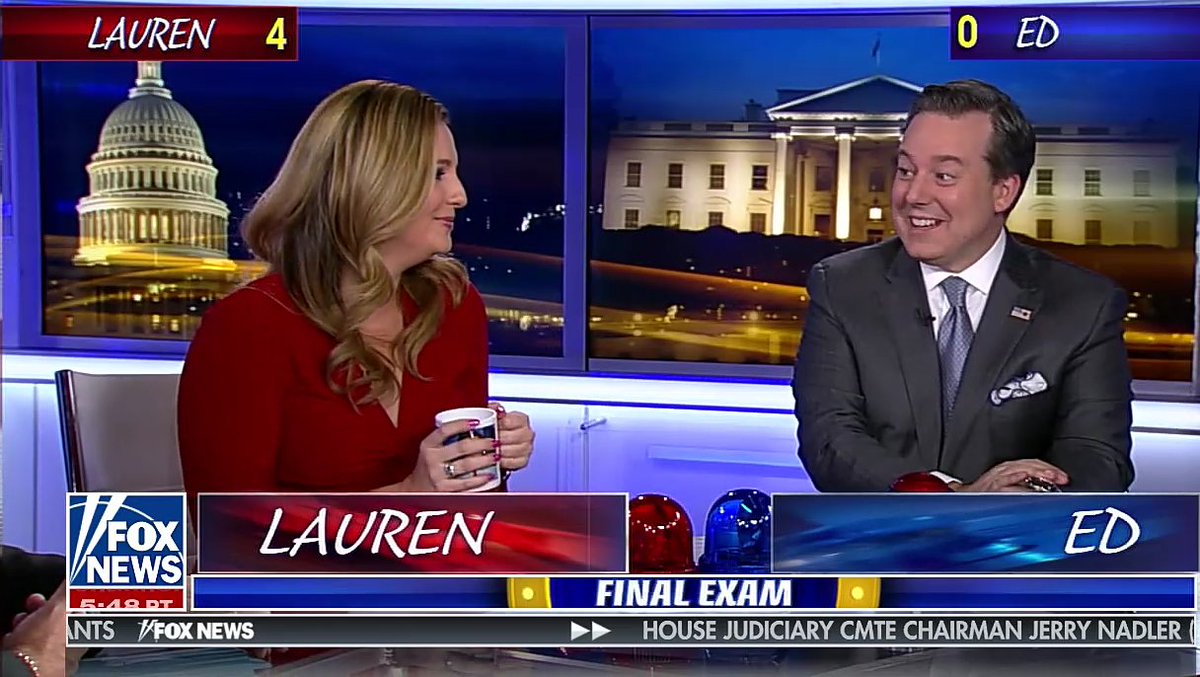 Fox News reporters Lauren Blanchard and Ed Henry on the Tucker Carlson Tonight" quiz segment
SOURCE: Fox News Fan Twitter
Host Tucker Carlson started the quiz segment by stating:
"Oh, we're breaking the clouds. It's time for final exam where news perfectionals compete against one another to determine who paid the most attention what happened this week"
Carlson then further continued the quiz by declaring:
"(Blanchard) well on her way to becoming our all-time champion,"
A little envious Henry can be heard booing his opponent upon the hearing from the host.
"woooh okay!"
The screen starts displaying a graphic of tombstones of all the previous competitors Blanchard beat in the previous questionings.
See more: The Real Reason Lisa Vanderpump Is Feuding With The RHOBH Cast Finally Revealed
Lauren beat other Fox News reporters including Peter Doocy, Lawrence Jones, Sean Spicer, Sean Duffy, Jason Chaffetz, and Griff Jenkins to win her way to the final segment of the quiz.
Moreover, Henry doesn't stop there. Besides booing Lauren, the Fox News Chief National Correspondent stretches his hands for a welcoming handshake to wish his rival "Good Luck".
And before Lauren extends her hands to shake, Ed pulls back his hands.
Shocked from the action Blanchard then clearly displays the offense on her face.
Don't miss: Catfish's Nev Schulman Wants To Help Dina Lohan With Boyfriend She's Never Met After 5 Years of Dating
She replies:
"Okay, now I'm coming. Now I am mad."
The competition between the two finalists surely looked competing and tough from the beginning.
But, true to host Carlson words, Mr. Henry just became another of Lauren's victim, making Blanchard to eventually becoming 'the all-time champion'.
The quick-witted winner knew most of the answers on the counter, asked from former Governor, John Kasich's air travel to former Starbucks CEO Howard Schultz's beliefs on billionaires.
Also read: 'Strictly Come Dancing' Couple Joe Sugg and Girlfriend Dianne Buswell Exit London in Style
Achieving her 7th win in a row, Laren became the ultimate winner when she confidently answered the final question, when Tucker asked:
"What animal represent the Chinese New Year?"
She quickly hit the buzz and replied:
"It is the year of the pig!"
Surprised Tucker then immediately claims in disbelief:
"Is there anything you don't know?"
However, on the Tucker Carlson Tonight's "Final Exam" quiz, it is obviously certain that this is actually, in fact, the year of Lauren Blanchard.
Related news: Jesse Watters Slams Call to Eliminate Billionaires
Lauren wins a mug for her victory and the competition ends with fake confetti effect showering over the three.
Congratulations to Lauren!!
-->