Full Story - Did Dina Manzo Ever Get a Plastic Surgery Operation?
Published Fri Dec 27 2019 By Sea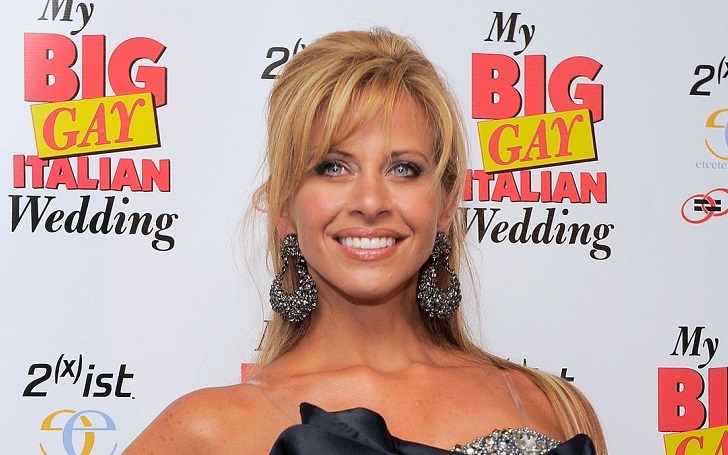 'The Real Housewives of New Jersey' alum Dina Manzo is quite open about many things that a reality star would instead like to keep secret. It's also probably why she is a 'beauty' for her many, many fans. They've been flooding in to appreciate her makeover for quite a while now.
Since leaving RHONJ with a last appearance in 2014 and moving to Malibu, she's been happy with the way she is but wasn't really comfortable for quite a while. Not because of the living situation or the fact that she was married for the second time; this time to David Cantin. She's already taken on the name Dina Catin.
Dina Manzo Before and After Plastic Surgery: She did her nose and used some Botox to look younger.
Source: Getty Images / dina, Instagram
The answer is her face. Fans were asking why she looked so different in the last couple of years. While they did question, it was not like they never appreciated the transformation. That's why she went and revealed everything about her plastic surgery endeavor.
Dina Manzo Did Get a Plastic Surgery Operation on Her Nose about Two Years Ago
It's better to let it out in the open than have people talk about it exaggerated as gossips. It's probably what she thought before she told everyone back in April 2018 that she had a nose job.
Amidst the estranged relationship with her sister Caroline Manzo, Dina went to 'Watch What Happens Live' with Andy Cohen on its April 12, 2018, episode and discussed several issues. After the show, she took to Twitter to share her love for the fans' support and reveal a big thing about her plastic surgery operation.
Watch: Dina Manzo Made a Surprise Appearance on Andy Cohen with Several Other 'Real Housewives' Members in 2018
"You guys are always so sweet to me. I was a little nervous because I had my nose fixed a few months ago & im still swollen but how could I say no to Andy," she tweeted at the time.
The fans were extremely supportive of the 47-year-old after all her confession. "You were perfect!" was a common opinion.
Specific details were not given out after that, and it seems she still was miserable with the swollen nose, based on what she had to say just as recently as this week.
Dina Shared the Complete Details of Her Plastic Surgeries, Stating She Despises Anesthesia
Just before Christmas Day 2019 came around, the mother-of-one was quick to acknowledge the reactions fans were making about her face. She's been appreciative of their 'Your look great' comments for her and finally decided to spill the beans.
Sharing her entire experience via an Instagram post, she acknowledged how right her fans were about her looking different and wrote, "When the thing on the center of your face changes you're gonna look different."
The photo that gained the most attention was the one in which she was alongside Teresa Giudice and Rosana Costa in Los Angeles, with the plastic surgery experience as the caption.
Fans kept commenting on this particular photo about how she looked great.
Source: dina, Instagram
Along with her nose job two years ago, the reality star also revealed she made some more tweaks to her nose and her face while at it, so that she wouldn't have to take the filler route. She mentioned fillers to be "so damn expensive".
MD-holder Ashkan Ghavami was the nose expert who performed the anesthesia and the plastic surgery on her. While sharing her experience, she also commended the doctor for being "amazing at what he does". She has no regrets choosing him to do his nose, despite swelling for a long while, as she so often does.
Dina's "prominent Italian-rounded nose" changed into the "perfectly proportioned petite nose," which she admits changed her overall look as well. She was uncomfortable for the first year of her surgery, but she grew more confident of it after the swelling went away.
"A smaller nose does make me look much younger & my "tweaks" make me look refreshed. Make no mistake, I've always looked younger than I was thanks to good genes and lots of water," she added.
Her younger-looking skin also had people asking what she did to maintain.
Source: Theresa Picciallo
Also weighing in on her skin, which many fans were asking about, she stated, "I do have really GOOD skin. I don't even wear makeup. Just lip gloss. On a fancy day I'll use [Clé de Peau Beauté] concealer under my eyes cause that s**t is magic, a little tinted moisturizer & liquid blush on the apples of my cheeks but that's about it."
Further adding on her beauty secrets, she also used anti-aging chemical peels and PRP. Her game-changing permanent eyebrows came from 'Label Me Lindsay', like her lash extensions. She also fancies Botox from 'Omni Beauty' in New Jersey and the medspa in Orange County. She's also launched her own skin-care line, 'Glow by Dina'.
Here's the Truth: Did Julianne Hough Get Plastic Surgery. She's Also Open About Her Medical Conditions. Learn Here.
It seems to one of those few cases of celebrity plastic surgery, which actually gets positive reviews. Fans are happy that she is the one, and so is she. She continues to "take care of myself. I eat right, work out and work on my mind & spirit just as much if not more" as she celebrates a joyful life with David.
Stay tuned and connected to GlamourFame for more Lifestyle Updates. There are other Celebrity Plastic Surgery contents here. Check them out with the tag-link below.
-->