Full Story on Vince Neil Weight Loss
Published Tue Dec 17 2019 By Sea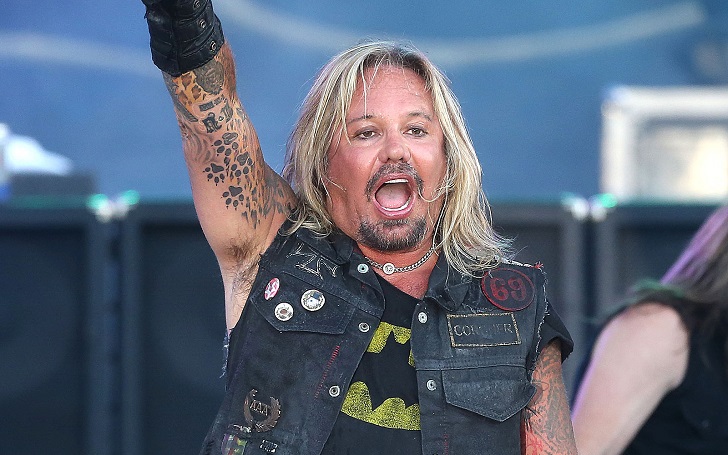 Fans have continuously been telling Vince Neil he is in pretty bad shape, physically, and were worried something might happen to him if he doesn't take the necessary steps for weight management.
Neil started gaining little weight since the mid-90s, and quite possibly because of his daughter, Skylar's passing at four years of age in 1995, it's not been any easier to stay in shape. Year by year, his weight has increased to a point where he doesn't even look like someone in the rock music business. Those topless performing days are just a distant memory.
Vince Neil Had Several Substance Abuse Problems Leading His Weight Gain
During his daughter's treatment in a children's hospital, he would be terrified and tormented of looking at her tied up with all those tubes. To cope with the fact, he would often drive to Moonshadows in Malibu and get liquored up so much that he couldn't even remember his own name. Of course, it would not ever help his or his daughter's condition.
Skylar passed away of uncontrollable cancer in 1995.
Source: Jeff Kravitz, FilmMagic
When the inevitable end approached near, he would continue hiding behind drugs and alcohol, which worsened with time, secretly hoping to even be dead himself with suicidal thoughts. When he heard the news that Skylar was no more, he was in traffic at the Pacific Coast Highway, hoping he'd join her too.
Find Out: Who Is the Mother of Vince Neil's Son Neil Jason Wharton?
For several months after Skylar's death too, he was suffering. He was way out of control until he decided to join grief counseling, instead of rehab. While his drinking and drugging habits receded, his weight was not getting better. As years passed by, his state of mind was better, while the body weight was on the opposite path. He did later join his band, Mötley Crüe, to be involved in music again.
While fans have continuously complained about his overweight situation, his colleagues and other celebrities alike are voicing their concerns. In a SiriusXM interview with Eddie Trunk in May 2019, Riki Rachtman, an MTV personality and radio presenter, brought up the issue.
Like Rachtman did say, Motley Crue is incomplete without Neil in better shape. Fans are urging him, and others, to do something about it.
Reports Say Mötley Crüe Can Go on the $150 Million Tour If Vince Neil Loses 40 Pounds
In late October 2019, reports swirled around the tabloids that Vince Neil was asked to lose weight of 40 lbs. It came with a clause that said if he does lose the asked amount of weight, Motley Crue would be offered $150 million by Live Nation for a reunion 2020 tour.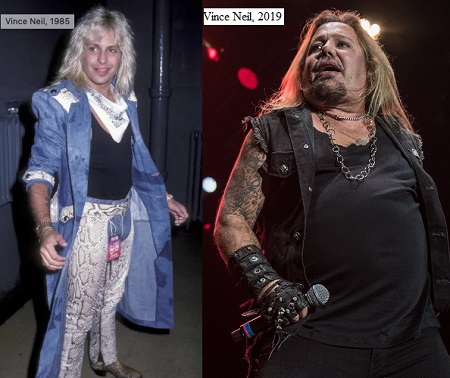 What he used to be and what he is now.
Source: Getty/Tommy Sommers
Of course, no statement has come out about the deal as he photographed himself during his hand surgery and shared it on social media. According to insiders statements, he was furious over the clause and instead pointed to drummer Tommy Lee needing a rehab time for his "drinking problems". Lee disagrees about even remotely having an alcohol problem.
Their third band member, bassist Nikki Sixx, on the other hand, is actually looking forward to this new reunion tour, recently doing tough cardio sessions to look his best shape.
Fans Have Started a Petition Requesting Diamond Dallas Page to Help Vince Lose Weight
With Sixx involved in getting a better shape for his body, fans expect Neil to do the same too. However, there have been no signs of it at all till now. But one other issue was brought up regarding the tour.
It seems they will not go on the 2020 Summer Tour of North America. Or rather, they are not allowed to. There's a 'cessation of touring agreement' the band signed after their farewell tour in 2015. It specifically dictates that the band won't tour again. Gossip Cop did a sweep of the story and blasted RadarOnline for covering an allegedly false story.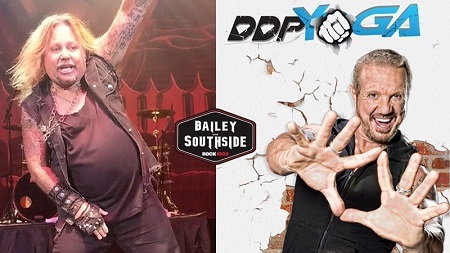 Bailey and Southside started the petition for him.
Source: Bailey and Southside
Still, RollingStone is convinced the band will be starting a U.S. stadium tour with Def Leppard and Poison because they already had it up on their website. The tour dates and venues are already listed too.
Meanwhile, a representative of Mötley Crüe told EW there is "no tour to announce" currently. After several debates, it was finally revealed by the guys themselves that they do have a tour lined up. The fans had a huge effect for their re-statement.
That hasn't stopped fans from going at Neil's weight though. They do want him to shed some pounds, whether there be a tour or not. To that effect, they have started a petition on change.org titled, 'Get Vince Neil in shape with DDP Yoga'.
Check Out: Vince Neil's Daughter, Elizabeth Ashley Wharton's Neck Tattoo Details
The petition requests Vince Neil to accept fans' request to get help with DDP Yoga from WWE legend, Diamond Dallas Page. It was in effect to DDP's extended hand to help him get in proper shape.
In the interview with Rock 100.5 FM Atlanta/WNNX's Bailey and Southside, DDP stated, "This is going out to Vince Neil...huge fan. This is DDP, Diamond Dallas Page, the king of bada bing, the master of the Diamond Cutter, the 3 time World Champion, the WWE Hall of Famer, and founder and CEO of DDP Yoga. And Vince my man with a plan, I want you to be standing tall, lookin' good, like you should be in Hollywood. My brother, I would love to take you through my DDP yoga program. And man we will get you in the greatest shape of your life. I'm talking about me personally. I will fly out to LA and work with you, and get you to be one word brother, UNSTOPPABLE."
Only time and Neil's state of mind will tell what he'll decide before the tour because it's already near. It kicks off in July. He should at least consider applying some weight loss tricks. There is a chance he might be replaced if he doesn't get better.
Stay tuned and connected to GlamourFame for more Entertainment updates. We've covered many celebrity weight loss stories. Be sure to check them out. Many of them are beautiful and are possibly helpful to you too!
-->