Game Of Thrones Star Reveals X-Rated Prank That Featured On The Show
Published Mon Apr 15 2019 By David
Game of Thrones' actor admits an unintentional prank was televised on the show.
HBO's epic fantasy series, Game of Thrones have considerable accounts of sex and goriness – and season eight will likely be no different – but it turns out one unscripted adult moment accidentally made it through the final edit, according to Bronn actor Jerome Flynn.
It all takes place around an episode called 'No One' from season six, where Podrick Payne (Daniel Portman) and Bronn are reunited, whereas, Brienne is trying to negotiate with Jamie Lannister (Nikolaj Coster-Waldau) about getting the Tully army to work with Sansa.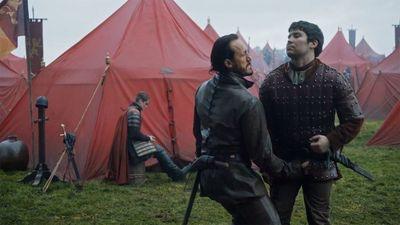 Some of the gestures between Bronn and Podrick in the Riverlands were unintentional.
Ahead of the season 8 premiere, Flynn had something amusing to share with Digital Spy in regards to one of his scenes in the prior season.
"There is one scene that makes me laugh more than anything when I watch it back, which is when I reunite with Pod. We'd done the scene and then the director told me, 'Okay, we've got that, I'm happy. Let's do one for fun now' – and he kind of winked at me I had this line come up: "You're the one with the magic cock" because I'm trying to get Pod to tell me about whether he thinks Jamie and Brienne are at it," the actor continued.
Also Read: 'Game of Thrones' Star Maisie Williams Accidentally Drops a Major Spoiler on Jimmy Fallon Show
"I just kind of instinctively grabbed him by the crotch and squeezed quite hard and the look on his face, he was just keeping it together and that's the one they used. He's my mate, I kind of knew I could get away with it – we still laugh about it every time we see each other and the fact it's on celluloid and you can see him there, trying not to laugh and just about managing. Normally you don't need to ad lib or be spontaneous in Game of Thrones because it's all there really and they've done it so well."
Watch Bronn and Podrick's reunion
Jerome also spoke to Digital Spy about his fate in the final season, as well as the characters who are never going to cross each other's path, even in season eight.
Aside from Game of Thrones, the 56-year-old is working alongside World Vision UK and recently ventured a film where he is visiting child soldiers in South Sudan.
Recommended: 'Game of Thrones' to Air Final Season Documentary in May
The British star met kids who were forced into being child mercenaries. Speaking about the experiences, Flynn said: "It's a very messy conflict out there and both sides were using children in horrendous ways. 14-15-year-old boys being made to kill on the front line and girls either being raped or kind of turned into slaves, forced into marriage.
Don't Miss: Science Predicts The Ruler of Westeros In Game of Thrones Finale
"It helps me to make sense of the fame that's come because so much of that is vacuous and means nothing, so it helps to balance things out for me."
-->