Gemma Collins Insists She 'Blacked Out' During Her Dancing On Ice Routine
Published Wed Jan 30 2019 By Tess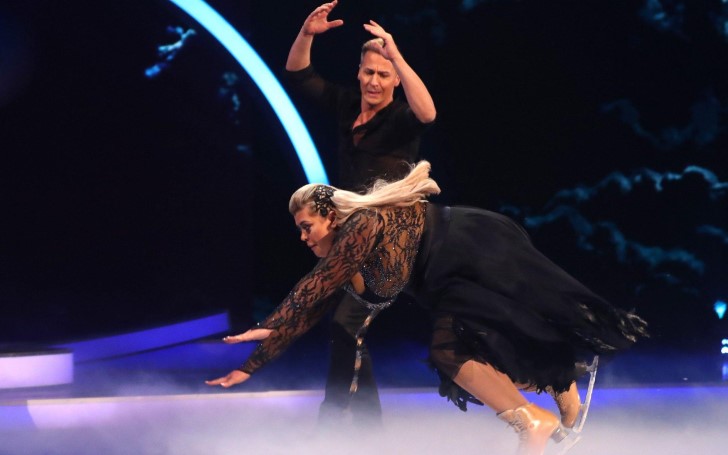 Gemma Collins states she blacked out during her Dancing on Ice routine.
Addressing the last week's show when Gemma Collins slipped and fell forwards landing on her front during her performance, the dancing on Ice star was accused of faking the fall on social media.
The reality star recently responded to the accusation through her statement to The Sun in which she claimed to have "passed out" before the tumble and could have knocked her teeth out.
"It definitely wasn't faked, one million percent. If they knew the pain I am in with my knee, they would understand. I didn't fall, I passed out. I was just going and then, next thing, on the ground. What is scary is my teeth could have been smashed out. It was so weird. I don't think I tripped, I think I blacked out."
Collin's statement was further backed up by a source to The Sun, who alleged the blackout to have caused the fall.
"Gemma had been wired up to a heart monitor before she went on stage. She believes she blacked out while she was skating, which is what caused her to crash into the ice. She didn't know what had happened when she got back up — her blood sugars were low and she didn't feel right."
The reality TV star fell on her front amid Celine Dion performance with her pro partner Matt Evers during Sunday night's show on the ITV.
The 37-year old however didn't stop after the fall, instead, she got up and completed her routine and claimed she was "fine" during her post-skate chat with hosts Holly Willoughby and Phillip Schofield.
Don't miss: Dean Ambrose Set To Leave WWE in April
Collins earned the highest point till date 16.5 from the judges, who all agreed she had improved.
Gemma was immediately rushed to physio as soon as the show ended and the star later shared pictures of her bruised and swollen legs covered in ice packs.
Also see: StanStan Lee To Receive Superhero Send-off at Hollywood Memorial
Following the incident, Collin's boyfriend James Argent was seen pushing her around Essex in a wheelchair.
"Gemma's black and blue all over. She's struggling to walk so I had to carry her to the car earlier, and she's been using [her mother] Joan's wheelchair on and off all day because she's in so much pain."
After the fall Gemma was mostly supported by her fans on social media but some claimed she was faking it for publicity which her boyfriend vehemently denied through a statement.
"Anyone who thinks Gemma faked the fall and risked life-threatening injuries is an idiot. She had a feeling that something was going to go wrong on the night... and she was right!"
Despite the injury, Collins is determined to perform on the upcoming episode.
Read more: Megan Barton Hanson Dumped Wes Nelson After Their Sex Life Lost Its Spark
Yesterday night Gemma confirmed she received the green light to compete on this week's show as she shared a picture of herself lying on a hospital trolley flicking two 'victory' signs.
-->