George Clooney Is Close to Becoming A Billionaire; Added $500 Million In his Net Worth From Coffee and Booze Business; How He Spends His Millions?
Published Thu Aug 22 2019 By Travis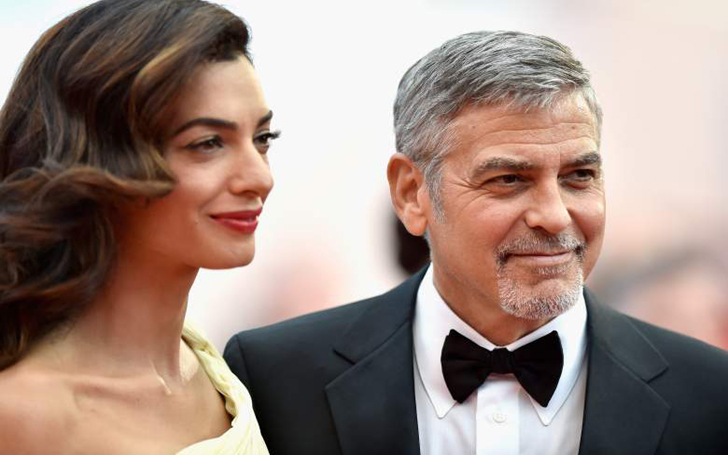 George Clooney is among the rare breeds of actors who were famous TV actors and parleyed his success as a TV actor then transitioned into movies. George Clooney and Steve Carell come to mind, there are numerous other actors, but no one even comes close to matching the success of George Clooney.
With over $3 billion worldwide gross from his movies, it is safe to say he is one of the most bankable stars in Hollywood. The actor who was married to his former wife Talia Balsam in 1989, and got divorced in 1994, found success after his first marriage ended when he was hired to star in the hit series 'ER' in 1994. Then the rest they say is history; he went on to star as Batman, 'Danny Ocean', and numerous other iconic characters.
Source: Vulture
But the movies are not the only way he makes money; George is also a successful businessman who made double him movie fortune from the sale of his company. The man knows what he is doing, and even though we've not seen him in a movie since 2016, he is still one of the top paid actors in the world. From TVs to movies to coffee to alcohol, the man's done everything, and it shows the hard work and commitment.
George Clooney's Earnings From TV And Movies
Starting out in 1993 when he got his first major role as 'Detective James Falconer' in the short-lived show 'Sisters' he was paid a sum of $40,000 per episode which comes to a total of $760,000 by the time the series ended. After the series ended, George nabbed the high profile role of 'Dr. Doug Ross' in the hit TV show ER where he went on to star for 109 episodes, and he was paid $100,000 per episode for his role.
The amazing thing is, even after the series was a huge rating success, George never asked for a pay raise and continued working for the same sum he was hired since the show started. He understood the success and recognition from the show would do to his career, and frankly, it worked. By the time he exited the show, he took home almost $11 million from the series.
Source: The Wrap
The reason why he was happy working for $100k an episode for the series was because by 1996 he was a leading man in hit movies and he was paid $10 million just to star as Batman in 'Batman and Robin'. He was also paid $3 million for his work in 'One Fine Day' starring opposite to Michelle Pfeiffer, the movie made close to $100 million at the box office and was the first major success of George's career. Even though the camp and weird Batman movie almost derailed George's career, he found his footing and made sure he never committed the same mistake again.
George was also paid $10 million for his talents in the movie 'Out of Sight', another $8 million for his role in the hit sea disaster movie 'Perfect Storm'. By the time 2001 rolled around George was the biggest movie star in Hollywood, he left his job on the ER and finally got the biggest payday of his career in 'Ocean's Eleven', the heist movie paid the actor $20 million to star in the leading role of Danny Ocean. The $85 million budgeted films paid George such high amount, and the ensemble cast did the trick with the movie earning $450 million at the box office and paving the way for two more sequels. George was paid close to $15 million for the second movie and more than $15 million for the third one. All in all the films made over $1.2 billion so a $50 million investment on George doesn't seem such a big deal now.
Watch: The trailer for Ocean's Eleven
From his roles in movies and TV shows George made over $200 million before taxes and the whole earning works to about 10% his total worldwide gross so let's just say he was not overpaid.
George's Business Endeavors
George Clooney 'Nespresso' deal was signed in 2013 where he signed a contract for $40 million for the promotion of the coffee company. He appeared in numerous commercials for the company, but according to George, he uses all of his paychecks from the coffee company to fund a satellite which is pointed at the South and North Sudanese border so he can keep an eye on the Sudanese dictator Omar al-Bashir at all times. Bashir was charged for war crimes by The Hague, and George makes sure he keeps an eye on the humanitarian crisis as well as the pro-government military movement in Sudan.
The biggest pay cheque George received to date came from his accidental tequila company 'Casamigos.' While on a trip to Mexico, Geroge came together with two other friends and they invested a sum of $600,000 each and formed the company making tequila. British spirit giants Diageo bought the company which was bringing in a yearly revenue of $70 million. The British spirit company paid $1 billion for Casamigos, $700 million upfront and $300 million contingent on the performance of the tequila over a ten year period. The three guys formed the company with equal equity, which means each member came away with a paycheck of $233 million with $100 million each coming in the future if the company does well. Considering the company was made by accident and the investment involved, all parties came away with almost 400 times their investment, talk about massive ROI.
How Does George Spend His $500 Million Net Worth?
George still lives in his $2.2 million home which he purchased in 1995 after starting the second season of ER. The house is located in Studio Canal, Los Angeles, hidden away from the public eye and someone who is not particularly high on paparazzi, the place is a beautiful hideaway. The actor bought the 7,300 square foot home from 'Fleetwood Mac' star Stevie Nicks, and he invited 'Person to Person' camera crew from CBS inside his house and showed off his beautiful six-bedroom mansion to the whole world. With an outdoor pool and Basketball court which can be turned into a Tennis court, it is a beautiful home and one which would cost north of $7 million in the current market, seems like another excellent investment for the actor.
After the massive paycheque from Ocean's Eleven, George bought a massive villa in 2001 for an enormous price of $13.5 million in Laglio Italy. The 18th-century villa on Lake Como is the center of media attention because people flock to the place in order to catch a glimpse of the Clooney family. Even though people will be fined for even gawking or taking photos, it doesn't stop people from making their way there. The 25 room luxury villa isn't something of a novelty purchase, George regularly allows people from his friends circle to stay at the villa. John Krasinski and Emily Blunt were allowed to host their wedding in the villa in 2010, and recently George allowed his father in law host his birthday party there.
Source: Love Property
George bought another adjacent villa in Italy so he can secure his privacy and the fight against invaders and paparazzi reached a peak when the mayor of Laglio issued a restraining order which fines people $600 for coming within 300 feet of the property.
Clooney was also a proud owner of a beautiful luxury retreat in Cabo Mexico where he and his friend Rande Gerber built twin mansions together. In 2016 both of them sold the mansion for a collective price of $100 million to a Mexican billionaire. The Casamigos compound, which was the inspiration for their billion-dollar company was also a significant impact on George's net worth.
Source: Love Property
In 2014 the newly married couple of Amal Alamuddin and George Clooney bought a nine-bedroom mansion in Berkshire UK for a price of $13.5 million. The villa by the river Thames is ideal for the couple to live and raise their kids Ella and Alexander who was born in 2017.
It seems the couple knows how to spend money and make it back with sound investments; real estate seems to be the thing they love the most. All in all by 2019, it seems George Clooney's net worth ballooned to over $500 million.
Source: Love Property
George is also an avid bike lover, but it seems Amal shut his passion down after two accidents, one of which was a rib cracking injury back in 2008. Amal and George are currently living in their Los Angeles home where they are raising their two kids.
-->