George Lucas Married Twice; Facts on his Conjugal Life
Published Thu Feb 20 2020 By Matthew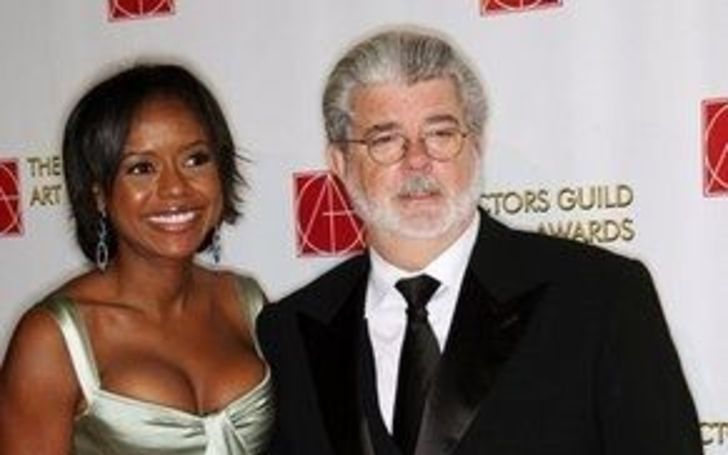 Here's all that you need to know about the 'Star Wars' franchise creator George Lucas's married life!
George Lucas is that one name in the Hollywood universe that never dies down. The God who created 'Stars Wars' and 'Indiana Jones' franchise had a humble beginning as a stationery store owner's son. During his early years, George was much interested in drag racing and bore hopes of making it big as a professional racecar driver someday.
The former alumni of Thomas Downey High School, however, met with a terrible car accident right after high school graduation, and that changed his perception on life completely.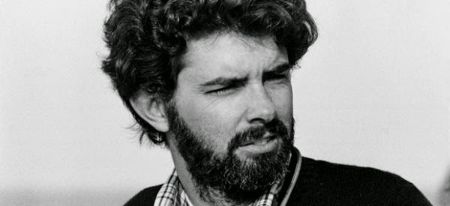 George Lucas was much interested in drag racing in his early days.
Source: Mos Eisley Spaceport
With Lucas's dreams of becoming a professional race car driver completely squandered, he attended Modesto Junior College before enrolling in the University of Southern California film school and turning towards creating movies. And man did that work out well for him. If Lucas had never with that accident in college, the 'Star Wars' and 'Indiana Jones' saga would've never existed.
Lucas's semi-autobiography 'American Graffiti' won the Golden Globe in 1973.
Source: Beverly In Movieland
After his 1973 semi-autobiography 'American Graffiti' won the Golden Globe and garnered five Academy Award nominations, he got the influence to work on his next daring venture which would later turn out to be one of the most loved movie of the time 'Star Wars: Episode IV – A New Hope' which was released in 1977.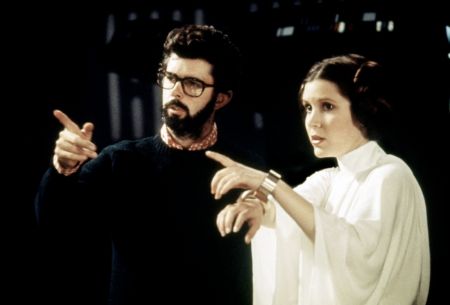 George Lucas with Carrie Fisher during Star Wars: Episode IV – A New Hope.
Source: Reddit
Needless to point out the fact that George Lucas is a rock star in the Hollywood industry, but in terms of his personal life, it took some time before the legend found his footing. He's been married twice and fathers three adopted children and one more born via gestational carrier. So how did it come to be? Who is George Lucas married to now? Let's discuss.
George Lucas's First Marriage with Marcia Lou Griffin
The 75 years old legendary creator first tied into the matrimonial life with Oscar-winning American film editor Marcia Lou Griffin.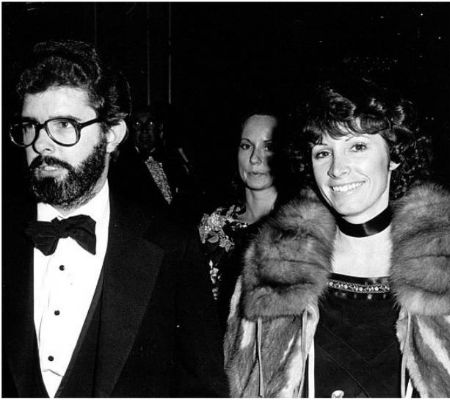 George Lucas and his first wife Marcia Lou Griffin.
Source: Body Height Weight
The union between two of the most brilliant minds in the Hollywood industry happened on February 22, 1969. Most details of Lucas's first marriage remains a mystery, and the speculations about it are abundant on the internet.
First Meetings at the Film School
Lucas and his first wife, Marcia Lou Griffin, first met each other while he was attending film school at the University of South Carolina. The twosome served as apprentice editors on Journey to the Pacific under Verna Fields. Serving together meant both Lucas and Marcia spent a lot of time with each other, and the romance between them was undeniable.
Adopted Daughter Amanda Lucas
The married couple decided to adopt a daughter together, Amanda Lucas. Born July 1, 1981, Amanda is the eldest daughter of George, who build up a career as an American professional mixed martial artist. The couple adopted Amanda during their marriage after their several attempts to conceive a child saw no success.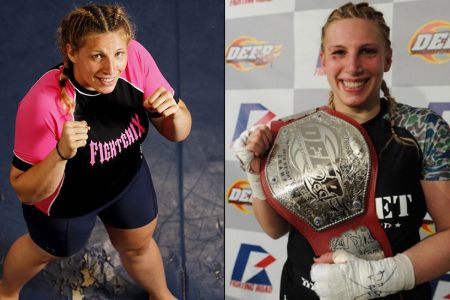 George Lucas's first adopted daughter Amanda Lucas.
Source: Bleacher Report
Despite growing up as the daughter of George Lucas, Amanda's childhood wasn't without problems. Her career choice was influenced by the drive to lose weight and overcome her childhood bullying growing up as a 'fat and wimpy' kid.
Reason for Divorce between George Lucas and Marcia Lou Griffin
Undoubtedly Lucas and Griffin were the power couple of the Hollywood industry then. Excelling at what they did, Griffin won the Academy Award for Best Film Editing in 1977 for Star Wars, which was written and directed by her first husband, George Lucas. But the career growth and success took a toll on the then married lover's romance.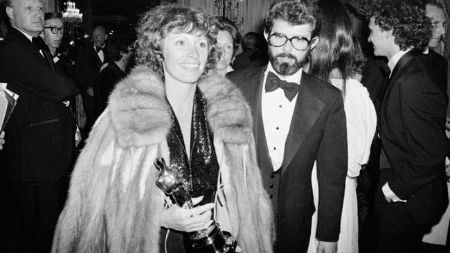 Griffin won the Academy Award for Best Film Editing in 1977 for Star Wars.
Source: News.com.au
Due to her husband's commitments to the 'Star Wars' films and 'Raiders of the Lost Ark', Marcia grew impatient in her marriage as she blamed his workaholism and emotional blockage. Marcia asked to split-up in 1982, yet to maintain a positive public image, George asked her to wait until after the release of 'Return of the Jedi' to go public with the decision.
Recommended: Star Wars: The Rise of Skywalker - Why is Palpatine in the Film? Producer of the Movie Explains
A year late, on June 13, 1983, George broke the news of the divorce at Skywalker Ranch and added that both parents would share custody of their daughter while Marcia would relocate to Los Angeles.
George Lucas's Second Marriage with Mellody Hobson
After his first marriage failed, George Lucas led a single life for almost 30 years until finally tying the knot with Mellody Hobson in 2013. While he did date singer Linda Ronstadt in the 1980s, it didn't make any subsequent impact on his marital life.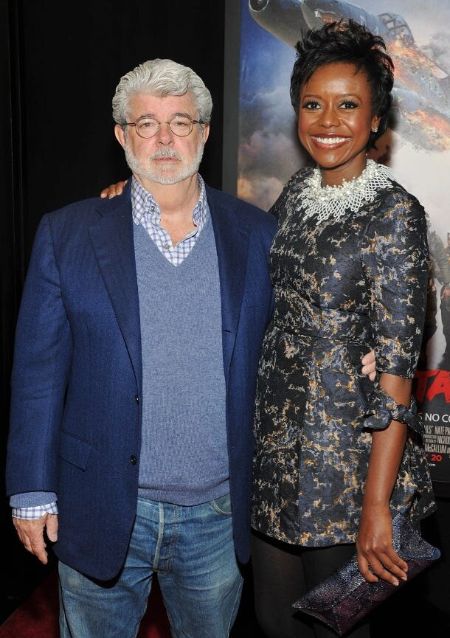 George Lucas and his second wife Mellody Hobson.
Source: Business Insider
As a single parent, Lucas adopted two more children; daughter Katie Lucas, born in 1988, and son Jett Lucas, born in 1993. All three of his eldest children appeared in the Star Wars prequels, and so did the single father himself.
First Meetings at a Business Conference
Lucas and Hobson began dating in 2006 after they first laid eyes on one another at a business conference. George, already a famed movie creator, saw the gorgeous Mellody Hobson who came to the meeting as the DreamWorks Animation chair.
You Might Also Like: The Quick Snoke Reveal in Star Wars: The Rise of Skywalker - As Explained by the Editor of the Movie
Revealing the details of their first meeting, Lucas said during an interview on Oprah's Next Chapter in January 2012,
How else would a financial person and movie person ever be at the same place at the same time?
Hobson remained unmarried until she met Lucas and uttered that their relationship worked because they are both "extraordinarily open-minded people, and we are open to what the universe brings us."
Engaged With Mellody Hobson
The Star Wars creator followed the force with Mellody Hobson and decided to walk down the aisle seven years after both met. This was going to be Mellody's first marriage ever, whereas Lucas was previously married to film editor Marcia Lou Griffin and fathered three adopted children. The news of the engagement came on January 3, 2013, just a few months after the famed director sold Lucasfilm Ltd. and the rights to his Star Wars legacy for $4.05 billion to the Walt Disney Company.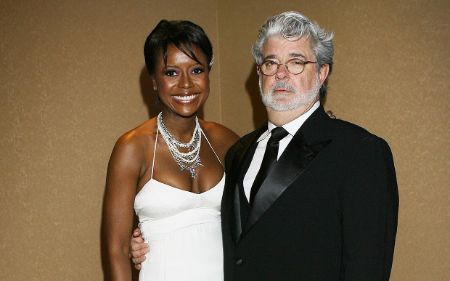 George Lucas and Mellody Hobson got engaged on January 3, 2013.
Source: Parade
As reported by THR, Lucas said at the time, "As I start a new chapter in my life, it is gratifying that I have the opportunity to devote more time and resources to philanthropy."
George Lucas Marries Mellody Hobson
Five months after their engagement, the partners became newly-weds on June 22, 2013. The big day took place in Marin County, Calif., where Lucas's Skywalker Ranch is located. Countless friends of George, already big Hollywood stars who attended the wedding, took to Twitter and shared the happy news.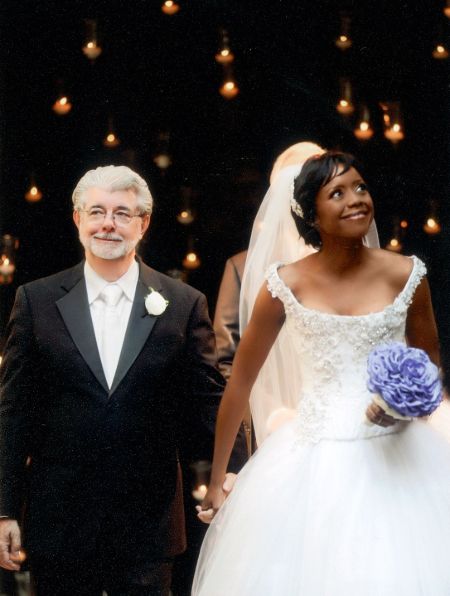 George Lucas and Mellody Hobson got married on June 22, 2013.
Source: Vanity Fair
Journalist Bill Moyers officiated the ceremony, and director Steven Spielberg toasted the groom. The couple was expecting good news during their wedding, which arrived two months after their wedding day.
George Lucas and Mellody Hobson's Daughter Everest Hobson Lucas
Lucas was unable to have a children and that was why he chose to adopt three of his oldest kids. But after only two months of the big day with his new bride Mellody Hobson, he became a father for the fourth time with the birth of his daughter Everest Hobson Lucas. The child was born through gestational surrogate in August 2013. Everest Hobson Lucas is the first biological child for both parents, but she's far from an only child.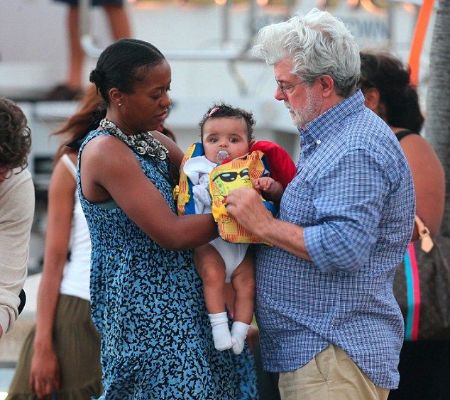 George Lucas and Mellody Hobson with their daughter Everest Hobson Lucas.
Source: Pinterest
For a man who's got almost everything, George found that last missing piece after his second marriage. The married couple continues to lead a blissful wedded life taking care of their six years old daughter and shows no sign of calling quits anytime soon.
Also See: George Lucas Got Some Input in Star Wars: The Rise of Skywalker
Tune in to Glamour Fame for more celebrity facts, and don't forget to sign up for the newsletter.
-->