Georgiana Bischoff: A Look into the Life of Richard Thomas' Wife
Discover a sneak peek into the life of Georgiana Bischoff, the wife of the renowned actor Richard Thomas.
Georgiana Bischoff is the wife of famous actor Richard Thomas, who is best known for his role in the TV series, "The Waltons." Despite being married to a celebrity, Georgiana is not in the limelight as much as her husband.
However, there is much to learn about this lovely lady. Apart from her husband's fame and name, the celebrity spouse is an Art dealer who runs her family business. Now let's dig into more detail and find out more amazing facts about her.
Georgiana Bischoff: A Look into the Life of Richard Thomas' Wife
Georgiana Bischoff, an American by birth and Native American by origin, was born around 1959/60 into a large family. She grew up with eight siblings, and one of her brothers is named Anselm.
Unfortunately, there is no further information available about her siblings or their current whereabouts.
Georgiana's parents' details are also unknown. But it is known that her family used to run a Native American crafts store in Scottsdale, Arizona, back in the 1990s. However, it is unclear whether the store is still operational today.
Starting A Romance With Husband, Richard Thomas
It is said that during one of Georgiana Bischoff's visits to her family's Native American crafts store, she had an encounter with a man who appeared lost and distraught.
The man was going through a tough time after his 18-year marriage had ended, and he was not hiding it well. Georgiana sensed that he needed someone to lean on, and the two of them formed a connection.
They both agreed that they would never marry again. But after two years of being together, they decided to give it a try on marriage.
Wedding Ceremony
On November 20th, 1994, they exchanged their vows and became husband and wife in the Los Feliz neighborhood of Los Angeles. The wedding ceremony was attended by about 50 of their closest family and friends.
Richard's eldest son served as the best man, and Georgiana's daughters from a previous marriage acted as bridesmaids. A year later, in May 1995, the couple had another wedding ceremony, this time incorporating the Pueblo Indian culture.
Georgiana has stated that neither she nor Richard had expected to remarry, but when they fell in love, they couldn't resist. According to Richard, their marriage is built on trust and honesty, and they always have a lot of fun together.
Georgiana had been an art dealer before she met Richard, and the two of them have built a strong and loving relationship that has stood the test of time.
Blessed With One Child
Mr. and Mrs. Thomas are one of the most loved couples. With their incredible love story and commitment the two are well-praised by the fans.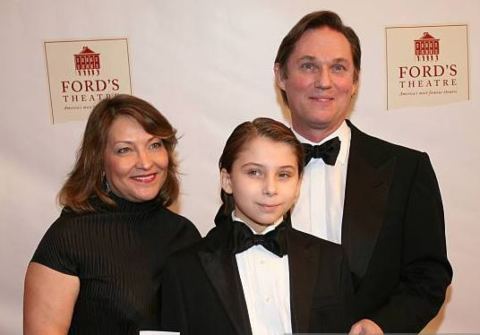 As of now, Richard and Georgiana are together for almost three decades. During this long marital journey, the pair has developed great bonding. Along with that, they are now parents of one beautiful child.
Bishoff gave birth to their son, Montana Thomas in 1996. Montana is now twenty-seven, years old and is pursuing his career. He is living close to his parents in New York City.
Georgiana Bishoff Have Two Kids From Her Previous Relationship
Prior to having an ever-lasting romance with Richard, Georgiana Bishoff was a divorced woman. However, there is no information on her past husband.
Neither her previous marriage date nor venue is revealed. Although Bishoff is now attached to the celeb family in the past, she was a normal person.
So by living a low-key life, there are no details on her past life. However, it is confirmed that the celebrity wife has two kids with her ex-partner. Well, both of the children are daughters.
The eldest daughter, Brooke Murphy was born in 1980 while the youngest one, Kendra Kneisel was born in 1986. Both of the kids are now fully grown-ups and is pursuing their respective career.
Husband, Richard Thomas, Is An Award Winning Actor
Richard Thomas is an American actor born on June 13, 1951, in Manhattan, New York City. He is best known for his role as John-Boy Walton in the popular television series, "The Waltons," which aired from 1972 to 1981.
Thomas began his acting career on Broadway in the late 1950s and has since appeared in numerous films, television shows, and stage productions.
The actor has won several awards for his work, including an Emmy for his performance in "The Waltons" and a Tony Award for his role in the play "The Great White Hope." Baltimore Native Andre De Shields Won A Tony Award.
In addition to his acting career, Thomas has also worked as a director, producer, and voice actor. He continues to be an active member of the entertainment industry, appearing in a variety of television shows and movies.
Richard Thomas Divorced With First Wife, Alma Gonzales
The American actor, Richard Thomas was previously married to his first wife, Alma Gonzales. They accepted one another as husband and wife in 1975. Within a year of their marriage, they welcomed their first child, Richard Francisco.
In 1981, Gonzales gave birth to the triplet daughter, Gwyneth, Pilar, and Barbara. The family of six had an incredible time together until 1993.
The former pair shocked the world with their divorce in 1993. They were married for eighteen years before separating. Despite the two split they still remain good friends. Also, they successfully raised their four children in a wonderful manner.
Net Worth of Georgiana Bishoff
The celebrity spouse, Georgiana Bischoff is an art dealer by profession. She is in her early sixties and is no more working full-time.
As estimated, Georgiana enjoys a net worth of $2 Million as of 2023. Being an art dealer, she makes over $80,000 per annum. Her husband, Richard, is enjoying a net worth of $6 Million.
The award-winning actor has appeared in several blockbuster movies and series. With his incredible performance and dedication, the actor has earned a huge amount of fortune.
As estimated, Thomas makes over $100,000 per year with his work. As of now, the Thomas family are living a happy and prosperous life together.
Recommended: What is Julie Yaeger, Wife of Paul Rudd's Net Worth!
For More Content Visit Glamour Fame
-->