Get to Know Jim Threapleton: Filmmaking Journey and Personal Insights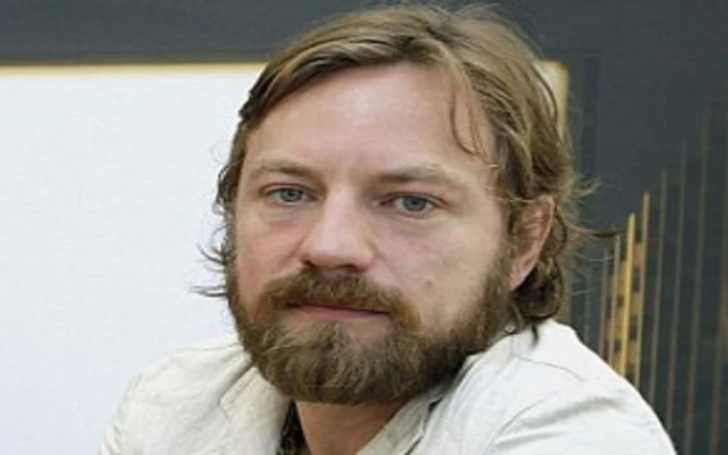 Jim Threapleton is a British film director and producer known for his work in the entertainment industry. Born on February 28, 1974, he gained recognition not only for his professional accomplishments but also for his personal connections. He became widely known due to his marriage to actress Kate Winslet, with whom he shares a daughter.
Threapleton's career in film has included directing and producing various projects, showcasing his creative talents and commitment to the industry. His contributions to cinema and his ties to the world of entertainment have made him a notable figure in both British and international media circles.
Exchanged Wedding Vows With Wife, Julie Vuorinen
Jim Threapleton is happily married to Julie Vuorinen. They were introduced in 2008 by mutual friends and quickly developed a strong connection, leading to their decision to start dating. Julie works as a school administrator and complements Jim's life.
The couple embraced parenthood with open arms, welcoming their first child, Olivia Threapleton, shortly after their wedding in 2009. In 2013, they were blessed with their second daughter, Georgia Threapleton.
Jim and Julie are dedicated parents, ensuring the best care and upbringing for their children, as they continue their journey together as a loving family.
Shares One Daughter With Ex-Wife, Kate Winslet
Prior to his marriage with Julie Vuorinen, Jim Threapleton was married to the Academy Award-winning actress Kate Winslet. They first crossed paths on the set of the film "Hideous Kinky."
The two decided to take their relationship to the next level and tied the knot on November 22, 1998, in Reading, Berkshire. Their union brought forth a daughter named Mia Honey Threapleton Winslet, born on October 12, 2000.
Unfortunately, their marriage faced challenges, leading to their separation in September 2001. The couple's divorce was officially concluded on December 13, 2001, marking the end of their marital journey together.
Ex-Spouse, Kate Winslet Marriages and Divorces
After the passing of her former partner Stephen Tredre, Kate Winslet encountered Jim Threapleton while working on the set of Hideous Kinky, where he was an assistant director. They wed in November 1998 and welcomed their daughter, Mia Threapleton, in 2000.
However, Winslet later described this marriage as a "mess," acknowledging her loss of control during that time. The couple divorced in 2001. Subsequently, Winslet began a relationship with director Sam Mendes, marrying him in May 2003 and having a son named Joe.
Despite the media's scrutiny, their marriage was strained by speculation of an affair. They separated in 2010 and divorced in 2011. In 2012, Winslet married Edward Abel Smith, known as Ned Rocknroll, and they have a son named Bear.
Titanic Star, Kate Winlet's Awards and Titles
Kate Winslet has had a successful career in film since 1994. Some of her most acclaimed and highest-grossing movies include "Heavenly Creatures," "Sense and Sensibility," "Titanic," "Eternal Sunshine of the Spotless Mind," "Finding Neverland," "The Holiday," "Contagion," "Divergent," "Insurgent," "Steve Jobs," and "Avatar: The Way of Water."
She has also worked on TV projects like the miniseries "Mildred Pierce" and "Mare of Easttown." Winslet has received recognition from the Academy of Motion Picture Arts and Sciences for her performances, earning several Oscar nominations. She has also won numerous awards, including five BAFTA Awards, two Primetime Emmy Awards, and five Golden Globe Awards.
Her talent and accomplishments have made her one of the few actresses to have won three of the four major American entertainment awards. Overall, Kate Winslet is respected and appreciated for her contributions to the film and television industry, and her talent has been recognized by prestigious award organizations.
Jim Threapleton Movies and TV Shows
Jim Threapleton made his directorial debut in the 2007 film "Extraordinary Rendition," featuring actors Omar Berdouni and Andy Serkis. He also directed an episode of the TV series "Dark Realm" in 2001.
Throughout his career, he has taken on various roles as an assistant director and second unit director. He contributed to projects such as "The Mummy," "Don't Go Breaking My Heart," "Hideous Kinky," "The Jump," and "The Governess," serving as the third assistant director.
Jim Threapleton's Net Worth and Salary
Film director Jim Threapleton has established himself in the industry with a successful career. Despite his low profile, he has made significant earnings from his profession, contributing to an estimated net worth of $2 million.
His ex-wife, the renowned actress Kate Winslet, boasts a net worth of $65 million. Jim is notably recognized for directing the film "Extraordinary Rendition," which achieved substantial box-office success despite its modest budget.
He also played a role as an assistant director in the blockbuster film "The Mummy" (1999), which garnered an impressive $415 million worldwide against an $80 million budget.
Jim Threapleton Bio, Age, Birthday
James Edward Threapleton, born in 1973 in Wharfedale, Yorkshire, England, UK, comes from a family with English ancestry. He celebrates his birthday on 8th November. His father served as a navigator in the RAF.
He has a younger brother named Robin, who is two years his junior. Threapleton pursued his education at the University of Arts in London and further achieved a doctorate in fine arts, showcasing his dedication to his craft.
Height, Weight, and Body Measurement
Jim Threapleton possesses blonde hair and hazel eyes, along with an average height and body weight.
Visit Glamour Fame For More
-->