Get to Know Mikky Kiemeney: Rising Star in the Online World!
Mikky Kiemeney is famous because she's engaged to Frenkie De Jong, a Dutch soccer player. He plays for FC Barcelona, a big soccer club. She supports his career and goes with him to games. But Mikky is more than just Frenkie's girlfriend.
Mikky's well-known on social media, and she's also a fashion designer and businesswoman. She's from Hilvarenbeek, Netherlands, and she was born on April 17, 1998. The beautiful celebrity girlfriend grew up with her two brothers, Billy and Bing Kiemeney. She's about 5 feet 7 inches tall and weighs around 110 pounds, so she's petite and elegant.
Meeting Love of Live Frenkie De Jong
Frenkie De Jong and Mikky Kiemeney met in high school in the Netherlands. They started dating around 2014.
They dated for eight years before deciding to get engaged. On July 1, 2022, Frenkie asked Mikky to marry him, and she happily said yes!
Are They Married Yet?
Frenkie De Jong was really happy about getting engaged, and he shared the good news on his social media. He wrote, "I can't wait to spend the rest of our lives together, She said yes!" They had a fancy celebration, and fans couldn't wait for their wedding. Even though they're not married yet, Mikky is like a wife to Frenkie because she supports him in his soccer career.
People think they're one of the most popular soccer couples, and Mikky is considered one of the most attractive WAGs (wives and girlfriends of athletes). Right now, they live in Barcelona, Spain, and they plan to keep living there even after they get married.
Mikky Kiemeney Hockey and Modeling Career
Mikky Kiemeney, who is in a loving relationship with Frankie De Jong, is a very talented person. In high school, she was into hockey and played for HC Den Bosch's women's team. However, she eventually left hockey for some reason and entered the world of social media.
She started a new career as a model, which went really well, and she's still modeling today. Besides modeling, she's also a businesswoman with her own fashion brand called Mikkyki. No matter what she does, she seems to find success. She's been featured in top magazines and has worked with major beauty brands as a model.
Interest in Fashion and Brands
Mikky Kiemeney studied interior décor and style in college, and she later used her creative talents in fashion design. She started her own clothing brand called Mikkyki, where she sells things like hoodies, T-shirts, track pants, phone cases, and more.
The idea for her clothing line came from always wearing her boyfriend's (Frenkie's) clothes.
She's also into brand endorsements, which is common for successful celebrities. Mikky endorses brands like Kou Sportswear, Essentials, LOAVIES, Dé Vespa Garage NL, Beau Beerens, Beads Babes, L'Oréal Paris, Hillside Beach Club, Wajer Yachts, and L'Étoile – Luxury Vintage.
Get To Mikky Kiemney's Fiance, Frenkie De Jong
Frenkie De Jong is a prominent Dutch footballer known for his exceptional skills as a central midfielder. Born on May 12, 1997, in Arkel, Netherlands, De Jong quickly rose to prominence in the world of soccer. He began his professional career with Ajax Amsterdam, where his exceptional vision, passing ability, and composure on the ball garnered attention.
In 2019, he made a high-profile transfer to FC Barcelona, one of the most prestigious clubs in the world. De Jong has also been a key player for the Dutch national team, contributing to their resurgence in international football. His versatility, intelligence on the field, and technical prowess make him a standout figure in contemporary football.
How Rich is Mikky Kiemeney? Kiemeney's Net Worth in 2023
Mikky Kiemeney has not only gained fame for her relationship and personal accomplishments but also financial success, with an estimated net worth of approximately $3 million. Her popularity as a social media influencer has allowed her to collaborate with various brands and earn through endorsements.
Furthermore, she's ventured into fashion with her brand, MIKKY KI., offering a range of products. On the other hand, her fiancé, Frenkie De Jong, boasts an estimated net worth of around $20 million, primarily stemming from his professional football career.
He earns a substantial salary from FC Barcelona and the national team, although his initial $450,000-a-week contract with Barca has been impacted by the club's financial challenges.
Details on Ansu Fati's Earnings and Salary as a FC Barcelona Player
Father, Mother, and Siblings
Mikky Kiemeney, the 23-year-old Dutch hockey player, comes from a close-knit family. Her parents, Marc Kiemeney and Barbara Kiemeney, both work in an advertising firm. She has two brothers named Bing and Billy, making their family a group of five.
Mikky is of a white Caucasian background and follows the Christian religion. She often shares pictures of her family on her Instagram account.
Age and Education
The up-and-coming entrepreneur, Mikky Kiemeney, is currently 25 years old, born on April 17, 1998, making her an Aries according to her zodiac sign.
After finishing high school, she continued her education at King Willem II College in the Netherlands. She also pursued studies in Interior Design and Styling at the Jan Des Bouvrie Academy. During her high school years, she was actively involved in playing hockey.
Mikky Kiemeney Has Over 2 Million Followers on Instagram
After leaving hockey, Mikky Kiemeney built a notable presence on social media, particularly Instagram. You can find her on IG with the handle @mikkykiemeney, where she has gathered an impressive following of over 2 Million people and has shared a total of 676 posts.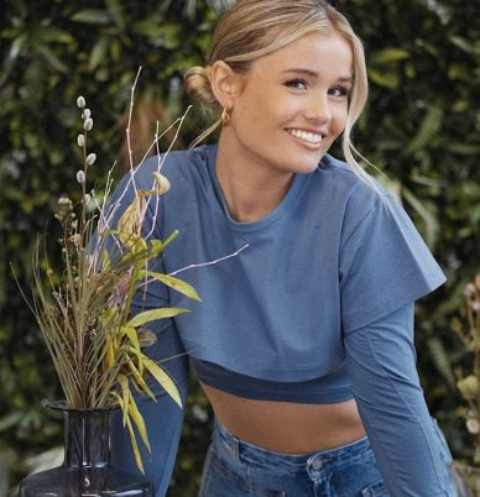 Her Instagram account features a variety of content, including selfies, modeling shots, fashion and beauty-related posts, as well as pictures and videos of herself and her boyfriend, Frenkie De Jong, enjoying vacations in exotic destinations around the world.
Mikky is even recognized as one of the most popular WAGs (wives and girlfriends of athletes) on social media due to her substantial following.
Must See: Marcus Ericsson Girlfriend Iris Tritsaris Jondahl: How Long Have Marcus and Iris Been Dating?
For More Contents Stick To Glamour Fame
-->