Gwen Stefani Kissed Jennifer Aniston at People's Choice Awards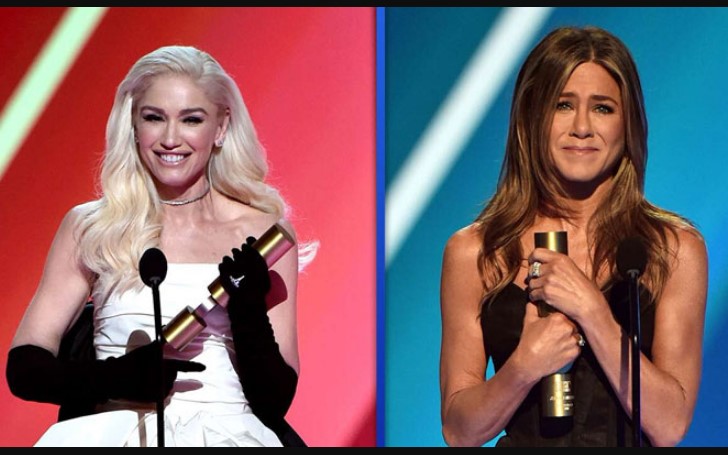 Gwen Stefani planted one on Jennifer Aniston's cheek.
People's Choice Awards, officially E! People's Choice Awards after E! took it over in 2017. It is certainly one of the most amazing awards shows, recognizing people in entertainment, which is determined by votes from the general public and fans.
The show is held annually, and this year, too, it was a blast. The event saw many big names like Hannah Brown, Tyler Cameron, Robert Downey Jr, Kevin Hart, and more.
Watch: People's Choice Awards 2019: The Most Memorable Moments!
But what stole the show, is when Jennifer Aniston got a kiss from Gwen Stefani. Apparently, the backstage at E! People Choice Awards on Sunday was more fun than the stage on Sunday night.
Also See: Jennifer Aniston Reportedly Desperate To Have a Boyfriend Before 50th Birthday
Jennifer, 50, posed for a photo with Gwen Stefani, and the 50-year-old singer kissed on the cheek of Aniston. The two met fifteen years ago through their exes who were close friends, now the Jenn and Gwen are closer than their exes, Brad Pitt and Gavin Rossdale.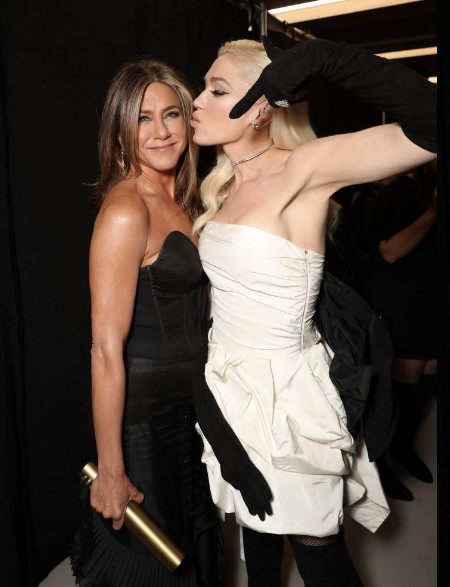 Aniston got a kiss from Gwen.
Source: Yahoo
Both Jenn and Gwen bagged awards on Sunday, Aniston won the People's Icon Award, while Stefani earned the Fashion icon award.
In the acceptance speech, Aniston said, "If I have any claim to this word 'icon,' it's only because I was able to be on an iconic show, with an iconic cast, and an iconic haircut."'Friends' was truly... it was the gift of a lifetime, and I would not be standing up here without that amazing show, without those amazing five other actors, and with an audience who stuck with us."
While Stefani gave a shout out to her husband, Blake Shelton, Gwen Stefani is the second person to accept the award after Victoria Beckham.
For more information on your celebrities' lifestyle, stay tuned to Glamour Fame, and don't forget to sign up for the newsletter.
-->