Jennifer Aniston Reportedly Desperate To Have a Boyfriend Before 50th Birthday
Published Mon Feb 04 2019 By David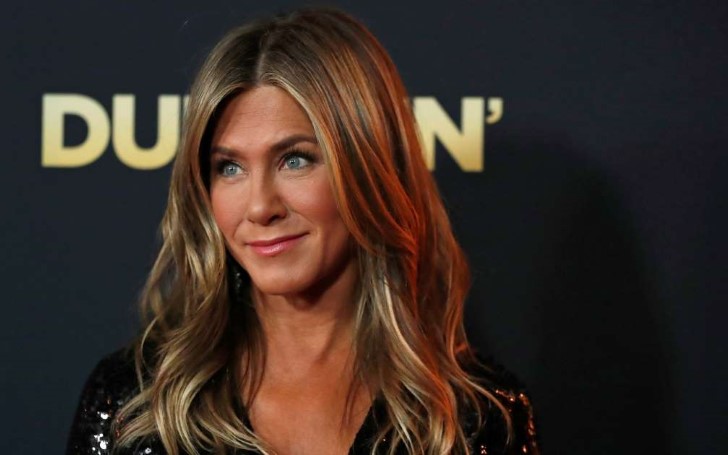 The real fuss behind the tittle-tattle; Jennifer Aniston 'Desperately' wanting a new date before turning 50!!
Apparently, the former Friends star is quite content of turning 50 without a boyfriend by her side. But, as per Radar Online, Jennifer Anniston is not so excited for her nearing birthday due to the same reason.
So is Aniston really "desperate" to huddle up with a new guy and move on from Justin Theroux before she turns 50 years old? This is what a new tabloid report is claiming, but this outrageous rumor has been proven to be nothing but only a mere fabrication.
Jennifer Anniston
Source: Instyle
Radar recently put out on an article claiming that Jennifer wants to have a new man by the time she steps into the quinquagenarian in a couple of weeks. In fact, as per the source, the actress is so desperate that she was even willing to "fake" a relationship just to have a "man on her arm" on her birthday (Feb. 11). A source forwarded to the tabloid:
"She never thought she would be single at 50, and even though she's outwardly insisting she's fine about it, deep down she's humiliated."
The source added:
"Jen thought she would be settled into a new relationship by now, Jen is searching far and wide for a handsome man to make sure people aren't feeling sorry for her."

Also Read: Love Island Star Jack Fincham to Take on Girlfriend Dani's Dad Danny Dyer in The Boxing Ring
Another questionable source also chimed in claiming the report that the real-life girl behind the famous character, Rachel reportedly thought she would get into a new relationship after her divorce from Theroux and now, she's worried about celebrating this important day alone.
"Jen is searching far and wide for a handsome man to make sure people aren't feeling sorry for her," alleged the unidentified source.
Don't Miss: Tennis Superstar Rafael Nadal Set To Marry Girlfriend of 14 years
However, Gossip Cop, on the other hand, intervened stating that there is absolutely no truth supporting even a bit to these claims. Moreover, Aniston herself recently told Elle during her cover story interview for the MAG's January 2019 issue saying she doesn't feel the need to be in a relationship in order to be happy. She explained:
"We live in a society that messages women: By this age, you should be married; by this age, you should have children. That's a fairy tale. That's the mold we're slowly trying to break out of."
Jennifer revealed she doesn't feel that there is a "void" in her life just because she doesn't have a shoulder to lean over. What makes her happy at the moment is her job, family and friends, so she is not feeling an iota of discontentment as of the moment (not at least for being single).
Recommended: Rapper Bow Wow Arrested After Fight With Former Girlfriend Leslie Holden
Jen also added that she aspires other women who are being forced into believing in such a notion would realize that they can "achieve a sense of inner happiness" without having a spouse and or even children.
"What quantifies happiness in someone's life isn't the ideal that was created in the '50s. It's not like you hear that narrative about any men. That's part of sexism – it's always the woman who's scorned and heartbroken."
This isn't the first time people made up stories related to Aniston, though. In fact even week before this she was very much rumored to have had botox like her fellow co-star and a friend Courteney Cox by the Heat magazine.
-->