Hayley Kiyoko Recalls Her Awkward First Date with a Girl
Published Sat Jun 27 2020 By Sea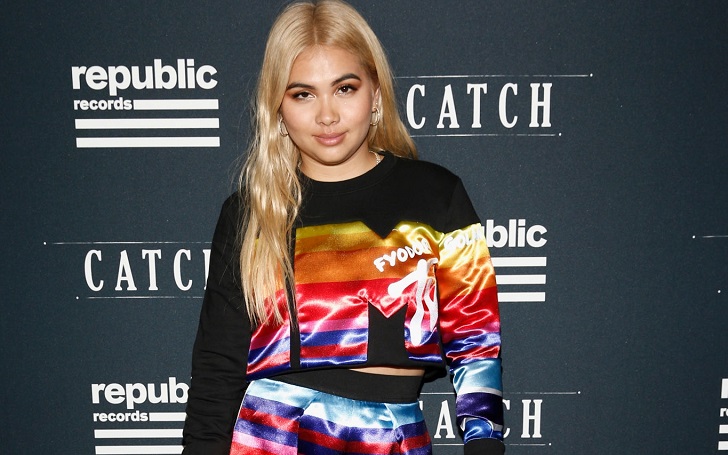 Hayley Kiyoko claims she really hasn't had a date with a girl but did recalls a time she recoiled from her car to kiss her date at the end.
'Girls Like Girls' was Hayley Kiyoko's breakout single referencing her sexuality for the first time, and she is a bit of surprised that it resonated with so many of her now-fans but thrilled for the responses nonetheless. And in terms of dating girls herself, she has a bit of a non-classical approach to dating.
The 29-year-old gave a Billboard Live-At-Home performance to raise fund for 'The Bail Project' this week and reveals details of a particular date she's had with a girl that was a little embarrassing for her. And this is on top of her belief that she's never officially had a first date.
Watch: Hayley Kiyoko's Breakout Single
"A lot of the girls that I had dated in the past were like, 'Oh, we're just friends' and then we ended up... just dating," she says of her transition into dating from first being friends.
"But I did go on one date and I went to drop her off -- this was probably like five or six years ago -- and I went to drop her off and gave her a hug," she discusses the awkward date. "And she was like, 'You weren't gonna give me a kiss goodbye?!' And then I got in the driver's seat and I was like, 'Oh, shoot! Yeah, I can do that!' And I go out the driver's seat, walked all the way around the car and gave her a kiss. It was so embarrassing."
Also See: Where Ben Platt Stands on a 'Dear Evan Hansen' Movie
The dates since then has been quite all right for her, especially since the Supreme Court ruling for gay marriage five years ago from Friday, June 26. And Wednesday (June 24) also marked the five-year anniversary of the release of her 'Girls Like Girls' music video.
"It was so cool to ge t to celebrate that and get to celebrate it every year with you all," she says of her breakout single. "I had no idea what 'Girls Like Girls' would not only do for myself but for other people. And I'm just so grateful for you all to be so supportive and warm and encouraging."
Stay tuned and connected to GlamourFame for more celebrity news and updates. Subscribe to our newsletter to stay up-to-date.
-->