Here Are 5 Reasons Megan Rapinoe Is An Absolute Jerk And "An Arrogant Piece Of Work"
Published Thu Jul 18 2019 By Travis
If you didn't know Megan Rapinoe by now, you know exactly who she is as she has dominated the headlines all throughout the FIFA Women's World Cup. Her pose after scoring the goal against France was quickly turned into a meme as fans all over who loved her before, were amazed by her even more.
Megan Rapinoe and Alex Morgan made some controversial comments during the world cup as hate groups targeted them for their antics. Piers Morgan was one of the high profile vocal dissenters of the two artists followed closely by Bill O'Reilly.
Recently Piers Morgan said that Megan was "an arrogant piece of work" and after her recent antic, as much as it hurt us to say, he seems to be right about that. Her current behavior follows a string of past questionable actions, which paints a very different picture for the athlete who is positioning herself as the champion of the female gender and the hero of the people. Here are five reasons why Megan Rapinoe is an absolute jerk.
5. Thailand Scoring Saga
Thailand isn't as accomplished as the US is as they don't have the same facility that is provided to the US national team. So, when the two teams met during the world cup, America humiliated the Thailand national team by putting 13 goals past them. To make matters worse, the whole team was celebrating non-stop after each goal like Neil Armstrong just touched down on the moon. Megan being the captain, should have toned the celebrations down a little, but after she scored, she herself celebrated like LeBron hitting the buzzer-beater three to win the game. That is just shameful by the striker which shows how much of a jerk she is.
4. "I'm Not Going To The Fucking White House"
When a team wins a major sporting event in the US, the President invites the winning team to the White House to celebrate their achievement. As Donald Trump became the President of United States more players have snubbed the White House by saying nothing or in the case of Steph Curry; he made a simple statement saying this was a stance he is making to not go to the White House, respectfully. Instead of taking a respectful route, Megan used her platform to attach the word "fucking" with the house that is synonymous with freedom. Don't respect the man sitting in the house, at least respect the place where numerous good men have done great things for America and the world.
3. Not Singing The National Anthem
National Anthem is about the pride of the nation, about what the society as a whole stands for. The anthem is respected by almost all who live in the country, but Megan made a decision not to sing the anthem and even kept her hands behind her. So, she was protesting, it is her right to do so, Colin Kapernick kneeled protesting police brutality, that is understandable to a point, but Megan was protesting for money. What a great cause to protest for! Megan did acknowledge that she made a mistake, but that event shows exactly why she is a class A jerk.
2. Equal Pay Saga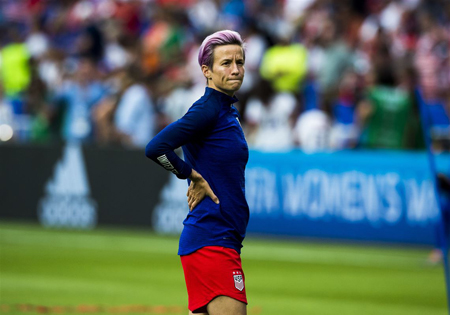 Pay Equality is a great cause to fight for; there needs to be pay equality with male and female employees getting the same amount of money for their work. The ladies should get the same amount of money and to be honest, even more than men get as they are more successful, and that is all fair and dandy. But for the players to bring that to the World Cup was a dick move by the ladies and especially Megan as she is leading the charge for the pay equality. You have your platforms to speak, and football is a global sport, people watch the game to end a stressful day, they don't need political statements polluting the beautiful sports of football.
1. Autograph Saga
Now the quote from Piers Morgan, "An arrogant piece of work," and the reason for the quote was the fact how Megan snubbed her small fan. During the ESPYS a young fan approached Megan asking her for an autograph on a small ball. She took the ball then looked away and signed while talking to someone on her right then as she finished Megan looked to her left with no regard to the fan and gave him the ball without even looking. It was like she couldn't wait to get rid of the young fan and felt like she was shooing him away. Learn from players like Serena Williams as to how to treat and behave with fans who are being nice by asking you an autograph.
Also Read: What Is Alex Morgan' Net Worth? Details Of Her Sources Of Income And Earnings!
Earning lump sums of money is not everything, it matters what your legacy will be, will be remembered as an accomplished player who fought for the society like Serena Williams or LeBron James or you will be remembered as "an arrogant piece of work," it is all on you Megan, which path do you want to take.
-->