What Is Alex Morgan' Net Worth? Details Of Her Sources Of Income And Earnings!
Published Thu Jul 04 2019 By Travis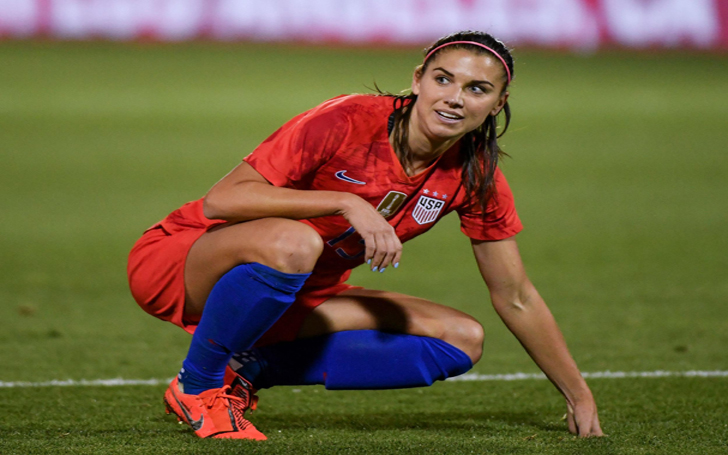 Alex Morgan netted the winning goal for USWNT in their world cup semifinal match up against England. The team won 2-1 against a resilient England side, but the talk after the match was not how they won, but about the celebratory gesture Alex made after she scored the second goal.
After the talented striker scored the goal she made her way to the sideline and pretended to sip a cup of tea. This was met with divisive response from fans as some found it distasteful whereas others found it a call back to the time America defeated Britain to gain independence, right before 4th of July.
Well it seems she is getting a lot of press not for her performance but her shenanigans after she scored the goal. The accomplished football player is playing in her third World Cup as she is among the top scorers in the tournament with six goals to her name.
All her life, Alex has dedicated to football and in the same way football has reciprocated by allowing her to amass a healthy net worth over the career.
What Is Alex Morgan's Net Worth?
Alex Morgan is one of the highest paid female athletes in the world. She plays for expansion team Orlando Pirate in the NWSL which pays her a salary of $56,000 which is above the maximum salary of $39,700 which is paid to non national team players.
Alex is currently playing in the world cup where she is due to receive $72,000 which is paid to American female football players plus a win bonus of $1,350. If the ladies win this world cup then LUNA Bar is paying a roster bonus of $31,250.
According to Money.com, American players can make about $400-500,000 if they win this world cup.
With over 100 goals for the national team, Alex Morgan is one of the most decorated players in the history of American soccer but along with being legendary, she is also one of the most marketable athletes on earth.
With over seven million fans on Instagram she promotes various brands that endorse her. She is also set to earn around $1 million from all her endorsement deals combined with her modest earnings from playing football.
Last year Alex made above $400,000 but this year after she stepped up her endorsement deals she is in line to make more that a million dollars.
As of now her net worth remains somewhere around $3 million, if the new found fame is any evidence that number is going to rise astronomically if the player wins the world cup this year.
What About Her Relationships?
Servando Carrasco is the lucky man who swept Alex off her feat. Servando is also a football player, who plays for LA Galaxy as a midfielder. The couple first met in UC Berkeley where they both played football together. After being together for almost seven years the couple married on December 31, 2014.
Also Read: 7 Unknown Facts About The Youngest U.S. Captain In History Christian Pulisic
Alex is one of the biggest stars in women's football stage, where she has carved out a historic career for herself. Though the pay equality is not there but still she has been able to amass a healthy net worth for herself.
-->