Here's Why July Will Be An Amazing Month For Horror Fans!
Published Thu Jun 27 2019 By Travis
July is going to be a bloody good month for horror fans.
Summertime is not something we associate with horror flicks that much. Summertime is when big blockbuster fantasy, superhero, and high budgeted sci-fi movies dominate, but recently it seems that blockbuster movies are released all around the year and not just summer time and still succeeding. It seems as though horror movies are taking the page out the same book.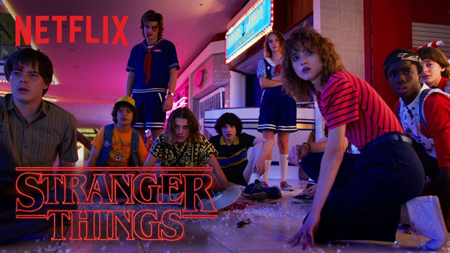 January, February, and March used to be the months when horror movies dominated the movie theatres, but it seems horror movies are having a renaissance of a sort in 2019. Pet Sematary, Us, Happy Death Day 2U, The Prodigy and Glass, all saw a varying degree of success in 2019.
July as it seems is going to be even better for lovers of horror flicks. Annabelle and Child's Play are leading horror fans into July where at the start of the month fans will get the chance to watch Midsommar. Another masterpiece from the masterful director of Hereditary and Midsommar hits the theatre on July 3rd. If early reviews are any indications for the movie as a whole, then get ready for another ambitious undertaking by the director of the future.
Watch: The Trailer for Midsommar
If that isn't enough to sate your horror thirst then as soon as you leave the theatre from the late-night show, you can head home and wait till 12:01 am July 4th for the 3rd season of Stranger Things. The cast doing their rounds on all the talk shows and news shows are telling that the show is scarier and grimier and darker than the past two seasons. Don't take our word for it, head on over to YouTube to watch the trailer for yourself.
Watch: The final trailer of Stranger Things season 3
You won't even have to make your way to a theatre to see this one, just Netflix and chill.
Oh! and for people who love Scream on MTV, you are in luck, as the show is set to premiere its third season on VH1. The purist of the movies, be ready to see the masks and original movie cast member Roger Jackson in the newly titled 'Scream: Resurrection'. By the time you finish binge-watching Stranger Things, Scream will be on July 8th.
Enough about the small screen, 'Hills Have Eyes' director, Alexandre Aja returns to the big screen with much-anticipated flick Crawl. Aja doesn't do it for you? Well, Sam Raimi is producing the alligator (!!!) horror flick which is also going to be R-rated. So, be ready for some bloody fun on the big screen.
Watch: The bloody trailer of Crawl
For old-school comedy-horror genre fans, there is something for you too in July. Critters are returning in a newly rebooted title, 'Critters Attack!' on Syfy channel and also on DVD and VOD. Directed by Bobby Miller, the movie returns after almost 30 years, on July 23rd.
Movies and TV series are not the only things that make July a fun month for all the horror fans. Wolfenstein: Youngblood is making its way to stores on July 26th. Set in the 1980s the famous horror game series, which is 20 years after the events of Wolfenstein II focuses on the lead players daughter this time. So, horror fans, get your gaming fingers ready as this one is a can't-miss game.
Watch: The E3 trailer for the Wolfenstein game coming this July
Blood and gore aplenty July will be a month that is going to make a lot of horror fans thrilled moviegoers, binge-watchers and gamers. So, get in the mood and be ready, because July is coming!
-->