Hillary Clinton Plastic Surgery Speculations - Is There Any Truth to It?
Published Tue Dec 17 2019 By Matthew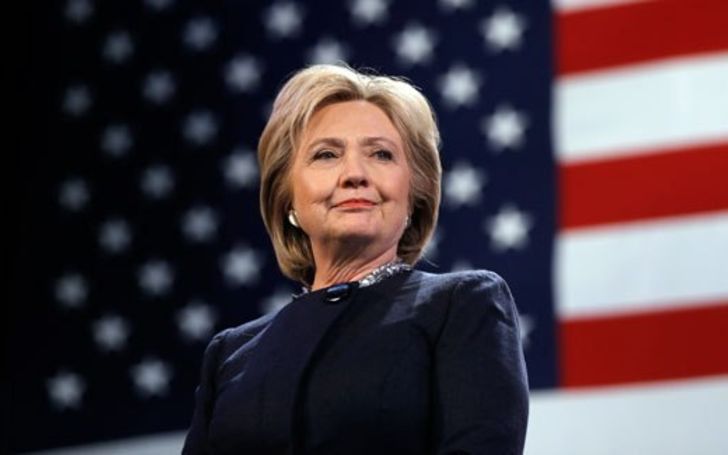 Did the former presidential candidate Hillary Clinton get plastic surgery? Learn all about Clinton's plastic surgery speculations.
Born on October 26, 1947, Hillary Diane Rodham Clinton barely needs any introduction. The former First Lady went head to head against Donald Trump in the last presidential election and surprisingly lost, although she was the first woman to win the popular vote in an American presidential election.
Apart from serving as the First Lady while her husband Bill Clinton was in office from 1993 to 2001, Hillary was also a US Senator out of New York from 2001 to 2009 and the 67th United States Secretary of States from 2009 to 2013.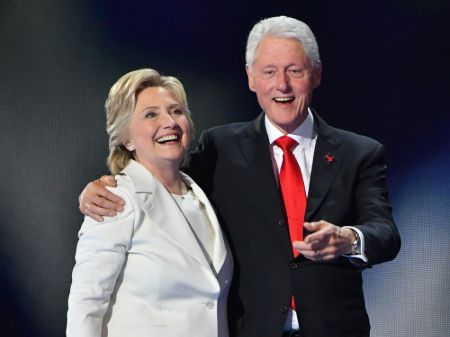 Hillary Clinton With Husband Bill Clinton.
Source: People
Hillary, apart from her presidential campaign against the current US president Trump, often makes the headline getting accused of undergoing plastic surgery. But are there any truths to these accusations?
Glowing or Daunting in the Broadway Event?
The former US President Bill Clinton and his wife Hillary attended 'The Temptations Musical's Ain't Too Proud' at The Imperial Theatre on the night of December 12, 2019. Photos of Hillary hit the internet as she joined her husband in the backstage. Take a look for yourself.
While her skin did look wrinkle-free and glowing, that daunting and dead look sends chills down anybody's spine. This photo was what sent the internet to speculate if she got some work done on her face.
Also See: The Untold Truth about Sandra Bullock Plastic Surgery Rumors
As reported by Daily Mail, an aesthetic expert Dr. Ross Perry said that Hillary appeared to be genetically blessed with good skin but also pointed out that it could be the outcome of Botox, injectable dermal fillers, and Blepharoplasty.
Not The First Time To Be Accused
This statement might come as a shock to a lot of people, but this isn't the first time Hillary is accused of having a bit of work done on her face. It isn't the second time, either.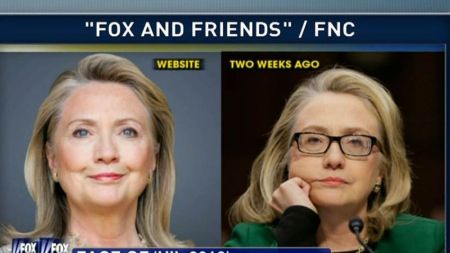 Fox Speculates Hillary Clinton's Possible Facelift
Source: MSNBC
The 72 years old politician first fell victim of plastic surgery rumors back in 2013 when Fox anchor Steve Doocy passed a slightly sexist comment on Clinton's photo from her newly unveiled website. Doocy's sexist comment drew quite the criticism; thus, he tried to control the damage by tweeting, "I was saying the Hillary *WEBSITE* had a new pic, a facelift for the site."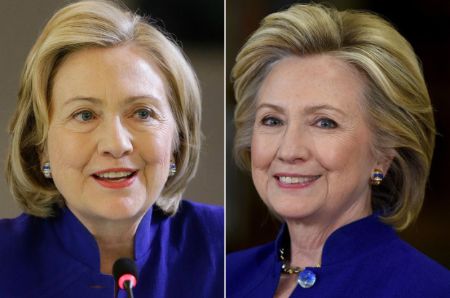 Hillary Clinton In 2014 (Left) And In 2015 (Right).
Source: New York Post
The second accusation came two years later in 2015 from Ed Klein. Ed wrote elaborately in his book 'Unlikeable' about how Bill suggested Hillary get a facelift, and Hillary got one from a well-known plastic surgeon in their own house in Chappaqua, NY.
Also See: Emma Watson Plastic Surgery - Did She Get Breast Implants?
Well, we might never really know if all these rumors are true. We sure hope that we'll find out someday. But Hillary was right when she said, "You won't see my hair turn white in the White House." Her hairs are turning white but not at the White House.
For more gossips, visit the entertainment section at Glamour Fame.
-->