How Many Times Was Marilyn Monroe Married? Details Of Her Husbands, Children, Family!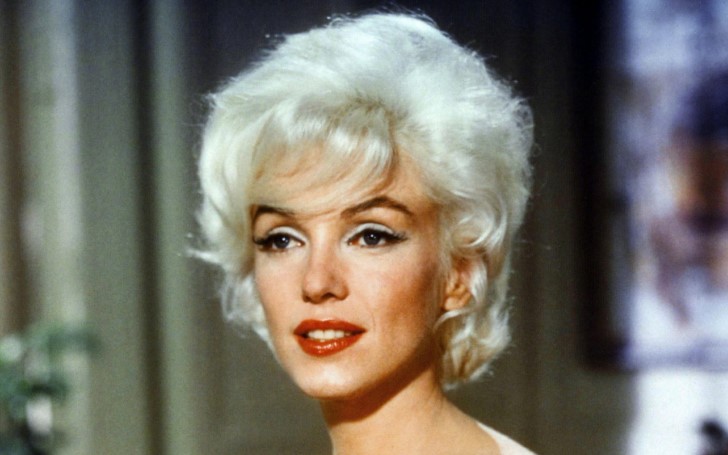 Know how many times the late sex symbol star Marilyn Monroe married in her lifetime? Get all the information about her relationship status when she was alive.
Marilyn Monroe's glamorous influence only grew after her death age of 36 in August 1962. While Marilyn was alive, she was often linked with Hollywood's hottest males and industry's heavyweights.
Though Marilyn was linked with many men, only a few won her heart. Let's find out about her love life.
Marilyn Monroe Husbands
Marilyn Monroe, in her time, was always surrounded by rumors. Rumor has it she not only dated many men but a few women as well. But only a handful of people from the list are confirmed to have romanced the star.
Publicity photo of Marilyn Monroe. (1953)
Source: The Vintage News
We have rounded out three people with whom Monroe, though brief, fell in love and tied the knot. Marilyn's first husband was an LA police officer, James Dougherty. They started dating in January 1942 and were married after a year. The star was only 16 years old when she first married.
"On June 19, 1942, the couple was married. The wedding was officiated by a minister, Norma Jeane wore an embroidered lace wedding dress with long sleeves and veil."
Source: Rare Historical Photos
It was believed that Monroe's foster parents were moving across the country and they couldn't afford to take the star with them so the parent suggested Dougherty to marry the teenager and take her in.
Read Also: Harold And Kumar Star John Cho Is Married To His Wife Kerri Higuchi Since 2006; Learn The Details Of Their Relationship!
Dougherty said they married to save the star from going to foster home but they were in love as well. After the marriage, the couple moved to Van Nuys, CA and the star got the job there. But soon enough the star caught the fame bug and she presented the divorce paper to Dougherty.
Apparently, the star wanted to sign a contract with 20th Century Fox and it said she couldn't be married. After four years of marriage, the couple went their separate ways.
Spending some time alone, the star started seeing Joe DiMaggio. Joe was New York Yankee star and when the couple first met, Monroe was not into the Yankee star very much as she thought he would be arrogant. But in 1952, the two went on a date in LA, and the couple struck romance that summer.
Joe DiMaggio and Marilyn Monroe had a stormy relationship that resulted in a marriage which lasted for a whole nine months.
Source: The Vintage News.
The couple married in 1954 in a quick civil ceremony at San Francisco City Hall. They were each other's second marriages, but Joe DiMaggio was an old-fashioned man and believed that woman should be at home.
Joe started to foster distrust seeing Marilyn's career peaking up, and slowly jealousy began to grow on him because of Monroe's ability to attract other men.
See Also: Who Is Lori Loughlin's Husband? How Long Has She Been Married? Details Of Her Daughter!
Reportedly, it was believed that Joe was very abusive; soon, rumors of emotional and physical abuse started making their rounds and just after nine months of marriage, Marilyn stood before a judge to get a divorce petition. Finally, the star was granted the divorce and the couple went their separate ways.
And come the final one, Mr. Arthur Miller. Arthur was an American playwright, he met Monroe in the set of 'As Young as You Feel'. Though that was the first time they meet, they were not in touch until Monroe move to New York City to formally study acting.
After that, the couple reconnected and started dating secretly as the essayist was on still on the process of divorcing his first wife, Mary Slatter. In June of 1956, the essayist and Marilyn were married in a civil ceremony at the Westchester County Court in White Plains, NY.
Monroe and Arthur Miller at their wedding on June 29, 1956.
Source: The Vintage News
Marilyn and Arthur moved to London and when just she was getting ready to shoot the 'Prince and the Showgirl' with Laurence Olivier. Shortly before the shoot, the star stumbled upon Arthur's journal and, she read it.
In the Journal, Arthur wrote that he was having second thoughts about marrying the star. He mentioned that the star was not as smart as he thought she was. The essayist was worried that his creativity and career would be affected by his association with her.
The couple returned the States after filming and Marilyn took 18 months break from her work. After a few years, Marilyn got pregnant, but the pregnancy was terminated. A year later, she suffered another miscarriage which sent her over the edge, and her drug use got worse. Slowly, her marriage with Arthur was wearing thin.
Slowly everything started to get worse, the star's increasing use of drugs making everything worse by that point. While she was filming the movie 'Misfit', she would show up late at the shoot, was having trouble remembering the lines which angered director, and film's co-stars.
Recommended: Who Is Matthew McConaughey Wife Camila Alves? How Long Has The Actor Been Married? Learn Details Of Their Sweet Love Story!
Shortly before the star's movie 'Misfits' was released, Arthur and Marilyn divorced after five years of marriage. Misfit was the last completed role of Monroe.
That was the married life of pop culture's most iconic figure - Marilyn Monroe. But what about her children?
Marilyn Monroe Children
Marilyn was married three times, however, she never had kids of her own. When the actress was married to Arthur Miller, she suffered one miscarriage, and one was terminated because it was an ectopic pregnancy.
Posing for photographers while filming the subway grate scene for The Seven Year Itch in September 1954.
Source: The Vintage News
According to Monroe's gynecologist, the star was suffering from endometriosis, a condition in which cells similar to those in the endometrium, the layer of tissue that normally covers the inside of the uterus, grows outside of it.
If you want to read other articles like this one, be sure to check out glamour fame.
-->