Who Is Matthew McConaughey Wife Camila Alves? How Long Has The Actor Been Married? Learn Details Of Their Sweet Love Story!
Published Wed May 29 2019 By Jessica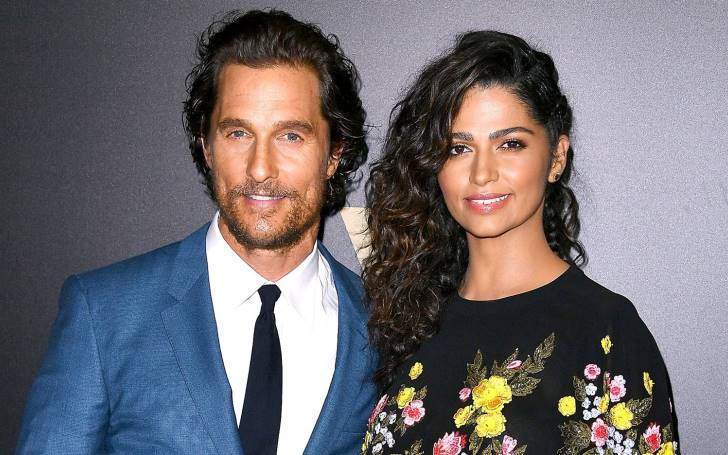 Know all the details to the married life of Hollywood famous actor Matthew McConaughey.
Christopher Nolan's 'Interstellar's lead actor Matthew McConaughey who portrayed the role of Cooper is next up for his upcoming film 'The Gentlemen' by Guy Ritchie which sets to release next year.
The Academy Award-winning actor who already impacted a lot in Hollywood managed to win millions of hearts by his magnificent performance in movies including 'Serenity', 'Dazed and Confused', 'How to Lose a Guy in 10 Days', 'Dazed and Confused' and 'Gold'.
The incredibly talented actor who originally hails from Texas was born to mother, Mary Kathleen, and his late father, James Donald "Jim" McConaughey.
Interestingly, Matthew's parents, Mary and James who lived an ordinary life as a teacher and a businessman shared a cinematic love life since they were divorced twice and married thrice in their life. But what about their son?
Related: What is Michael C. Hall Net Worth? How Much Did The Actor Make Per Episode Of Dexter? Details Of His Cars and Houses!
Does Matthew share such an exciting married life with his wife too? Is the actor even married? Let's find out below.
Matthew McConaughey Married Life
Matthew McConaughey pictured with wife Camila Alves.

SOURCE: Pinterest
Matthew McConaughey shares a married life with his beautiful wife Camila Alves whom he fell in love at first sight in 2006. The spirit and the elegant glimpse of Camila immediately caught Matthew's attention when he was making margarita for his friends at a bar.
Unfortunately for McConaughey, he didn't score at his first few attempts. Although the actor was big with his freshly released hit films back then, Camila didn't find herself allured to McConaughey. Long story short, Alves rejected him twice.
Camila, however, became so impressed with Matthew that she finally decided to give a chance to the actor at the third attempt. The love bird then dated for nearly five years before they stepped up their relationship as an engaged couple on 25th December 2011.
Prior to the announcement of their engagement, the couple then exchanged their vows seven months later with their intimate wedding, which took place in front of their close friend and relatives, and of course Matthew's Hollywood A-Listers friends including Kenny Chesney, Woody Harrelson, and Reese Witherspoon.
Don't miss: Who Is Pep Guardiola Wife? Does The Manchester City Manager Have A Son?
Who Is Matthew McConaughey's Wife Camila Alves?
Matthew McConaughey and wife Camila Alves at an event.

SOURCE: RCFA
Born on 28th January 1982, Matthew McConaughey's wife Camila Alves is a Brazillian origin model, entrepreneur, and designer who became an American citizen in 2015. Camila moved to the land of Opportunity with a dream of becoming a model at the age of nineteen.
From working as a waitress to house cleaner, Camila eventually succeeded with her modeling career and later worked with popular brands like Macy and walked many fashion ramps. She even launched her own line of handbags called 'Muxo', a website called 'Women of Today'.
She even established herself as a host. Camila hosted season three of 'Shear Genius', a reality show
Following the success of her career, the dark-haired beauty then also launched 'Yummy Spoonfuls' which produces organic food for toddlers and kids and later co-hosted 'Kids BBQ Championship' the same year with Eddie Jackson.
Recommended: Who Is Michael C. Hall Spouse Morgan MacGregor? Dexter Actor Was Married Twice Previously!
Matthew McConaughey And Camila Alves Children
Matthew McConaughey and Camila Alves Children pictured with their children.

SOURCE: Pinterest
Matthew McConaughey and Camila Alves are parents to three adorable children. The couple had their first child, a son, Levi Alves McConaughey on 7th July 2008. The two then welcomed their second child, a daughter, Vida Alves McConaughey on 3rd Jan 2010. The youngest child of the gorgeous Hollywood couple, Livingston Alves McConaughey, entered the world on 28 December 2012.
Their three adorable children often steal attention whenever they attend red carpet events with Matthew and Camila.
Today the couple shares a happy life as partners of more than twelve years with no extramarital affair involved. As a matter of fact, Matthew who likes to be under his wife spell says that he is fully committed to his married life and promised to always remain a faithful husband.
-->