How Model Kinsey Wolanski Boyfriend Vitaly Zdorovetskiy Pulled Off $4 Million Stunt During The Champions League Final
Published Wed Jun 05 2019 By Andrew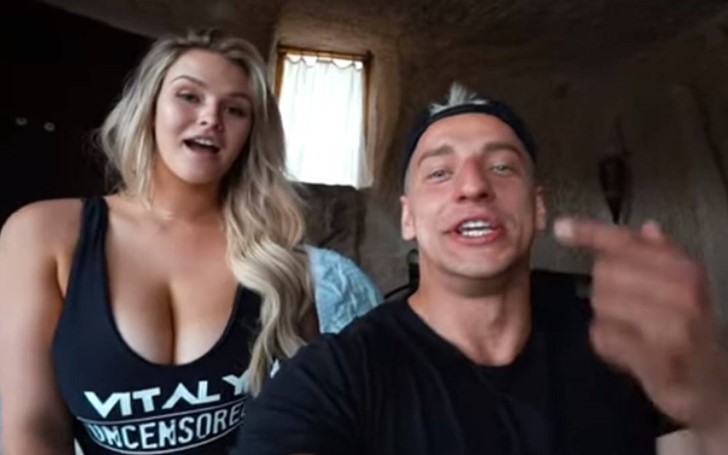 Stunt during the Champions League Final pulled off by model Kinsey Wolanski boyfriend Vitaly Zdorovetskiy worth $4 million.
The X-rated prankster, Kinsey Wolanski saw her fame skyrocket as she managed to pull off her biggest stunt so far by streaking during the Champions League final.
As the world was in their element while indulging on the Liverpool and Spurs' football match in Madrid, Wolanski ran onto the pitch covering her body with nothing but a skimpy black swimsuit which featured the words "Vitaly Uncensored" across it.
Champions League final streaker.
SOURCE: Daily Express
However, the Russian sure didn't mark the first instance of someone cunningly evading security Saturday night in Spain.
22-year-old Wolanski is the girlfriend and accomplice of YouTuber Vitaly Zdorovetskiy, whose adult website Vitaly Uncensored garnered major popularity with soaring visits given the massive exploits of his lady.
The YouTube prankster invaded the pitch of another football match during the 2014 World Cup final and as a result, was banned from attending any other football match.
Watch: Vitaly's Streaking During World Cup Final!
However, the Russian-American internet star easily managed to get his way past the security at the Wanda Metropolitano simply using a fake blond beard as a disguise.
He could be seen in the stands having the time of his life while filming his model girlfriend who just burst onto the pitch during the first half. Wolanski sprinted all the way to the halfway line before the security finally caught up to her and escorted her out of the field. Moreover, the 22-year-old beauty also joked that she managed to distract Spurs star Harry Winks with her eye-catching antics.
The world has taken major notice towards the model since then and the fact that her Instagram followers are just soaring to exceed 2.5 million. However, all the work she put on went down in shambles when her account was taken down by the social media giant.
Wolanski, who often participates in elaborate pranks with her boyfriend, obviously holds no regrets over what she did. Wolanski was taken off the pitch by security and was eventually held by cops before she was released.
But at least UEFA had a funny side of the prank.
Wolanski also boasted an honorary ticket to the world which was given to her by someone working in the company as a fine gesture awarding her with the lifelong reminder of the night she became famous.
The stunt was sure fruitful for the prankster couple as their fame and the acclaim for their content is in an all-time high.
-->