iJustine AKA Justine Ezarik's Staggering Wealth - The Real Truth Behind Her Incredible Net Worth!
Published Sun Dec 15 2019 By Sea
Justine Ezarik, aka iJustine, has a lot of PCs, laptops, among many other electronic equipments, and iPhones of all things. She's been making videos about her iPhones and other stuff for over 10 years, but it seems she'll never get tired of it.
With all the fancy equipment she has in her room, and those many, many different equipment we saw in her videos can make someone wonder, where the heck this woman is getting the funding to buy all of the products from.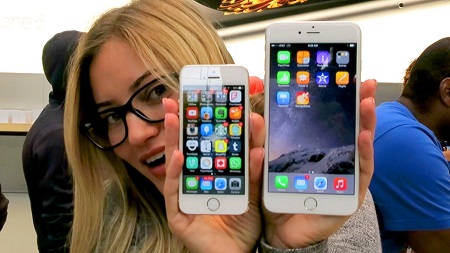 Now, iJustine mostly does unboxing and review videos on YouTube.
Source: iJustine, YouTube
The fame for iJustine started with a viral video about a 300-page iPhone bill, which enabled her to rise to a bigger stage and showcase even her skits not related to technology at all. She does, however, try to tie her old videos to technology, like talking about predicting the release of iPhones in 2007 with a video about getting hit in the head by an apple.
First Thing's First: The Girl's Absolutely Crazy about iPhones
Ezarik's learned from her past mistakes about booking for an iPhone pretty late, as she called every store launching an iPhone and every one of them had zero iPhones left. Everytime a new iPhone's out, she ready to do everything to be the first, or at least one of the firsts, to be in line for the phone.
The 35-year-old has done three days of stakeouts and staying up all night for a preorder at the exact moment of the launch of the new phone. Yes, she buys every release of the iPhones she can.
Watch: iJustine Show What Did to Get All the Latest iPhones
What does she do with the old Phones once she buys a new one? Simple, she sells them. She's a big Steve Jobs fanatic since getting to unbox the family's first Apple computer and receives the new phones & other Apple products just for unboxing on her YouTube videos. She probably doesn't keep the phone though. Probably...
Justine's appeared in several commercials for iPhones (duhh!!!) as part of the partnership with Apple. And you should know, her phone, before getting iPhones, was a Palm Treo.
iJustine's Net Worth of $2 Million Seems a Little Too Underestimated - The Income Sources
Celebrity Net Worth estimates at least $2 million as the net worth value of iJustine. But when you observe her lifestyle, it seems like she's got much more of it. Of course, there are taxes to consider, and Forbes will use different calculations for her fortune, if she ever gets their attention one day.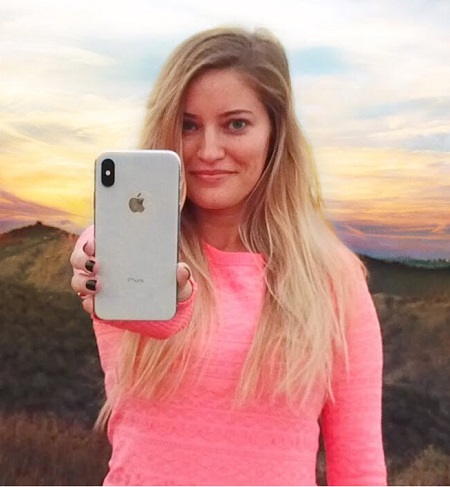 She's appeared in iPhone ads as well.
Source: iJustine, Twitter
They actually have noticed her work (of course they would). They've actually got an interview with her too. Forbes also named her one of the Top Influencers in Tech And Business of 2017.
YouTube and the Viral Video Kickstart
Justine started her main YouTube channel, 'iJustine', on May 6, 2006, and started by doing skits and other funny video clips. But her video content creating days started as early as 2002, and she was already blogging about her love for Apple when she was in college. As for coding, she'd learned HTML by the time she was 12.
Watch: That Viral Video That Shone the Spotlight on iJustine
It was one of the random videos that she put up on her channel in August 2007 about the 300-page iPhone bill she received from AT&T. After it went viral, the store actually changed its policy about billing people.
Moving Up the Celebrity Ladder and More YouTube Fame
The star's spiraling fame kicked-off from the viral video, which got her the fame she deserved. The woman of tech has also gone on to work as a model was named 97th in Maxim's Hot 100 list of 2010. Offers came from all corners as she started featuring in TV series and movies, even if they were just minor roles.
As Justine was gaining popularity, her YouTube subscriber count went up and up as she gained 300,000 YouTube subscribers and over one million Twitter followers by December 2009. USA Today reported she earned $75,000 annually from YouTube at the time. Now, she has over 6 million YouTube subscribers, and with 1.8 Twitter followers, she's one of 1000 Twitter users in the world.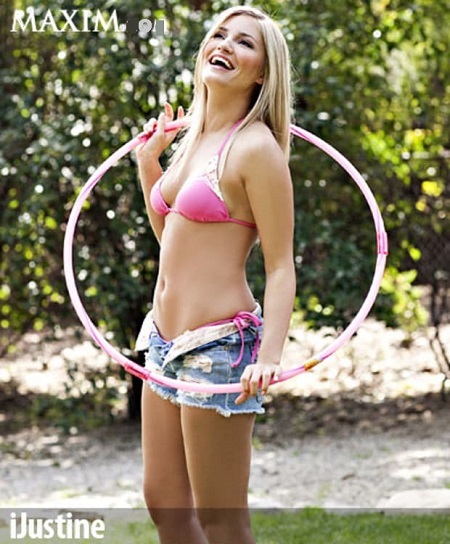 Justine's not just a tech reporter; she's been a model too.
Source: Austin Hargrave, Maxim
Yeah, the current statistics make the $2 million seem too underestimated for her net worth. 'iJustine' YouTube channel alone made her minimum $2.5 million so far (an estimated value based on her 1800+ videos and earning of around $1450 per video). Just this March, she surpassed the 1 billion total views mark.
There are still five other channels she opened. Granted they don't nearly make as much (and one of them was active only for one day), they still add up to the fortune.
Of course, YouTube is not the only source of income she has. The acting jobs, modeling work, endorsements and, heck, there's some inheritance lying around from her parents since she is the oldest of the three daughters of her parents.
Ezarik is one of the first lifecasters on the web with her participation in the now-defunct 'Justin.tv' live-streaming site. She stopped broadcasting her life on the internet after 2009 to focus more on her new fame and work as an actress too. Her credits include 'Law & Order', 'The Vampire Diaries' and 'Criminal Minds'.
She's considered the first life-streamer ever.
Source: Justine Ezarik, Blog
Oh, and there's also her auto memoir, 'I, Justine: An Analog Memoir', which was hailed their best-seller by the New York Times in 2015. Of course, royalties pay a lot for her work.
Despite being a pioneer hit YouTube star, she's been fairly underrated, as many of her fans pointed out. But she's an idol for those who matter and will continue her passion for tech even if there are few women in the industry as popular as she is.
Stay tuned for more Entertainment content on GlamourFame.
-->