YouTuber iJustine AKA Justine Ezarik - Top 5 Facts!
Published Sun Dec 15 2019 By Sea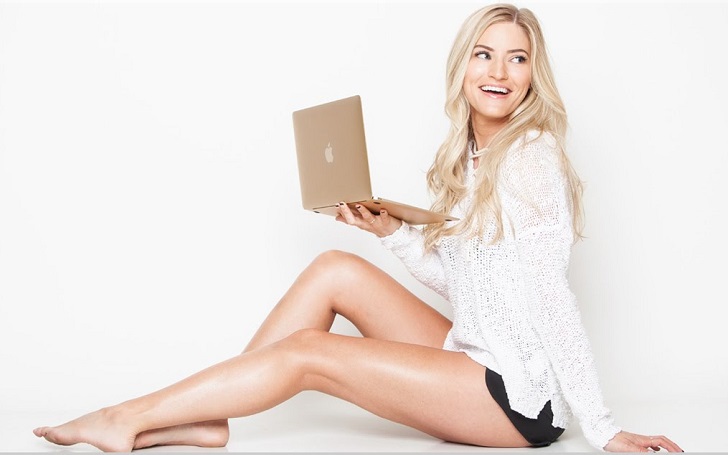 Women coming out in the tech industry is a rare sight to see, but they do exist. In fact, there are so many female stars in the industry, with the only problem being they are not highlighted like the men are.
Justine Ezarik, popular by her alias name 'iJustine', is a huge Apple fanatic, as advertised by her name. She's been associated with Apple even before the first iPhone got around. Her reviews and unboxing videos on YouTube ring beside the likes of Marques Brownlee, Unbox Therapy, and such (yeah, all guys).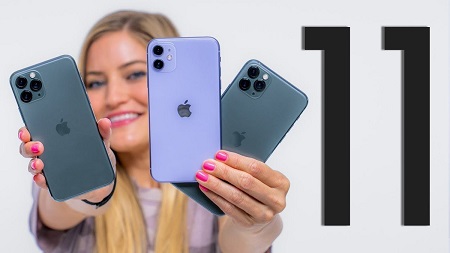 iJustine mainly focuses on iPhone in her main YouTube channel.
Source: iJustine, Twitter
The 35-year-old is not just an over-10-decades YouTuber. She's reached wherever she can put her hands on. Apart from her six YouTube channels, 'iJustine' (main), 'otherijustine', 'iJustineGaming' (yes, she's super into gaming), 'ijustinesiphone', 'iJustine's review channel!' and 'ijustineracing' (life span of one day), she's been an actress, graphic designer, programmer, gamer, blogger and travel enthusiast and is a huge dog-lover.
There are so many things that Ezarik's shared on her YouTube videos and social media pages that it was difficult to choose what might interest you. Still, to get a better knowledge of the star, here goes.
5. Justine Ezarik Knew What She Wanted to Do for Her Career Since She Was a Teenager
As a child, her idol was Steve Jobs growing, as you might imagine. In retrospect, she launched her first website, 'I Hate Steve', which was about (not about Steve Jobs) her nuisance classmate when she was just 12. Don't worry; they are good friends now.
That was the childhood for Justine, a far cry from a normal teenager's. She was just having fun building websites. Obviously, that's why she never felt she fit into a generic group, or any group, for that matter. The first innovation towards tech was when she unboxed the family Apple computer.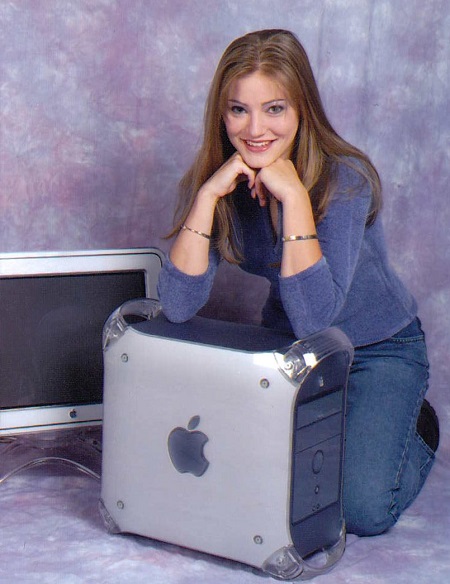 The family Apple computer kicked-off her interest in tech.
Source: Justine Ezarik
After getting her first iPhone, she was one of the first users of the now-defunct live-streaming site 'Justin.tv' in 2007. That was also the year her fame really skyrocketed, much before the likes of PewDiePie or Ryan Higa.
4. Used a Palm Treo (with a Stylus) Before Apple Launched iPhone in 2007, She Received a 300-Page Bill from AT&T after a While
One of her very first YouTube videos on her main channel, 'iJustine', was about how she lost the Stylus of a mobile phone in 2006. It's sort of like a pencil. She used to lose it every so often, and she exploited the daily struggle into a parody video. The first-ever video on 'iJustine' was 'The Oatmeal Project'.
Watch: iJustine Revisits Her Early Videos, 'The Oatmeal Project' and 'Have You Seen My Stylus???!!!
The phone she used back then was a Palm Treo, but after Steve Jobs launched his iPhone innovation in 2007, all she lives for is iPhone. Of course, she owns phones and PCs from other brands as well. When visiting past videos, she recalls one where she is hit by an apple by a friend and jokes about the world getting hit on the head by Apple with the announcement completing a prophecy she declared a year ago.
AT&T was known for sending a bizarre amount of pages to a phone bill over a decade ago. Lots of people complained about receiving 40 to 150 pages of iPhone bill, but Justine was the one to take full advantage of the bad situation. She made a video in a coffee shop, flipping almost 300 pages of her phone bill and posted it on her channel.
Watch: The Viral Video of iJustine Flipping the 300 Pages of Her iPhone Bill
The video was flipping viral as the views count crossed 3 million after 10 days of airing. It was shared and re-shared everywhere on the internet. In fact, other people reported similar situations after her viral video was released.
In one interview, during the aftermath of the video's effect, she confessed she exchanged 30,000-35,000 text messages per month. It's no wonder her phone bill came in a box. The bill included each and every text message she exchanged, all the phone calls and the numbers. Even Apple didn't know about it until the video.
Do You Know About PewDiePie's Wife Marzia Bisognin? Even If You Do, Here's Something More About Her
After a few days, AT&T text messaged the iPhone users about the changes in its billing practices. 'Computerworld' also listed the event as one of 'Technology's 10 Most Mortifying Moments'.
3. Authoring Her Own Book - A Memoir
In June 2015, iJustine published a book of her own after 'Simon & Schuster' took an innovation to publish books by a group of social media personalities that included her as well. The publishing company had announced in May 2014 that its Atria Publishing Group division partnered with United Talent Agency for the innovation.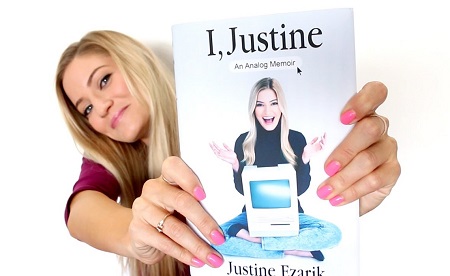 iJustine released her memoir in 2015.
Source: Justine Ezarik
The book was named 'I, Justine: An Analog Memoir', which takes the readers behind the scenes of her YouTube life and other ventures. She also shares the hardships YouTubers face behind the life of the camera and how one should always stay positive.
The online personality was upset that the authorities also don't do anything about online harassment and even death threats. She's also firmly against cyberbullying. But with all the years of live-streaming and interacting with the fans, she knows the internet is also a safe place for her.
2. Acting and Being Arnold Schwarzenegger's Advisor in 'The New Celebrity Apprentice'
It doesn't come off as surprising that a YouTube star like she has a lot of acting credits to her name. Of course, she does. One of her first appearances on TV was in 'Law & Order' in 2009 as a 16-year-old crime victim, after she did her first appearance in 'The Station' as herself earlier that year.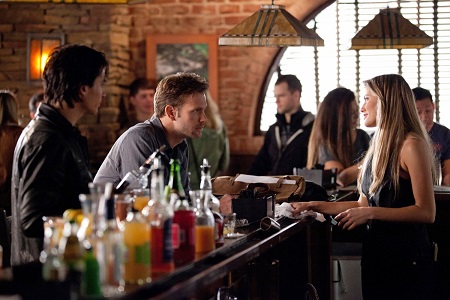 She's made cameo appearances on several TV shows & movies.
Source: The Vampire Diaries
Justine's acting career took off with numerous other single-appearance shows, including 'The Vampire Diaries', 'Criminal Minds' and 'The Guild', among others. She did appear in several movies as well. She signed with United Talent Agency in 2013.
Ezarik was announced as a boardroom advisor for Arnold Schwarzenegger when he participated in 'The New Celebrity Apprentice' in 2016.
1. The Whole Ezarik Family Doesn't Have Middle Names
Justine is the oldest daughter of a Slovak descendant father, Steve Ezarik, and a physical education teacher/mother, Michelle Ezarik. The other children of the parents are her younger sisters, Breanne and Jenna, all of whom are honor students at Bentworth High School.
In a 2013 video about middle names, the actress tells the viewer she and every one of her family members don't have middle names. She explains how her dad thought he had a middle name and had to be disappointed to find out that his birth certificate didn't have a middle name for her.
Watch: iJustine Talks Middle Names
For a unique YouTuber, there's little doubt that she will be around for a long while. Like she predicted (again?), she might be in those chips with YouTube videos embedded in our brains (joked about it in the first video of this article).
Stay over for some more time to learn about more celebrities on GlamourFame.
-->