Internet Legend Grumpy Cat Died Age 7 - What Was Grumpy Cat Net Worth?
Published Mon May 20 2019 By Chester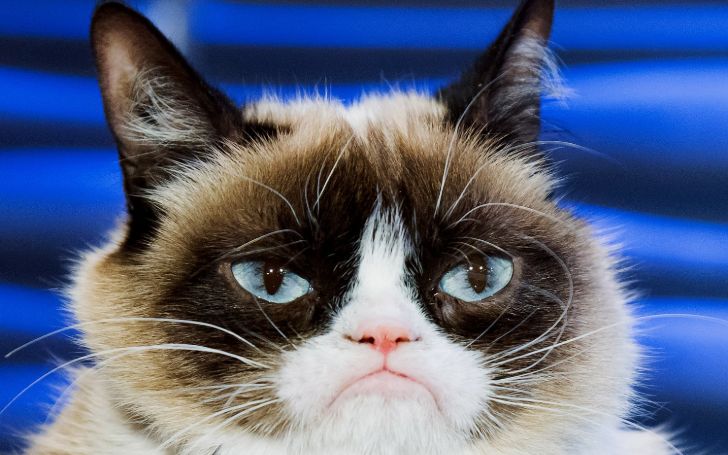 Social media sensation Grumpy Cat dies at the age 7. Learn about her astonishing massive net worth.
The famous internet sensation Grumpy Cat is sadly no more with us. Grumpy passed away at the age of seven on Tuesday due to complication from urinary infection.
Those who are unknown about the famous Grumpy Cat, well, she was famous for her upset facial expression which is widely seen as memes all around the internet.
Grumpy Cat dies at the age of Seven from Urinary Infection.
SOURCE: Metro
Grumpy gained massive public attention when she was just four months old after she going viral on Reddit on Sept. 22, 2012.
Is Donald Trump A Time Traveller? A Person Claims To Have Found All The Proof! >>>
Shortly after the cat went viral all over the Internet, her owner Tabatha Bundesen, then started making funny and humorous Youtube videos as well begun posting pictures and updates from Grump's social media.
Grumpy Cat, with owner Tabatha Bundesen

SOURCE: WTOP
Soon after her demise, the news was shared from Grumpy Cat official Twitter account with a heartfelt condolence letter.
Some days are grumpier than others... pic.twitter.com/ws209VWl97

— Grumpy Cat (@RealGrumpyCat) May 17, 2019
Grumpy Cat's Earnings and Net Worth
As by the reports of 2018 Pet Rich List, Grumpy Cat was the second richest pet in the world after German Shepard Gunther IV. Grumpy held a staggering net worth of $99 million.
Well, the star cat was able to accumulate all the net worth from its sponsorship, merchandise, media appearances, and films.
Grumpy's merchandise such as T-shirts, Shoes, comics, and other stuff are also sources behind such a hefty net worth collection.
Ross Geller's Marcel The Monkey From FRIENDS Was Actually A Girl >>>
Some of Grumpy cat trending video such as "The Original Grumpy Cat" has more than 21 million views.
Check Out: Grumpy Cat's Worst Christmas Ever trailer.
Besides the Cat even has its biopic written: "The Original Grumpy Cat" which is counted in one the best New York Time's bestsellers list.'
Likewise, the movie 'Grumpy Cat's Worst Christmas Ever' also accumulated a good amount of net worth.
She has 1.54 Million followers on Twitter, subsequently 2.7 million on Instagram and 273 thousand subscribers on Youtube.
Well, analyzing the late Grump income sources and revenue shows that the cat definitely earned millions every year.
David Eason Gets Off the Hook For Killing Dog Because Jenelle Evans Won't Press Charges! >>>
As the saying goes 'Death is not an option but is mandatory', we would like to express deepest love and sympathy for Grumpy's family.
-->