Is Jenelle Evans Pregnant with Her Fourth Child?
'Teen Mom' Star Jenelle Evans Might be Pregnant with Her Fourth: Learn the Truth Here!
Jenelle Evans, a former regular on Teen Mom 2, had given birth to her first child, Jace Vahn Evans, at 18. The Teen Mom star went on to give birth to two more children, both from different relationships. Jenelle recently posted a video on Tik Tok, after which a rumor has swirled that alleged Evans is pregnant with her fourth child.
In the video, Jenelle is wearing a swimsuit and flaunting some moves with her four-year-old daughter Ensley. Minutes after the video was posted, one fan commented, "Pregnant again," and so began the whole speculation of Evans being pregnant for the fourth time. While Jenelle getting pregnant again won't be the most surprising thing in the world, the Teen Mom alum has responded to the rumors.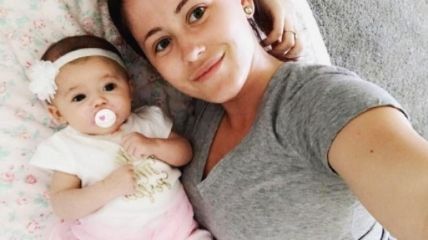 Fans think Evans is pregnant for the fourth time.
Photo Source: Blasting News
Evans didn't take long to clap back. Mouthing the words from an audio clip, the mother of three says, "Um no, dirty that's what a natural body look like. And if you don't like it, close your eyes and don't open them again. Next time you breathe, don't." Evans has also responded to the particular comment, "Yall always comment something ignorant," she wrote.
Check Out: Chopped Junior Champion Fuller Goldsmith Has Passed Away at the Age of 17
A few months back, Jenelle was attacked with a similar allegation a few months back; even then, she posted a video of herself in a bikini. Evans clapped back at trollers with a video. "If I was pregnant, would I be able to do this?" says Jenelle while grabbing a part of her stomach.
Evans birthed her first kid with ex Andrew Lewis, her second, Kaiser Griffith, with ex Nathan Griffith and her youngest, Ensley, with her current husband, David Eason. Evans isn't known as the best mom among her Teen Mom fans; the reality tv star has been criticized multiple times for being an irresponsible mother.
For more information and news on your favorite stars, stay connected to Glamour Fame.
-->