Jake Paul And Tana Mongeau's Engagement Claimed To Be 'Fake' After Video Emerges
Published Fri Jun 28 2019 By Andrew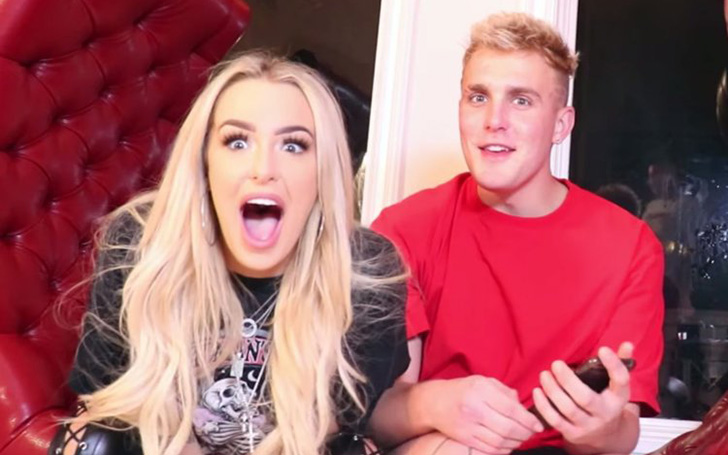 After a video emerged, Jake Paul and Tana Mongeau's engagement is claimed to be a fake.
The fact that YouTuber Jake Paul proposed his new beau Tana Mongeau in Vegas just took the world by storm this week. Calling major attention to the word new, since the pair only share a romantic indulgence that is two months in total.
The news broke through the public immensely quick as Tana only broke up with ex Bella Thorne at the end of February. Moreover, that leaves a total of a two-month gap before Tana commenced her relationship with Jake officially. The news of the new YouTube-royalty engagement was quite a devastating one for Bella and it left her crying on Instagram. To add up, a wave of fans are confused due to their inability to comprehend the timeline of events.
Tana took to her Twitter account to hit back at actress Ashley Liao confirming that her whirlwind romance with Jake was legit stating, "it's not. I'm engaged. Holy f***."
However, the one Tweet alone didn't prove any good to subside the rumors that the whole thing was a fake to tug the heartstrings of fans.
Ira Weissman, the founder of The Diamond Pro analysts website came with his expertise to state that the video of the ring itself is pretty unusual.
He told E! News.
"Nothing is a sure thing without seeing the ring up close but everything about this little clip says 'fake,"
Ira expressed to the outlet,
"You can see the exaggerated sparkling light reflecting off of something in the bottom right of the frame in the beginning of the clip. This is exactly what you would want to use to try to enhance the sparkle of a simulated diamond to make it look like the real thing. Plus, the glassy look of the very large center stone as it's brought closer to the camera also points heavily toward it being a cubic zirconia."
Although there is pretty compelling evidence suggesting the ring isn't what it appears to be, that doesn't necessarily negate the engagement itself, now does it? Above all, it is the gesture that matters. Given the past instances, people have been known to get engaged making use of much lesser expensive rings than a pretty damn good fake set of huge diamonds.
Referencing to the fact that Jake holds an under par public image himself, along with his brother Logan Paul fans are in an obvious position to question if the whole thing is an elaborate attempt at a prank.
-->