Bella Thorne Splits from YouTuber Tana Mongeau but is Still with Boyfriend Mod Sun after Dating Both Simultaneously
Published Wed Feb 27 2019 By Jessica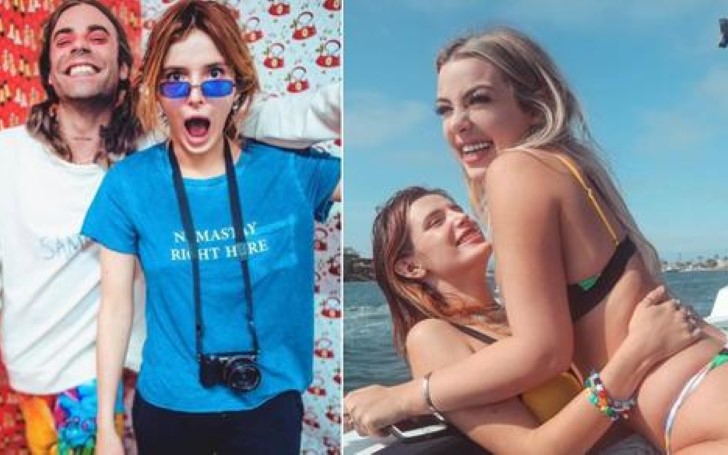 Disney alum Bella Thorne announced she officially broke up with now ex-girlfriend Tana Mongeau.
Back in October 2018, American actress and singer Bella Thorne made a huge headline as she admitted she was seeing both a girl and a boy at the same time.
Well, however, apparently, the 21 years old star has only one special person in her life as she officially announced she has broken up with the now-former girlfriend, Tana Mongeau, a YouTuber.
The announcement comes after months of speculation from the fans since there happened to be no updates in their relationship in the recent time.
Bella Thorne broke up with Tana Mongeau but still continues to date Mongeau

SOURCE: Daily Mail
Confirming the news to her six million followers on Twitter, Bella annoyingly wrote on her Twitter account.
You may also like: Bombshell NFL Wife Rachel Bush Turns 21 with Lingerie and Cake
She tweeted just a few hours ago:
"Tana and I aren't together anymore, pls stop asking. We love U guys"
Of course, as soon as the tweet reached to her fans, the 'Shake It Up' star received tons of positive messages from the fans after they learned the breakup news.
One fan on the site comforted Thorne by saying:
"i hope y'all are still friends :("
Whilst another replied with:
"as long as you're both happy"
Third one sadly wrote:
"did i read this wrong please tell me i did "
Likewise, ex-girlfriend, Mongeau too later confirmed the breakup news on Twitter. Tana broke the news on her Twitter writing:
"i love her forever don't get that twisted. she changed my life forever. don't rly wanna talk on it.. there's no negativity at all."
As one fan replied to her tweet saying 'love you both as long as you're happy.', the youtube star said:
"i'm not fully. this obviously breaks my heart. i will be though. as long as she is"
Meanwhile, though Thorne separated from Tana, the Disney alum still continues to date her musician boyfriend, Mod Sun.
Don't miss: Adam And Blake Already Fighting Over A Wholesome Season 16 of 'The Voice'
Bella and Tana met when they ran into each other at a music festival, where they both shared a kiss and later shared on social media. Quickly after the image surfaced, people expressed theirs disgusts accusing the stars of orchestrating the PDA for publicity.
However, it was Tana who revealed herself, she was mesmerized by Bella. She said:
"For me, it was very much instant love, instant infatuation, instant obsession, and my entire life became Bella, Bella, Bella,"
The Youtube celebrity shared on her blog; 'the truth about my relationships, breakups, and sexuality.'
Whilst celebrating their one year anniversary, the YouTuber expressed her love by sharing an emotional message to her now then-girlfriend. She said:
"What started with a viral kissing pic turned to you being the love of my life.. you swept me up and introduced me to your entire world, you made my wildest dreams happen."
In one of her vlog videos, Tana admitted there arose some tensions when Bella started dating Mod, but she eventually moved past those relationship issues as she later became a close friend with Mod. The trio even coordinated their costumes for Halloween last year.
See more: The Reason Jennifer Aniston's Ex-Husband Justin Theroux Got Involved In Couple's Abuse Case
However, both Bella and Tana are yet to speak why they split.
-->